Feedback on a proposal that attorneys disclose their cellphone numbers when filing appearances has been overwhelmingly negative. Indiana Supreme Court officials say they are committed to taking the attorney feedback seriously, and lawyers are clinging to that promise in the hopes of avoiding what they see as a violation of privacy.
Read More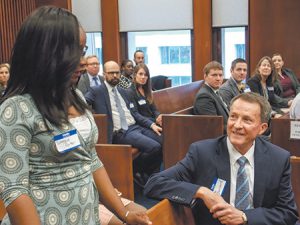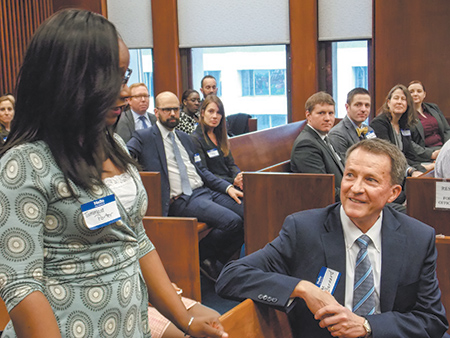 While the need among unrepresented litigants continues to grow, state and federal courts in Indiana say recent efforts to encourage more pro bono service among attorneys are showing results.
Read More
The Institute for the Future of Law Practice, a nonprofit that teaches students about the business and practical side of law, including students from the Indiana University Maurer School of Law, is built on the idea of modernizing legal career training.
Read More
Just about any discussion of the federal judiciary's online document system, PACER, will quickly turn to a questioning of the fees charged for accessing filings and why the information is not available for free. A recent ruling from the U.S. District Court for the District of Columbia provided insight into the Public Access to Court Electronic Records system's financial health and raised more questions.
Read More
The commission on April 9 announced a new ethics program that will offer informal guidance in the form of individual responses and formal guidance via public advisory opinions. Attorneys with specific questions about ethical dilemmas will receive guidance uniquely tailored to their problems through the commission's informal review process.
Read More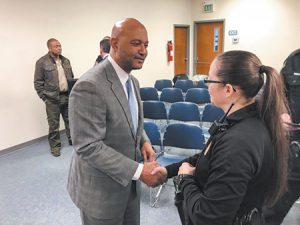 The Cumberland Police Department initiated the Cumberland Assertive Response and Engagement Team in January. The CARE Team is designed by Chief Michael Crooke to help those suffering from mental illness and addiction by providing resources to them and their families.
Read More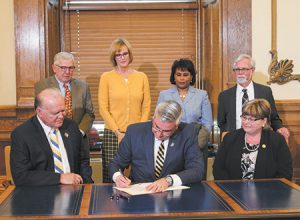 With the rise of the #MeToo movement, organizations of all sizes, including state governments, have been forced to take a long look at themselves. After the Indiana General Assembly passed legislation this year to expand training and write a sexual harassment prevention policy for the legislature for the first time, the other two branches of state government are taking action.
Read More
Read Indiana appellate court decisions from the most recent reporting period.
Read More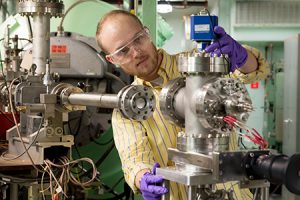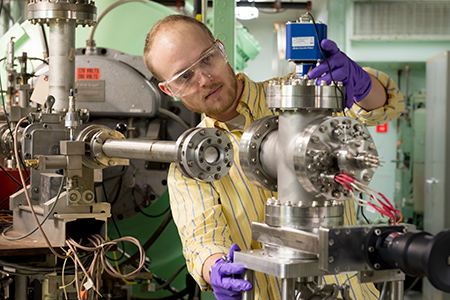 With the help of the intellectual property law clinics at Indiana University Maurer School of Law and Notre Dame Law Schools, inventors are securing patents and protections that could give their ideas the commercial boost the need to compete in the marketplace.
Read More
Few of us get through a day without relying on software based on the Java or Android platforms, and every day for a decade the companies behind them have been locked in battle. Oracle and Google are litigating whether 11,500 lines of Java source code copied verbatim by Google can be used by it for free under the "fair use" defense to infringement in the Copyright Act.
Read More
A recent California right-of-publicity case is a victory for people who wish to create content related to the facts and stories of noteworthy individuals or events.
Read More
Clients developing new businesses need strategies and concepts regarding the intellectual property assets encompassed in the new business even before the articles of incorporation are filed.
Read More
Have we become overly attached to our smartphones? Is it time to set them aside and revert to a simple dumb phone? This question has been on my mind quite a bit lately.
Read More
Lawyers and their clients might find "tech speak" just as frustrating as legalese. Lawyers who can translate legalese and have some insight into tech speak may offer a unique combination that will set them apart from their competitors.
Read More
This semester, we are working with our classmates through the Indiana University Maurer School of Law's Access to Justice Program to assess the legal needs low income and underrepresented Hoosiers face in their daily lives.
Read More
I am often asked, "What can I do to be healthier, more energetic, and lose weight?" Here are my Top 10. When you have them mastered, send me an email and I'll give you the next 10.
Read More
Movie reviewer Bob Hammerle says "Isle of Dogs" is a treat, and "A Quiet Place" is horror film heaven.
Read More
Judge Patricia Gifford was a true leader of the entire legal community and a pioneer for women attorneys. She was recognized several times by the IndyBar, receiving the Silver Gavel Award in 2008 for her exemplary service on the bench and the Antoinette Dakin Leach Award, which honors trailblazing women in the profession, in 2006. Judges and lawyers share their remembrances.
Read More
Judge Patricia Gifford occupied a special place in our legal profession as well as in our hearts for more than 30 years prior to her retirement in 2008.
Read More
Filled with tragedy, joy, loss and happiness, events of 50 years ago remain clear in the minds of colleagues who've been fortunate enough to have practiced law since then. We had the chance to sit down with a few of them to gain insight to just some of the many things that have changed. Read on and register now to celebrate their accomplishments at the IndyBar Practice Milestone Reception on May 10.
Read More
One trait common to most in the legal profession is the desire to help others. A little time, encouragement, or support goes along way. If you don't have the time to lead a team or a committee, support somebody who does or sign up for your company's caring events.
Read More
Coming from Iowa, where the entire state is in the same time zone and Daylight Saving Time had been around for my entire life, it was odd finding out that Indiana was split between two time zones and had only very recently fully adopted Daylight Saving Time. While I thought time was a permanent fixture, longtime Indiana residents feel it is an inconvenience that can be changed.
Read More