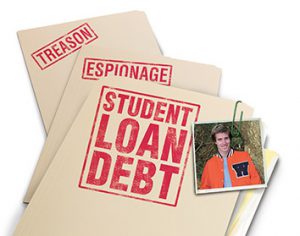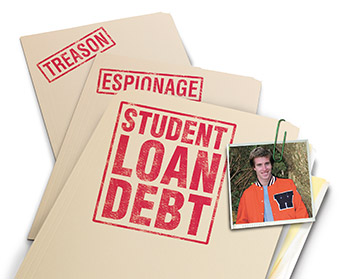 Delinquent borrowers may be relieved to learn that student loan default – unlike espionage and treason – is not punishable by death. But defaulting on a student loan can have disastrous effects on a borrower's personal credit and lead to a lifetime of financial difficulties.
Read More
Rising tuition, combined with a long recession where many people have had difficulty finding work, means more students are relying on student loans. In 2011, overall student borrowing surpassed $1 trillion for the first time.
Read More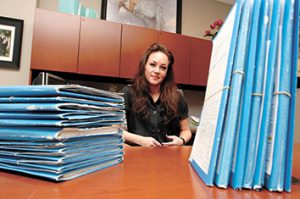 Attorneys see a rise in the amount of fraudulent notices clients receive.
Read More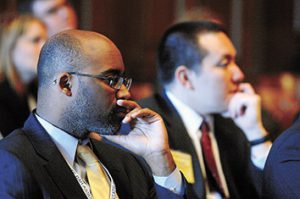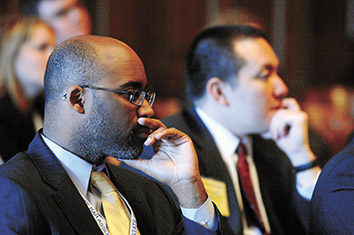 The Indiana State Bar hopes new leadership program will encourage lawyers to take on a more active role in communities.
Read More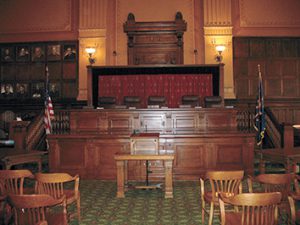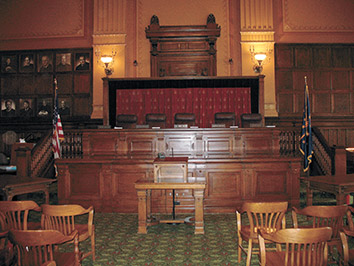 Gov. Mitch Daniels will select next justice from a pool of two men, one woman.
Read More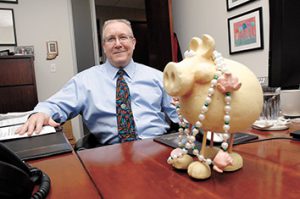 Case involving a pork producer was first test of law enacted in 2009.
Read More
An update on Indiana laws and legislation involving confined feeding operations and confined animal feeding operations.
Read More
Ethical issues faced by attorneys practicing energy law are often the result of the small number of lawyers currently in that field of law.
Read More
A grant from the International Council for Canadian Studies will assist Indiana University Robert H. McKinney School of Law professor Eric Dannenmaier and a student research team in their work on transboundary water resource governance.
Read More
Wandini Riggins writes about attorney and photographer James Strain.
Read More
Matthew Neumann writes about how Facebook and estate planning relate.
Read More
Greg Morris writes about Indiana Chief Justice Randall Shepard receiving the Frank O'Bannon Sunshine Award.
Read More
Greg Andrews writes his "Behind the News" column about a Carmel couple's federal lawsuit stemming from a tax fraud investigation.
Read More
For the sixth consecutive year, the Marion County clerk's office was transformed into a wedding chapel on Valentine's Day, and Clerk Beth White performed civil marriage ceremonies to raise money for the American Heart Association's "Go Red for Women" campaign.
Read More
A northern Indiana labor organization has filed a lawsuit against Gov. Mitch Daniels and other state actors over the recent enactment of legislation that made Indiana a "right-to-work" state.
Read More
On the same day it heard arguments, the Indiana Supreme Court reversed a Marion Superior judge's ruling and held that Gov. Mitch Daniels does not have to testify or be deposed in an ongoing lawsuit over the cancelled contract to modernize the state's welfare system.
Read More
Read for publication decisions from the 7th Circuit Court of Appeals and Indiana appellate courts from Feb. 9-22, 2012.
Read More
Read who's received a public reprimand and who has resigned from the bar.
Read More
Read about events happening in Evansville and Indianapolis.
Read More
Nondisabled employees bringing claims following law changes in 2008.
Read More
The Trial Academy is the only trial technique seminar in Illinois, Indiana and Wisconsin specifically designed for the defense lawyer.
Read More
DTCI gives readers nine reasons to join the organization.
Read More
The IndyBar Review is a point of pride for the IndyBar. We are the only bar in the country to sponsor a bar review course.
Read More
For most patent attorneys, the American Invents Act has created an opportunity to engage clients on a variety of legal matters. For one Indianapolis-based entrepreneur, James Burnes of Project Brilliant, it sparked an opportunity to launch a new software venture.
Read More
It's not often lawyers and judges mix work and a good time, but over the past 19 years the IndyBar's Bench Bar Conference has become known as the premier event to do just that.
Read More
Hear an update on pending legislation and get to know Indiana legislators at the IndyBar's sixth annual seminar, "The Importance of Lawyer-Legislators in the Indiana General Assembly," which is hosted by the Bar's Legislative Committee.
Read More
The IndyBar will release a new edition of the printed Indianapolis Bar Association Directory in Summer 2012.
Read More