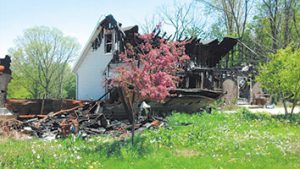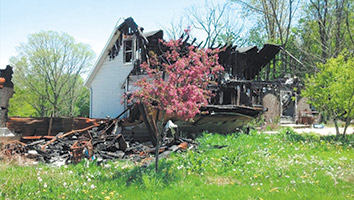 A LaPorte County woman who lost her home to a fire allegedly started by her estranged husband is at the center of a legal dispute with her insurance company that could set precedent.
Read More
Interim study committees are credited with enabling the Indiana General Assembly to thoughtfully review issues.
Read More
Indianapolis attorney and blogger Paul Ogden speaks his mind, sometimes to his disadvantage, he concedes. Now he could lose his law license because of things he wrote.
Read More
The NCAA is facing a potential game-changing legal battle that has some colleges worrying their athletic budgets could be halved.
Read More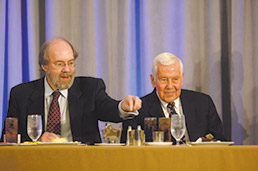 Chief Judge Frank Easterbrook of the 7th Circuit Court of Appeals presented his final State of the Circuit address during the Circuit conference this month in Indianapolis, describing the federal appellate court for Indiana, Illinois and Wisconsin as perhaps the nation's most industrious.
Read More
Former Indiana Sen. Richard G. Lugar told members of the federal judiciary May 6 that his support of President Barack Obama's Supreme Court appointees, opposed by many in his party, may have carried the greatest political cost of any decisions during his 36 years in the Senate.
Read More
Describing the immediate impact changes in judicial budgets have on court staff, Chief Justice of the United States John Roberts used part of his address to the 7th Circuit Bar to highlight the fiscal constraints judges and courts are facing today.
Read More
Law firms use 401(k)s to help employees save for their golden years.
Read More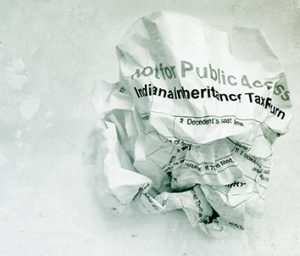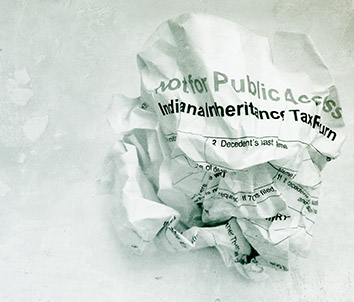 The fate of the inheritance tax in Indiana went from a slow, lingering demise over the next decade to sudden death in the biennial budget lawmakers approved this session.
Read More
Bob Hammerle recommends you see "The Great Gatsby" on the big screen.
Read More
In this on-demand era of instant gratification, we expect that information should always be at our fingertips. Our time is precious and we all want others to respect that fact; in return doesn't that mean we should all be respectful of the time that others give to us?
Read More
In my last column, I confessed I was addicted to interruptions: email, voice mail, texts, phone calls, Twitter feeds, etc. Studies have shown multitasking lowers IQ.
Read More
Laurie Gray, a former prosecutor, writes about the recent Indiana Supreme Court decision's impact on medical hearsay exception for child victims.
Read More
Read news from Indiana's law schools.
Read More
The Supreme Court of the United States decision upholding the patent owned by Monsanto Co. was surprising only in its unanimous affirmation.
Read More
The Indiana Supreme Court will decide whether the Indianapolis Star must reveal the identity of an online commenter in a long-running defamation case filed by a former executive of a nonprofit organization.
Read More
Judge James Carr, right, takes the oath May 14 as the newest member of the Bankruptcy Court for the Southern District of Indiana.
Read More
The Indiana Supreme Court blocked the transfer of a judge who sought to replace former Lake Superior Juvenile Court Judge Mary Beth Bonaventura after her appointment to head the Department of Child Services.
Read More
An Indianapolis law firm with a broad range of representation and diverse clientele plans to close its doors after more than 90 years.
Read More
Here are some highlights from the recent 7th Circuit Bar and Judicial Conference in Indianapolis.
Read More
Read appellate opinions from Indiana courts.
Read More
Read who's been suspended and who has resigned from the Indiana bar.
Read More
Read news from the Indiana Bar Foundation and the Indiana State Bar Association.
Read More
The latest on contingent payment clauses.
Read More
2013 marks the 50th anniversary of Gideon v. Wainwright, the landmark Supreme Court decision that established that under the Constitution, states are required to provide a lawyer to criminally charged defendants who cannot otherwise afford one.
Read More
She is a graduate of Indiana University and the Indiana University McKinney School of Law. She served as Revisor of Statutes, Director of the Public Law Division of the Indiana Legislative Services Agency, and Chief Counsel to the Indiana Senate before entering private practice in 1988. She is Marcia Oddi, the preeminent Indiana law blogger, and she has been served with interrogatories.
Read More
The assistance of qualified and competent paralegals is crucial to the success of many attorneys.
Read More
The Indianapolis Bar Foundation recently awarded seven scholarships to both law students and to individuals preparing to take the Indiana Bar Exam in summer 2013.
Read More