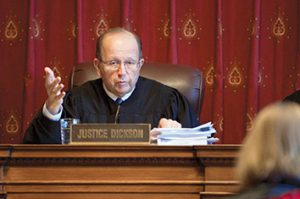 Retirement of the second-longest serving justice opens up the fourth Supreme Court vacancy in five years.
Read More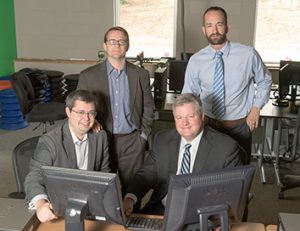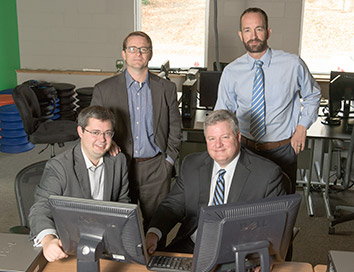 Seeing an opportunity in helping businesses and lawyers with discovery in an electronic world, Hamish Cohen and three of his attorney colleagues – Ray Biederman, Sean Burke and Jon Mattingly – launched Proteus Discovery Group.
Read More
The money is part of the $584,646 the Indiana Bar Foundation received from the Bank of America settlement with the federal government over the bank's sale, structuring and issuance of residential mortgage-backed securities and certain other mortgage loans.
Read More
Every Veterans Day, Indianapolis solo practitioner Mark King keeps his office closed and spends the time reading cards from his mom and trading stories with others who served.
Read More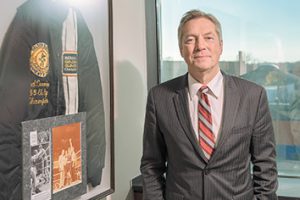 Ashonta Kenya Jackson was the wheelman, driving a getaway car while younger men robbed an Anderson liquor store twice in a month and held up a bank. Is he a racketeer?
Read More
Attorneys filing collections cases in Indianapolis say they're at their wits' end trying to determine whether summonses have been served on defendants long after cases have been opened.
Read More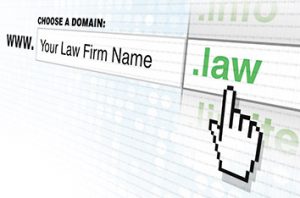 New .law Internet domain names offer lawyers and firms a rare chance to create an online brand that conveys to consumers a prestigious, professional identity. Or, .law names might just confuse people.
Read More
If you walked down the hallway of the average law firm in the year 2000, what would you see? Paper, and a lot of it!
Read More
Bob Hammerle says "Room" is a movie experience that you cannot help but dread.
Read More
Recently, I had the pleasure of attending an Indiana Lawyer CLE program on how lawyers and law firms should interpret the professional code of conduct regarding digital advertising and communications. My conclusion from the entire discussion is that there are a few things that are clear and there is a lot that is still pretty fuzzy.
Read More
We have all been there at some point: having spent an inordinate amount of time getting a document phrased perfectly and in an instant it is all gone.
Read More
Significant changes to the Federal Rules of Civil Procedure take effect to civil cases filed on or after Dec. 1, or to cases already pending to the extent just and practicable. The Supreme Court of the United States approved these changes in April, and Congress has taken no action to stop them becoming effective.
Read More
This January – while other law schools' students remain on winter break – our students will be diligently at work, honing their legal skills and knowledge in a fast-paced, weeklong program taught by leading lawyers and business executives from around the country.
Read More
Both the Roman Catholic Diocese of Fort Wayne-South Bend and a former teacher who was fired after undergoing in vitro fertilization treatments have filed motions to dismiss a lawsuit.
Read More
A new Indiana law that bans many sex offenders from venturing onto school property doesn't prevent most from worshipping at churches that house schools on their grounds, attorneys in a recently dismissed lawsuit say.
Read More
A federal appeals court has ruled against President Barack Obama's plan to protect an estimated 5 million people living in the United States illegally from deportation.
Read More
An Indiana law firm has filed a class-action lawsuit against one of the world's largest seed and agrochemical companies in an effort to allow more time for individual farmers to sue the company after corn prices plummeted last year.
Read More
Companies that own an east side Indianapolis hotel have been ordered to pay the Equal Opportunity Employment Commission $57,248 in attorney fees and costs after violating a consent decree settling a race discrimination lawsuit.
Read More
The U.S. Bankruptcy Court for the Southern District of Indiana is accepting comments on proposed changes to its local rules. The changes primarily update references to the national forms.
Read More
Lawyers mostly in southern Indiana are selecting one of their peers to have a say in who will be the next justice appointed to the Indiana Supreme Court.
Read More
Read recent Indiana appellate decisions.
Read More
Read who's recently resigned from the Indiana bar.
Read More
Examining the standard under the Indiana Product Liability Act.
Read More
In conjunction with its 2015 annual meeting in Bloomington Nov. 19-20, the DTCI will recognize the outstanding defense lawyers of the year. The awards ceremony will be held during the board of directors' dinner on Nov. 18.
Read More
A special ceremony honoring two retiring members of the Amicus Committee will be held during the DTCI Annual Conference lunch on Thursday, Nov. 19.
Read More
The DTCI Paralegals raised more than $3,000 in support of a 10-member special operations detachment currently stationed overseas. The donations went toward personal care items, gift cards, and headphones for the soldiers.
Read More
On Friday, Nov. 6th, I had the opportunity to represent the Indianapolis Bar Association at a very special naturalization ceremony that was conducted at the site of the 39th annual Indy International Festival. One hundred and ninety five individuals from 62 countries took the oath of citizenship that day and became newly-minted United States citizens.
Read More
These are challenging times for lawyers and law firms, especially for solo and small firm practitioners. Whether you are newly graduated, considering transitioning to the solo/small firm world or a seasoned pro, the IndyBar's Survive & Thrive 2015 program coming up on Wed., Dec. 9 will help you build and brush up on essential tools, information and connections to help move beyond surviving and into thriving in the practice of law.
Read More