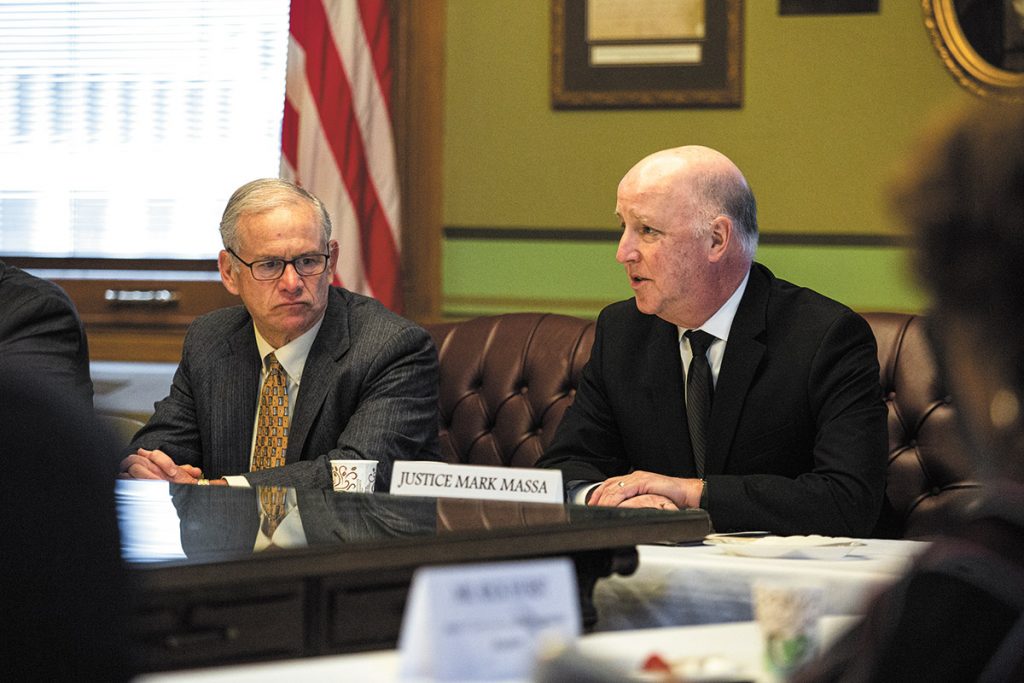 Editor's note: This article has been updated with highlights from interviews on Monday afternoon.
The Marion County Judicial Selection Committee unanimously voted to recommend retention of all 13 Marion Superior judges whose names will be on the ballot in November. The panel took only about 30 minutes after the end of judicial interviews Monday afternoon to confer before voting in favor of a retention recommendation for all 13 judges.
The favorable vote does not mean the judges are automatically retained for another six years; it's only a recommendation to voters in favor of retention. The 13 judges who sat for interviews are:
Elizabeth Ann Christ, Criminal Division 24
David Certo, Criminal Division 12
Cynthia Ayers, Civil Division 4
Marc Rothenberg, Civil Division 7
Shatrese Flowers, Criminal Division 2
Kurt Eisgruber, Civil Division 6
Marcel Pratt, Traffic Division
Christina Klineman, Criminal Division 17
Timothy Oakes, Civil Division 2
Angela Davis, Criminal Division 16
James Osborn, Civil Division 14
Patrick Dietrick, Civil Division 12
Gary Miller, Civil Division 3
Here are the highlights of the Monday afternoon interviews:
Christina Klineman
She was never very good at just being a judge, so Judge Christina Klineman decided to also be an administrator. She serves on the Marion Superior Courts Executive Committee and has been heavily involved in the upcoming transition to the Marion County Community Justice Center. Her administrative work has also included pretrial reform, as she's led Marion County's efforts to move to an evidence-based decision for determining pretrial release.
Klineman said she also tries to be a leader in diversity on the bench, a factor that the Judicial Selection Committee has been tasked with considering when making recommendations. But diversity is about more than skin color, the judge said — it's also about diversity of age, backgrounds and even family makeup.
"Diversity of thought is just as important," she said.
Timothy Oakes
Judge Tim Oakes playfully calls himself a "Metro Jethro" — born in Kentucky, he moved to the east side of Indianapolis at a young age so his parents could pursue job opportunities. He recalled going to integrated schools but maintaining ties to his family in Indiana's southern neighbor. That varied background, he said, gives him a breadth of experience that enables him to relate to more litigants.
The "Metro Jethro" comment drew laughs, but Oakes' interview turned more serious when committee member Katherine Jackson-Lindsay asked him about a drunken driving incident he was involved with that led to the death of another motorist. She said she'd heard concerns about Oakes' fitness to serve given the incident when the judge, then 17, was behind the wheel. He told the committee Monday that it had been 38 years to the day that he had been sitting in a juvenile detention center following the accident.
"I pledged that day to do whatever I could to be the best person I can," Oakes said. "… All I can say is, I'm proud of the work I've done, and I'm proud of the opportunity to serve."
Angela Davis
Judge Angela Davis believes technology is creating new opportunities for the Marion County courts. One of those opportunities has already manifested itself in the county's probation kiosks, the first in the country. Rather than having to take time off work and pay for parking to attend a meeting with a probation officer, low-level, compliant offenders can check in at one of multiple kiosks in the county, taking a photo and scanning their prints to prove their identity.
When she's not supervising the Probation Department, Davis presides over a domestic violence docket. It's tough work, and the judge says she often has to "unplug" from her cases when she's at home. But that docket has also helped her grow as a judge, she said, particularly by teaching her the importance of patience.
"I've recognized that it takes people longer to follow through," Davis said of domestic violence cases. "… If you treat them with respect and dignity and not make them feel bad for making choices that you know are not good for them and for their children, that on the time that they're willing to come forward, they will actually do it."
James Osborn
Judge James Osborn could have gone on and on about technology at the new Marion County Community Justice Center. The center will be equipped with tech tools that aren't necessarily new, Osborn said, but are being implemented for the first time in the Marion County courts. The goal of the technology — whether in a courtroom, a jury deliberation or even in the hall — is to deliver information quickly, cleanly and clearly.
As the supervising judge of the Marion County jury pool, Osborn has also been working to improve efficiencies in the jury-service process. Certain groups of people are less likely to appear for jury selection, such as those who are transient or who don't have steady jobs. To make the process easier, he's worked to offer free parking or bus passes for jurors, and to ensure prospective and sitting jurors leave their service with their full pay in hand.
Patrick Dietrick
Judge Patrick Dietrick was a mediator before he became a judge in 2015, and he used to tell his clients that mediation was a "business solution to a legal dispute." He's carried that mentality to the bench, where he launched a settlement conference system, modeled after what's done in Indiana's federal courts. The conferences occur on Friday afternoons, and the judge says the program has proven to be an effective way to "stay in front of good lawyers and help people out."
Another way Dietrick thinks he is able to help people out is by tapping into his diverse background. Saying he's lived in some of the weirdest places in the country and with people from all over the world, the judge said his experiences have given him an appreciation for the American legal system. What's more, he said he brings that diversity to the bench to connect with litigants from varied backgrounds like his.
Gary Miller
Judge Gary Miller knows what it means to be a good judge, and what it means to be a bad judge. He comes from a judicial family, and he's observed different judicial temperaments and styles over the years. What he's learned, he said, is that being a judge doesn't equate to being harsh.
"There is a good way to be a judge," he said.
But there's one stigma of being a judge Miller doesn't necessarily agree with — isolation. Jurists don't have to be cut off from the legal community, he said, but instead can engage with bar associations or take on speaking opportunities. In doing so, Miller said he's identified young lawyers who he thinks could be part of the next generation of judicial leadership, and he's encouraged those lawyers to pursue judicial careers.
Here's a recap of what Monday morning's retention candidates had to say about the future of the Marion Superior bench:
Elizabeth Ann Christ
Coming from a family of lawyers and judges, Judge Elizabeth Ann Christ said she grew up in the judicial world. Having joined that world as an adult, Christ said her favorite part of being a judge is the human part — interacting with lawyers and litigants on what is often the worst day of their lives. She treats every litigant like her own father, brother or son, she said, because the person appearing before her is somebody's father, brother or son.
Christ also taps into the human element of being a judge when staffing her court. Committee members noted she has maintained a diverse staff, and the judge said she does so that litigants feel heard.
"Going to court should be like looking in a mirror," she said.
David Certo
Like Christ, Judge David Certo said people are the most important part of his job. He applied that specifically to his work on veterans court, where he said suicide is a "constant danger" for participants. His job as judge, Certo said, is to listen to those participants, find out what the problems in their lives are, then work with them to find the best solution for solving those problems.
Asked how he'd like to see the court improve in the future, Certo suggested the creation of a judicial training curriculum. He was appointed to the bench mid-term and used his prior experiences to inform his judicial work, as most judges do. But he thinks judges could benefit from a curriculum that addresses prevalent issues and helps them develop reasonable expectations for resolving those issues.
Cynthia Ayers
Judge Cynthia Ayers has spent some 30 years on the bench, and her work has focused largely on family law issues. Those are the most important issues a judge can work on, she said, but it takes the right person to do the job. If you're going to preside over family law, she said, you need to be patient, a good listener and have a passion for that area of the law.
Working in family law also requires the right judicial temperament, as emotions can often run high. Ayers recalled her days as a parole officer when discussing her ability to keep her cool on the bench. She also said preparation is key to keeping a case on track.
Marc Rothenberg
Judge Marc Rothenberg doesn't think he's a lord presiding over a fiefdom; he's simply one part of the judicial system. That attitude, and his continuous goal of learning to be a better judge, is why he thinks he's worthy of retention.
"I'm just a guy sitting up here handing down judgments."
He's a civil judge now, but Rothenberg has previously presided over a criminal court docket. Once the county courts make the move to the new Marion County Community Justice Center, he'd like the Superior Courts to become flexible enough to allow all judges to preside over different matters, giving them a more diverse judicial experience.
Shatrese Flowers
If there one word described Judge Shatrese Flowers, it would be efficient. Multiple committee members asked Flowers about her reputation for efficiency, especially with a busy criminal docket. Flowers credited her own work ethic and that of her staff, but she also said developing a priority list has helped her move her docket appropriately.
Committee member K. Michael Gaerte recalled an incident when Flowers, then a commissioner, dropped what she was doing to host a local group of students. Asked how that experience might help bring diversity to the bench, Flowers, who is black, said she thinks it's important for children to see people of color on the bench, especially considering that many defendants are people of color.
Kurt Eisgruber
Like Judge Rothenberg, Judge Kurt Eisgruber started in criminal court before moving to civil. The transition was a learning experience, Eisgruber said, especially because civil court focuses much more on motions practice than does criminal court. There are pros to working in both criminal and civil court, he said — criminal court provides more interaction with lawyers, while civil court gives him more control over his docket.
Judges can sometimes be isolated, Eisgruber said, so he pursued bar involvement as a means of being more connected. Specifically, he became involved in the Indianapolis Bar Association's Bar Leader Series, a program he said shows newer attorneys that judges aren't "high and mighty," but instead are people doing their best for the justice system.
Marcel Pratt
They told him he was crazy, but Judge Marcel Pratt says he knows he made the right decision when he chose to preside over traffic court. Since he took the bench in 2015, Pratt said law enforcement has told him there are now more people leaving Indianapolis' traffic court with valid licenses and insurance than they've ever seen before. The key to his success, Pratt said, is treating traffic court more like a problem-solving court, using methods to inspire defendants such as offering a simple round of applause when they get their licenses back.
"You can motivate them to get this done," he said.
Pratt also tries to inspire and motivate other members of the bar, especially when it comes to diversity. He has an open-door policy, and young lawyers and potential judicial candidates will often come into his chambers to discuss diversity issues and seek his advice. The best advice, Pratt said, is simply to be prepared, no matter what your job is.
The six other judges were interviewed Monday afternoon. Highlights of those interviews will be included in a coming update of this article.
Three judges eligible for retention — Barbara Crawford, David Dreyer and Marilyn Moores – have chosen to step down from the bench at the end of the year.
The Judicial Selection Committee is scheduled to reconvene in May to interview applicants for their successors.
After those interviews, the committee will recommend nine candidates — three for each vacancy — to Republican Gov. Eric Holcomb, who will make the final selections. Indiana law requires that those vacancies be filled in a way that maintains partisan balance among Indianapolis' 36 Superior Court judges.
Moores is a Republican, while Crawford and Dreyer are Democrats.
The Marion County Judicial Selection Committee in 2018 likewise unanimously voted in favor of retention for all 17 judges it interviewed.
Also in 2018, the committee recommended nine candidates for three vacancies, which Holcomb ultimately filled with Charnette Garner, Jennifer Harrison and Mark Jones.
2018 was the first year the committee met for retention or judicial selection interviews, following its creation in 2017.
Please enable JavaScript to view this content.