Twelve judges and 11 lawyers from central Indiana have applied to succeed retiring Judge James Kirsch on the Indiana Court of Appeals.
The Indiana Supreme Court has released the list of applicants who will be interviewed by the Judicial Nominating Commission, three of whom will be recommended to Gov. Eric Holcomb for his appointment. The applicants are:
Stephanie K. Bibbs, chief of criminal charging division, Marion County Prosecutor's Office.
Hamilton Superior Court Judge Jonathan M. Brown.
Brad A. Catlin, member at Price Waicukauski Joven & Catlin.
Stephen R. Creason, chief counsel, Indiana Attorney General's Office.
Madison Circuit Court Judge Mark K. Dudley.
Marion Superior Court Civil Division Judge Kurt M. Eisgruber.
Hamilton Circuit Court Judge Paul A. Felix.
Tippecanoe Superior Court Judge Faith A. Graham.
Elizabeth C. Green, general counsel, Indiana Department of Workforce Development.
Marion Superior Court Civil Division Judge James A. Joven.
Cynthia E. Lasher, partner, Norris Choplin Schroeder.
Marion Superior Court Civil Division Judge Patricia C. McMath.
Marion Superior Court Civil Division Judge Gary L. Miller.
Derek R. Molter, partner, Ice Miller.
Marion Superior Court Civil Division Judge Timothy W. Oakes.
Bryce D. Owens, solo attorney, Pendleton.
Patricia P. McCrory, partner, Harrison & Moberly.
Howard Superior Court Judge Brant J. Parry.
Patrick W. Price, Indiana State Budget Agency, Office of Management and Budget
Zachary J. Stock, solo attorney, Carmel.
Cass Superior Court Judge. Lisa L. Swaim.
Paul C. Sweeney, senior counsel, Ice Miller.
Marion Superior Court Civil Division Judge Heather A. Welch.
Letters of recommendation for the candidates may be emailed to the Judicial Nominating Commission at [email protected] and will be forwarded to all commission members. The JNC has yet to announce interview dates for the applicants.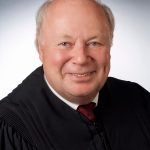 Kirsch, currently the third-longest serving of Indiana's 15 Court of  Appeals judges, announced in late January that he would retire from the bench this fall. He told IL his retirement will occur in September — three months before he reaches the mandatory retirement age of 75.
Before his appointment to the Court of Appeals by Gov. Evan Bayh in 1994, Kirsch served as a judge on the Marion Superior bench for six years. Prior to that, he practiced commercial and business law at Kroger Gardis & Regas in Indianapolis, where he also served as managing partner.
Kirsch served as chief judge of the Court of Appeals from March 2004 through February 2007.
Please enable JavaScript to view this content.