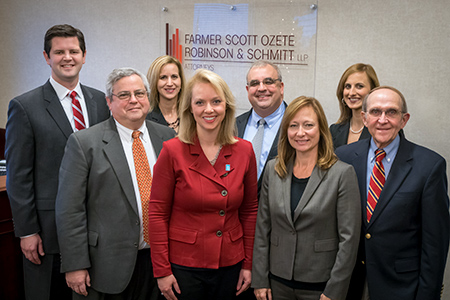 Although at opposite ends of the state with different clientele, communities and climates, the law firms of Genetos Lane & Buitendorp LLP in Merrillville and Farmer Scott Ozete Robinson & Schmitt LLP in Evansville are trying to do the same things. They are working to strengthen their business by being the right size and having the right mix of attorneys to best serve their markets.
Ditto for many other legal professionals across the country.
Kirsten Vasquez, incoming vice president of contingent and interim search at Major Lindsey & Africa, described the process as threading a needle. However, as difficult as it is, she said law firms must find the combination of size and personnel that will enable them to withstand the volatility that has been roiling the legal industry since the Great Recession and shows no signs of ending.
Vasquez
Major Lindsey & Africa, a recruitment and consulting firm for the legal industry, has recently released its 2018 Industry Outlook report, which outlines what law firms can expect in the new year. In short, the consultants maintain that while the populist upheaval that culminated with the election of Donald Trump has simmered down, the uncertainty that has been in the marketplace since the economic downturn has become the new normal. Law firms will remain under increasing pressure to keep costs low and productivity high.
Firms can survive the ongoing volatility in 2018, Vasquez said, by concentrating on doing what they already do well. "I think that is the recipe for a better year," she said.
Both Genetos Lane and Farmer Scott are very focused on their core expertise.
The Merrillville firm, which traces its roots to 1999, is preparing to expand its collections practice into the Chicago market, a decision that was driven by the needs of the firm's clients. Meanwhile, the Evansville firm, which opened its doors this year, is concentrating on serving businesses and the families who own them.
"Bigger is not always better," said Lee Lane, partner at Genetos Lane & Buitendorp. She explained her firm takes a critical look at the opportunities that come rather than blindly jumping at any chance to move in another direction.
The decision to "dip a toe" into the Chicago market was made after the partners concluded the expansion made sense. Not only is the improving economy spurring collections – debtors now have a better chance of paying so businesses are not writing off overdue bills as quickly – but also one of the firm's clients merged with another company in Illinois and wanted to use Genetos Lane attorneys to handle its work in the Windy City.
Looking at the year ahead, Lane shied away from using the tired phrase "cautiously optimistic" and instead said her firm is "moving forward, thinking positively, expecting things to go well but watching our step."
Demand for top talent
In Evansville, the eight attorneys who launched Farmer Scott in April are bullish on 2018. The lawyers spun their practice from the former Bamberger Foreman Oswald & Hahn, which merged with Stoll Keenon Ogden in July.
One of the founding partners, Laura Scott, said the attorneys all had a common vision for what they wanted their law firm to be and they all had a passion for representing businesses and the owners. She echoed the 2018 outlook report by noting that a law firm cannot be all things to all clients, so her firm chose to distinguish itself by serving the business community.
While the attorneys at Farmer Scott have deep ties to Evansville, they are still working in a new market created by the arrival of outside firms such as Jackson Kelly PLLC and Stoll Keenon.
For Farmer Scott, the change has produced some benefit, Scott said. The firm has gained some new clients who prefer working with a local firm that knows the community. Also, with expertise the national firms have in esoteric areas of the law, Scott's firm can refer clients to nearby lawyers rather than having to send them to Louisville or Indianapolis.
"One of the things that has been so fun for me about starting the new law firm is having the opportunity to pursue our vision and create a working environment and a client environment" that brings a lot of satisfaction, Scott said.
Vasquez said despite the volatility in the profession, being a lawyer is still a fulfilling job and the demand will always be there for top legal talent. For law firms, the challenge will be to attract and keep high-performing attorneys.
Looking at 2018, Major Lindsey & Africa expects a conservative increase in associate hiring and a continuation of the robust market for lateral hiring.
Maintaining a strong roster of attorneys will be especially important as the brisk pace of mergers and acquisitions within the legal industry is not likely to slow down, Vasquez said. "Law firms where top attorneys and their clients are at risk of leaving could find themselves negotiating the terms of a firm merger from a defensive position."
Plews
George Plews, partner at Plews Shadley Racher & Braun LLP in Indianapolis, agreed, noting attorneys who add value will be in demand. "Clients look for good quality lawyers that help them solve their problems," he said.
The mid-size firm has retained its focus on the niche practice of environmental law but has broadened its offerings by looking carefully at the needs of its clients and the skills of its attorneys.
As Plews explained, his firm expanded into the insurance practice after noting several of its environmental clients needed help in using their policies to cover the costs of remediations. Likewise, the firm opened a practice in health care because it had the expertise available with a stable of attorneys who had experience working on insurance and regulation issues.
In addition, the younger attorneys in the insurance practice group have been the driving force behind establishing a business development team to bring in new clients who need insurance matters handled.
Plews noted while building a portfolio of clients takes skill that only comes from practicing law for a period time, the new lawyers now recognize the profession is demanding they develop these skills earlier in their careers.
Day-to-day operations
Attorneys are keeping up with changes in how they practice but law firms are realizing some tasks are better handled by other professionals. According to the Major Lindsey report, a trend is emerging of firms hiring business managers to run the day-to-day operations.
Farmer Scott turned over its day-to-day office operations to chief operating officer Kerrie Weinzapfel, formerly with the Bamberger firm. The partners still keep an eye on the internal matters like revenue, expenses and benefit structure, Scott said, but they are able to think more strategically about the direction of the firm since they are free from the daily duties of paying bills and balancing the checkbook.
Although Genetos Lane has not hired a chief operating officer, the partners are rethinking the firm's processes and systems for handling internal business tasks. The new approach is a direct result of Lane and Seth Buitendorp buying out their longtime partner, Lambert Genetos, at the end of 2016. Since then, they have been looking at how things are done and asking why.
Everything is being scrutinized from software and technology to document storage and retirement accounts. Deciding to go paperless, the firm has relied on employees' children who have helped scan files and cleared an estimated 190 linear feet of paper from file cabinets and boxes. Also, the firm transitioned its 401(k) plan to a new provider, saving about five figures annually.
The changes made have taken time but Lane is maneuvering through by utilizing the skills of adapting and overcoming that she learned in the Army National Guard. Even in a volatile and uncertain market, she is confident in her decisions.
"I have to say, I thoroughly enjoy the business of law," Lane said, noting she likes providing jobs and creating a place where people want to work. "It's one of the most satisfying things I've done."•
Please enable JavaScript to view this content.