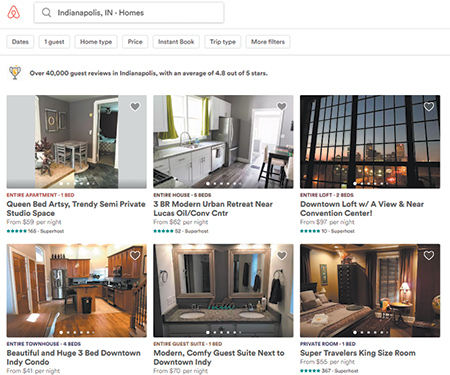 As the popularity of short-term rental platforms such as Airbnb and VRBO has increased, local governments across the country have stepped in to regulate when and where their residents can lease their homes to temporary guests. Indiana cities have been no exception, but the 2018 General Assembly limited the extent to which municipalities can regulate the local short-term rental industry.
Through House Enrolled Act 1035 — which was signed by Republican Gov. Eric Holcomb on March 14 — Hoosiers can rent their homes for less than 30 days through a short-term rental platform with limited local regulation. Municipalities may pass ordinances that require zoning exceptions or permits in some cases, but those ordinances cannot prohibit short-term rental operations.
Though HEA 1035 will take effect on July 1, attorneys say they aren't seeing many requests for legal help in complying with the new state law from either a homeowner or municipality perspective. But once the law is implemented, some attorneys say legal battles could crop up as the municipalities grapple with the balance between property rights, local control and state regulations.
"I haven't seen any activity yet from attorneys on the side of private users," Indianapolis attorney John Molitor said. "I guess I'm not going to be surprised if it does occur."
The path to law
Lehman
Indiana lawmakers began studying short-term rentals in 2017, when Republican Rep. Matt Lehman first proposed restrictions on local regulations via House Bill 1133. Much of the concern during the 2017 legislative session was over the impact of investment companies buying properties and converting them into tourist homes or bed and breakfasts, particularly along the northern lakeshore, Molitor said.
HB 1133 failed to garner enough legislative support, so the issue was sent to a summer study committee.
The study committee's work led to what is now HEA 1035, legislation Molitor said is designed to protect individual homeowners, not investment companies. Lehman agreed, emphasizing the finding that property rights prevail over municipal regulations.
To that end, HEA 1035 allows for cities to require special exceptions, special uses, zoning variances or permits before a non-occupant owner can rent their home through platforms such as Airbnb. However, municipal requirements cannot function as a prohibition on short-term rentals — either explicitly or indirectly — and the costs for obtaining the necessary permits or variances cannot exceed $150.
"It is your house," the Berne representative said when he introduced HEA 1035. "You have a right to use a house as you so desire, so there should be no local ban on your owner-occupied home."
A growing industry
Despite legislative hurdles, Lehman told lawmakers he pushed for short-term rental legislation because of the growth of the industry in the Hoosier state. He cited statistics showing 175,000 Airbnb users coming to Indiana in 2017, a 108 percent increase over the previous year. Specifically in Indianapolis, Lehman said there were 73,000 Airbnb visitors who generated $8.4 million in revenue for local hosts.
Airbnb has also acknowledged a growing trend in the Hoosier state, with Midwest policy director Laura Spanjian releasing a statement shortly after HEA 1035 passed saying Indianapolis is the platform's top trending U.S. city. She also noted the platform has boosted tourism in cities such as South Bend and Bloomington — which have strong university-related tourist populations — as well as Fort Wayne and Evansville.
The growth of the short-term rental industry elevated considerations such as insurance, which was originally included in HEA 1035. The first version of the bill required either property owners or short-term rental platforms, acting on the owner's behalf, to obtain primary liability insurance covering third-party claims.
Those insurance provisions were designed around similar legislation related to Uber and the ride-sharing economy, where Lehman said there are gaps between the upper and lower levels of coverage. But industry leaders said such gaps do not exist in the sharing economy of short-term rentals, so that language was struck.
Meanwhile, innovative insurance companies such as New York-based Slice have been adapting their models to help hosts comply with municipality insurance regulations, or to provide general coverage. Slice employs an on-off coverage model that is only triggered on dates when a host specifies he or she will have a guest staying in a short-term rental, said Emily Kosick, Slice marketing director. Other companies provide bundled packages that include both homeowner's and short-term rental insurance, Kosick said.
Indiana case studies
All of these factors have left municipalities — particularly those mentioned by Spanjian — scrambling to find a way to control the local market while deferring to individual property rights. Bloomington, for example, has a residential and rental unit lodging inspection ordinance that has been extended to apply to short-term rentals, said Christine Bartlett, a Bloomington-based landlord-tenant attorney.
But much of the controversy over short-term rentals has centered around Carmel, which Molitor represents. When investment companies purchased homes in Carmel residential neighborhoods and converted them to tourist homes, the city began fighting those practices in 2016 by asserting the companies were violating local zoning ordinances. That led to the investor-related legislation in 2017, Molitor said.
Though the 2017 legislation failed, the city began an ordinance amendment process that would allow for short-term rentals, but within the confines of existing zoning regulations and neighborhood covenants. The new ordinance requires residents to apply for a special zoning exception and, if approved, pay a $50 permit fee.
However, the ordinance was passed on Jan. 8 — one week after HEA 1035's cutoff date to grandfather existing short-term rental regulations. The city maintains that because the law allows for ordinance amendments after Dec. 31, 2017 without subjecting the ordinance to HEA 1035, its updated regulations do not have to comply with the state legislation.
Spoiling for a fight?
Lawmakers, however, are less sure about whether Carmel's ordinance change is subject to the provisions of HEA 1035, with Rep. Jerry Torr telling the Associated Press it could be a question for a court. Though Molitor believes the ordinance complies with state legislation, he also acknowledged the uncertainty surrounding Carmel's and other local ordinances could require legal intervention down the road.
Specifically, Molitor said Carmel created a streamlined process in which a host only has to appear before a hearing officer, rather than the full Board of Zoning Appeals, in the hopes that residents won't feel they have to have legal representation to obtain a short-term rental permit. But if other residents appear at those hearings and voice their opposition to a certain resident obtaining a permit, then legal issues could arise.
Similarly in Bloomington, Bartlett said unless the city drafts complex code in response to HEA 1035, it doesn't look like residents — other than a few homeowners associations and landlords — want help with complying with local or state regulations. But as cities such as Carmel and Bloomington work to come into compliance with HEA 1035, the attorneys said the possibility of legal intervention remains.•
Please enable JavaScript to view this content.