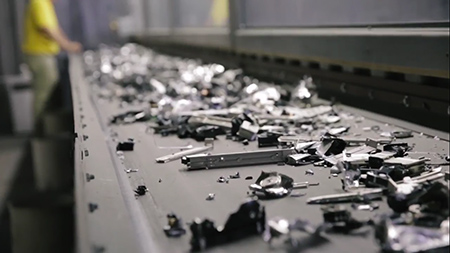 In a testament to the pace of change sweeping through the electronics industry, Technology Recyclers in Indianapolis has seen brand new, never-used high-tech devices come down its conveyor belt toward the shredder.
The trucks that back into the recycling company's loading docks usually are filled with old computers, printers, copy machines and the like, but sometimes they will bring gadgets that became outdated before they were sold to consumers. Items such as chargers that are not compatible with the just-released version of a cellphone might go straight into the recycling bin rather than being placed on a store shelf.
Shredders make quick work of devices such as hard drives, turning them from functioning technology into small, unrecognizable bits and pieces. (Photo courtesy of Technology Recyclers)
Even for the items that get sold and used, the life cycle is getting shorter, said Technology Recyclers co-owner and managing partner Matt Wright. He is seeing people not only buying more electronics as households now have multiple computers, laptops, cellphones and televisions, but also replacing them with newer models at a faster rate.
Certainly more electronics are getting dropped off at Technology Recyclers. The company took in about 800,000 pounds of e-waste when it started operations seven years ago. This year it expects to process 25 million pounds.
Worldwide, the piles of e-waste are growing, according to a report by the United Nations University. The amount of discarded items reached 44.7 million metric tons in 2016 and is expected to increase to 52.2 million metric tons by 2021.
While talk of technology often centers on the newest and the latest, Wright and his business partner Dale Needleman have seen a growing awareness that the old cannot be dumped into the landfill. And for law firms, the question of what to do with the sluggish, tired computers carries a greater importance because of client confidentiality.
Just as an attorney would shred outdated paper documents, contacts stored in a cellphone and files on a hard drive must be kept private when the old devices are discarded.
Miller
At Bose McKinney & Evans LLP, the hard drives are removed and physically destroyed, according to Jon Miller, chief information officer at the law firm. Extracting the brains of the computers and shredding them into tiny pieces is the easiest and cheapest way for the firm to dispose of the equipment and ensure confidentiality.
The Indianapolis-based law firm provides either a desktop computer or laptop to each attorney. The equipment typically gets replaced when the storage space gets filled. Rarely, Miller said, is a device kept for so long it becomes too old to use.
"Most often, people want new toys," he explained.
Proper disposal
Attorney Amy Noe Dudas buys a new computer for her small Richmond firm, Dudas Law, whenever the processing speed on the device gets slow.
The staff and the other attorney in the office each have desktop computers, and Dudas also has a laptop she carries everywhere. Storage space is not an issue because all the data is uploaded to the cloud. But when opening or saving a document or logging onto the internet begins taking longer and longer, the machine will be retired.
Like Bose McKinney, Dudas Law will slate the old computer for recycling. Dudas will make a special trip on Saturday morning to drop off the equipment at the recycling center, but the hard drive will remain at the office and be placed in a file drawer where other hard drives are kept.
Dudas pointed out the conversation surrounding technology focuses on storing information and maintaining the device. How to dispose of old electronics is not discussed, so she is still deciding the best way to get rid of that drawer of hard drives. She is leaning toward physical destruction — even joking about taking a hammer to them — rather than wiping them, because she isn't confident the information would truly be gone.
What she does know is the consequences attorneys could face if they do not dispose of client data properly.
For example, in 2014, Goshen attorney Joseph Lehman was suspended for two years without automatic reinstatement, in part because he improperly discarded client documents. Lehman was found to have thrown into a trash bin several paper files with confidential client information on cases, as well as Social Security numbers and financial records.
In 2016, Lehman was disbarred for practicing law while suspended.
Wright and Needleman said most people are good and are not trying to steal things. Just as if they found a wallet on the sidewalk, most would alert the authorities if they discovered a lost cellphone or proprietary data on a used laptop they had purchased.
Still, the risk is there. As to what could happen if personal private information gets into the wrong hands, Needleman said, "Pick your worst nightmare."
The process for destruction at Technology Recyclers includes logging the serial number of each item that arrives, tracking the devices through the shredding process and providing a certification of destruction to the customer. Also, the company can wipe the electronic items if the client prefers.
Even with the security, Wright and Needleman noted some people want to make doubly sure their information is obliterated. They told of one health care executive who comes to their facility and hands over the hard drives, then stays to watch them get torn apart as they go through the shredder.
Client demand
Computers are not the only source of concern. According to the Pew Research Center, 95 percent of Americans own a cellphone, making the devices more popular than desktop and laptop computers and tablets. Wright and Needleman recalled that in the past, many wanted to donate their old cellphones to different organizations that helped the less fortunate. Now, they advised, the better practice is to destroy the phones.
Attorneys at Bose McKinney are responsible for purchasing their own cellphones, Miller said. However, if the lawyers use their phones for work, the firm's policy requires the items to be encrypted and to be able to be wiped remotely if they are ever lost or stolen.
Although the common practice is for attorneys to rely on one cellphone for both professional and personal use, Miller suspects the former practice of having two separate phones will return. Namely, clients — particularly large banks — are beginning to question whether their lawyers should have a cellphone dedicated solely to business rather than mingling work and social activities on one. Then, should the attorney move to a different employer, the law firm can keep the cellphone and ensure the data it holds is safe.
Dudas does not use her cellphone to text or call clients, and when she upgrades, the old model is put into a file drawer. The demands from clients regarding electronics are few, with only a handful of individuals requesting Dudas not email documents to them. Otherwise, no one has ever inquired about how her firm stores client files or how the old electronics are discarded.
Likewise, Dana Zivkovich has not fielded questions from clients about the computers she uses for her work. She attributed the noninterest to her probate and elder law practice, which serves mostly older individuals who tend to be less familiar with technology.
Zivkovich, chair of the Indiana State Bar Association's General Practice, Solo and Small Firm Section, said her computers are set to require double authorization before allowing access. Her cellphone — which she doesn't use to call clients — can be wiped remotely. Also, when she discards a computer, she has the hard drive wiped, then double-checks to ensure it is blank.
Selecting, installing, maintaining and eventually scrapping electronics is time-consuming and can be a headache. However, as a solo practitioner, Zivkovich credited technology with making her practice possible.
More than nifty gadgets, computers and cellphones enable her to serve clients and run a law firm with multiple locations.
"I think it's important to say that the benefit of technology outweighs the burden by far, despite the risk inherent in using the technology," she said.•
Please enable JavaScript to view this content.