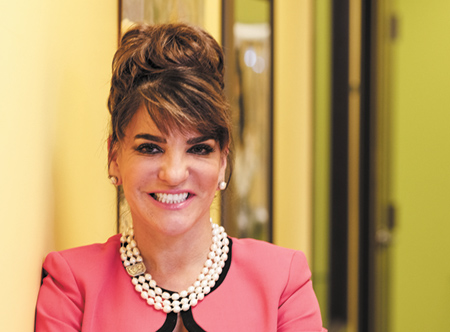 When Indianapolis attorney Paula Finch walked away from her general counsel position at a corporate law firm two years ago, it felt like using a "get out of jail free" card.
With a family, two young children, and not enough hours in the day, Finch realized that her position in the firm would not allow for dreams outside of the office. So she decided to leave big law, hang a shingle and pursue her own interests.
Finch
Like many other women in the legal industry, Finch said she was ready to regain control over the time she spent in the workplace and become the ultimate decision maker in her career. The only way to truly do that, she decided, was to take a risk and open her own practice.
"There are 24 hours in a day, and I wanted to use every one of them for what I needed to use them for," Finch said. "Women are struggling to find that flexibility within the traditional workplaces, and we're launching our own practices to get that."
The issue isn't new, but women still lag behind their male counterparts in the legal industry when it comes to making partner or landing senior positions, according to a 2017 McKinsey & Company study focused on women in law firms. Many women see starting their own firm as an answer.
That includes Philadelphia lawyer Nicole Galli, who left her big law career behind after 18 years of asking, "why did I stay so long?"
"I think we can continue to keep trying to make a change within these male-dominated environments, but frankly it's glacial, the pace of change. And I lost patience with it," Galli said. "It was like this when I was 25 entering the profession and it's like this at age 50. I'm not going to wait and have it still be the same when I'm 75. Somebody's got to do something, and it might as well be me."
Galli
For Galli, that meant opening her own firm on her own terms. But she realized there was no women-focused organization to turn to for help in her endeavor. That's when she had the idea of creating a networking community for women lawyers to benefit from the advice and resources of other women. Galli then gathered up a few female attorneys and created the national organization Women Owned Law.
"I really wanted a place, particularly, with other women entrepreneurs," Galli said. "And really the response was truly overwhelming. There was tremendous interest right away."
At the time of its official launch, the group already had 50 members spanning three states. Now, two years later, the group has organically grown to 200 members, primarily by word-of-mouth. Interest in women-owned firms has been seen elsewhere as well.
Numbers from a recent study conducted by the Women's Business Enterprise National Council found that of the 300 women-owned law firms it certifies, 16 percent were founded within the past five years, according to council spokeswoman Jessica Carlson.
Entrepreneurial moves
Galli said she has seen such movement from women lawyers across the country who are stepping away from traditional avenues to become the entrepreneurs of their own careers.
Indiana women attorneys such as Finch, who serves as Indianapolis' WOL representative, as well as Kathleen Delaney, chose to leave big law for a similar reason.
"I had an entrepreneurial itch," Delaney said. "I thought I could build a business on my own and wanted to do things the way I wanted to do them without having to run everything by a committee. I was looking for the flexibility to work on the kinds of cases I wanted to work on, on my own terms."
Delaney, who recruited her mother, Ann, to join her boutique litigation practice, said the switch from corporate to self-run firm has benefited her personal life, family life and overall career. She has no desire to return where she started.
"I'm doing the work that I want to do, when I want to, and how I want to do it," she said. "I've had multiple overtures of mergers or acquisitions, and every time I get one of those calls my answer is, 'If I wanted to work in a big firm, I'd be working in a big firm.'"
Indianapolis attorney Yasmin Stump felt that same itch, too. After 11 years of running litigation sections for the Indiana Attorney General's office, Stump was ready for a change. The offers she received to join established firms didn't seem right, however, so she hung a shingle and hasn't looked back.
Taking a risk, advocating diversity
Stump said she was worried about the decision to step out on her own, but 18 years later and she has no regrets.
"You feel like you have a lot more control over your life. You don't have to conform to what's been established," she said. "Whenever you start a business, it's always a risk and there are people that will try to dissuade you and say, 'what are you doing?' But there's that saying, 'life without risk is no life at all.'"
Finch agreed, noting that in her own personal experience, as well as hearing stories from other women, that leaving firms to start their own actually had a better outcome.
"The women owned businesses that I've talked to are very engaged and very happy about the choices they've made," Finch said. "Launching my own practice has given me renewed energy in the practice of law, renewed interest in my passion to serve others. It's made me a better lawyer, a better wife, a better mom. I wouldn't go back at this point."
Stump said she is encouraged by the number of women interested in branching off, and says she sees real potential for the future of female lawyers to be strong leaders for the young women who follow their footsteps.
"The nature of the practice of law is changing in terms of allowing for women to create their own opportunities that depart from what we may call traditional models," she said. "The more women that enter the profession, become successful and are able to have longevity in the profession, I think will allow for other women who want to become lawyers to be able to do that."
Please enable JavaScript to view this content.