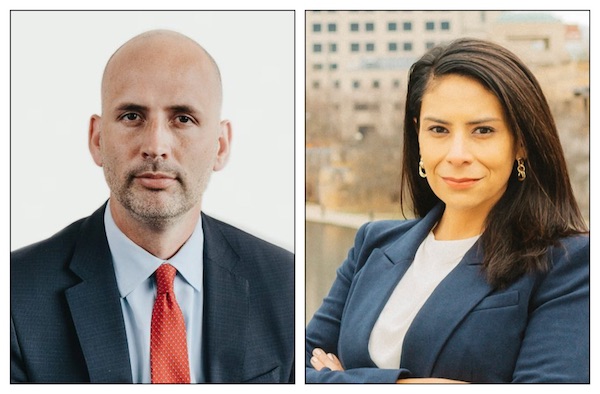 Republican Cyndi Carrasco outraised and outspent incumbent Ryan Mears in the third quarter in their race for Marion County prosecutor, according to the latest financial reports released Friday.
Carrasco raised almost $371,400 in the third quarter, falling short of her ambitious goal to reach $1 million in contributions. She's raised $577,000 since launching her campaign.
Mears, a Democrat, raised $297,000 in the quarter, nearly tripling contributions of $110,000 in the previous quarter.
Mears began with more in the bank than Carrasco when she announced her candidacy in January and he has maintained that edge. He ended the period with $363,200 in cash to Carrasco's $237,000.
Carrasco also topped her pre-primary fundraising, where she reached $206,000. She told IBJ in late September that she was proud of that number, since it nearly matched Mears' $215,000 cash-on-hand at the start of the pre-primary period.
After the Oct. 14 end of the reported period but prior to the Oct. 21 reporting deadline, Carrasco received $11,000 in large campaign donations. That included $3,000 from Indiana Senate President Pro Tempore Rodric Bray's campaign committee, along with $3,000 from Hoosier PAC, which has a Wisconsin address.
Carrasco has been bigger on spending: her campaign had spent $311,000 since April, while Mears' has spent $100,000 less at $211,000.
The competitive race is inspiring some heavy ad spending. Carrasco has spent almost $70,000 on local TV station ads, to Mears' $60,000, according to Federal Communications Commission filings.
Please enable JavaScript to view this content.