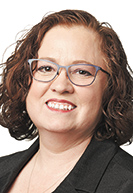 By Emily Connor and Rebecca Loeffler
As Indiana reopens amid COVID-19, employers will contend with various challenges and significant workplace changes. In addition to evolving federal guidance and recommendations, employers will need to take into account the rapidly changing orders and guidance from state and local authorities. This article identifies several questions employers should be asking and answering as they start the process of reopening for business.
How can social distancing be done in the workplace?
Ultimately, employers should implement what is feasible and practical for their workplace. For example, some employers may be able to reduce employee crowding by scheduling split shifts or providing alternate-day schedules. Where possible, employers could consider reconfiguring the workspace to create greater space between employee workstations or installing shields between workstations. Other options include staggered meal or rest breaks, designated break areas, one-way hallways or markers indicating proper social distancing in areas where employees congregate. Employers should look to the guidance provided at the state and local level for assistance in determining what is required, as well as industry-specific practices. Indiana's guidance can be found at backontrack.in.gov.
Are employees required to wear face coverings?
As of June 12, under Indiana's "Back on Track" plan, face coverings are only required for certain industries (for example, restaurant employees and personal service providers). However, employers, regardless of industry, may choose to implement their own policies mandating that employees use face coverings provided by the employer and/or allow employees to purchase or make their own face coverings. As part of those policies, employers should consider whether they will provide employees with face coverings or require employees to provide their own. And if employees provide their own face coverings, employers should consider whether they will monitor appropriateness of face coverings, whether they will reimburse employees for the expense and whether the employee should be compensated for laundering the face covering. Employers should also consider, however, that some employees may have health conditions that make wearing a certain type of facial covering, or any covering at all, difficult or even impossible, and be open to discussing alternative solutions.
How can employers screen employees for possible COVID-19 infection?
Indiana requires employers to conduct daily health assessments of employees returning to work. The state suggests employers screen their employees via employee self-assessments before arriving to work, implement screening questions as employees enter the workplace and/or take employee temperatures with "no touch" thermometers. As with any form of screening, questions to employees bearing on the likelihood of COVID-19 infection must tie directly to the threat posed by COVID-19. Accordingly, employers should ask only about the risk factors that are based on the objective evidence — such as fever, cough, shortness of breath or sudden loss of smell and taste. Again, check the Back on Track and Centers for Disease Control and Prevention websites for common symptoms to include. Employers can also ask whether the employee has had close contact with anyone who has been diagnosed with COVID-19. Additional permissible questions include whether the employee has been directed to self-isolate or has tested positive for (or been diagnosed with) COVID-19.
Temperature checks are a common and critical component of the employee screening process. In addition to Indiana's requirements, the CDC recommends employers check their employees' temperatures before employees enter the workplace. EEOC guidance likewise makes clear that employers may require employee temperature checks. Employers are taking different approaches with regard to temperature checks. Some employers require employees to take their temperature at home —where they may also complete their self-assessment screening — and affirm they do not have a high temperature. Other employers are taking each employee's temperature at the beginning of a shift or day, typically with "no touch" thermometers. However, employers should establish a protocol for the temperature check process that protects the privacy of the individual being screened, provide appropriate training and personal protective equipment to those administering the screening, apply screening consistently to all employees and have a process in place for denying entry to individuals with a high temperature.
Regardless of the methods, under the Americans with Disabilities Act ("ADA"), all records regarding employee screenings and temperature checks constitute medical records that must be stored securely such that only those with a "need to know" can access them. Further, these records should not be stored in an employee's personnel file.
How can employers reassure employees who are reluctant (or refuse) to return to work?
Employees may have concerns about reentering the worksite and, specifically, about what employers are doing to ensure their safety. The safety measures being taken by the employer should be clearly and frequently communicated to employees so that everyone is informed of the measures being taken on an ongoing basis to keep them as safe as possible. Further, employers need to remain cognizant of their obligations under the ADA and other laws when employees express concerns. For example, employees with disabilities or conditions that put them at high risk for complications of COVID-19 and employees who are 65 and older may request telework or other alternatives as an accommodation to reduce their chances of infection during a pandemic. Employers need to recognize that what used to be unreasonable or undue hardship might not be so clear now. Every case should be handled individually. As always, employers should enter into a dialogue with the employee, remembering that even as the state of Indiana moves toward permitting all businesses to reopen, employers remain encouraged to continue offering teleworking options or other alternatives as long as feasible.
What preparations should employers consider for a potential exposure in the workplace?
It is essential to have an exposure control plan in place before a potential exposure occurs. Among other considerations, employers should have protocols in place for when an employee needs to self-quarantine, determine whether and how to conduct a contact tracing assessment and identify appropriate cleaning protocols for the various scenarios. As discussed above, keeping employee health information confidential is important, but employers must be aware of their reporting requirements under OSHA guidelines. Internally, only those who need to know the employee's diagnosis to prevent the direct threat of COVID-19 to others in the workplace should receive that information.
These are only some of the myriad concerns facing employers in Indiana. Employers and their attorneys should stay up-to-date on the federal, state and local guidance regarding these issues.•
• Emily Connor is a shareholder and Rebecca Loeffler is of counsel at Littler Mendelson in Indianapolis. Littler shareholder Brian Mosby contributed to this article. Opinions expressed are those of the authors.
Please enable JavaScript to view this content.