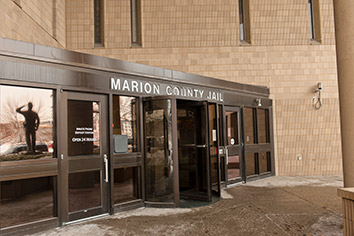 The planned $120 million revamp of the former Jail II building and Arrestee Processing Center in downtown Indianapolis by 1820 Ventures could be aided by $15.5 million in tax increment financing bonds, pending full City-County Council approval.
The council's Metropolitan and Economic Development Committee OK'd the creation of a new allocation area and the TIF bonds for the Cole Motor Redevelopment project, named after Cole Motor Car Co., the original tenant for the buildings. The next full council meeting is scheduled for Dec. 5.
Once completed, the properties will include street-level retail off Washington and Market streets, an education component, a co-working space and a second location for longtime Broad Ripple music venue The Vogue.
The Jail II building is expected to feature 110 to 140 apartments — a mix of market-rate and affordable one-, two- and three-bedroom units — along with a rooftop deck and amenities including a dog park and fitness center.
Due to TIF requirements, the apartments will either need to have 10% of the units priced at rates affordable to those making 50% or less of the area median income or 5% priced for those at 30% area median income. Jeremy Stephenson, founder and managing partner of 1820 Ventures, indicated Monday that a decision had not been made on which path to take.
With the redevelopment and the adjacent Elevator Hill project, Stephenson said the group is looking for ways to work with the city and make Market Street more pedestrian-focused.
"We are working a great deal with the city to sort of reimagine what Market Street could be," Stephenson said. "There's some work being done in Elevator Hill that's really to reconnect Market Street, really make it much more pedestrian friendly."
Scarlett Andrews, director of the Department of Metropolitan Development, said the city chose the proposal from 1820 Ventures LLC in August partially due to an increased interest in "innovation districts." Similar mixed-use developments include Bottleworks and 16Tech, as well as Elevator Hill, which is also an 1820 Ventures project.
Stephenson told Indianapolis Business Journal in September that the details of the economic incentives the project would receive were still being ironed out.
The project is being co-designed by Indianapolis firms DKGR Architects and Meticulous Design and Architecture, the latter of which is a tenant at Elevator Hill.
FA Wilhelm Co. Inc., Taylor Bros. Construction Co. and American Structurepoint were chosen to handle construction.
The 4.3-acre site, between a set of elevated CSX railroad tracks and Interstate 65/70, totals 280,000 square feet of building space. Jail II is about 180,000 square feet, while the Arrestee Processing Center is 100,000 square feet.
Construction at the site is set to begin next year.
Please enable JavaScript to view this content.