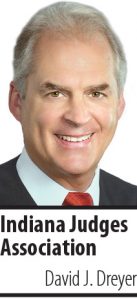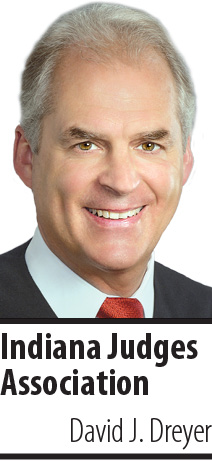 Yogi Berra's famous quotes help us understand things we cannot always articulate. When Yogi said "the future ain't what it used to be," he was talking about uncertain times to come. As the first fifth of the 21st century comes to an end, we are undergoing unsettling changes. Self-driving cars, artificial intelligence replacing jobs, e-commerce altering retail traditions, movie/TV/music streaming making arts and entertainment a self-serve cafeteria – all this surrounds the enduring structures and habits we learned, and now have to unlearn. In Indiana courts, you can't file a piece of paper anymore (I have to click, click, print and staple just to have a copy to mark on). Attorneys in courtrooms pick up phones to address a judge and read notes for an argument. Closing arguments to a jury may include video animations or excerpts of video depositions. The offices of many courts have become quieter (and lonelier) as all work and communications are screen-oriented.
So what is the future of the legal system? We have certainly heard a lot about this, maybe too much. But years of study and commentary have now centered on some consistent conclusions and an abundance of theories worth noting:
Traditional legal practice is "cracking": The Indiana Lawyer's recent surveys concluded younger attorneys in law firms are increasingly less likely to continue there. Factors include less certainty about tangible productivity among clients' legal needs and less opportunity to explore alternative ways to practice.
In addition, the model of advising and representing clients, some say, is becoming more expensive and obsolete. More nonlegal alternative providers are utilized, and lawyers may look for new ways to combine their work with other professionals in and out of their firms. The days of being everything for everybody may be numbered.
Self-serve society: The National Center for State Courts offers valuable information about court trends, one of which includes the delivery of justice in a self-service world, according to executive vice president Michael L. Buenger. The legal profession is highly challenged, Buenger says, by not only the meteoric rise in digital assistance for all public services, but also by the inherent constraints self-imposed by legal providers. Dispute resolution should reflect society's norms and expectations. "Focusing on rules over substance creates frustration for a self-service-oriented public," Buenger writes. So does the tension between procedure versus substance actually damage the system's legitimacy in this new world order? Well, it does in the realm of public confidence, says Buenger. "Highly complex systems sometimes constrain people," so the reality of a rapidly growing self-serve public and economy means the legal system must adapt. But how?
Unmet legal needs and unrepresented litigants in civil matters: Since the beginning of the American legal system, there have been persistent problems in affording equal access to advice and representation. The great efforts of pro bono attorneys, civil legal aid organizations and bar associations have not alleviated the overwhelming unmet need. Recent estimates from the American Bar Association, Legal Services Corporation and others show that as many as 71% of low-income Americans have a civil legal problem each year, but only about 20% get any advice. The reasons are largely due to the complexities of modern society: people don't know where to find a lawyer, people don't want a lawyer because they don't trust them and people don't even realize they need lawyer. As a result, the imbalance of a fractured and partial legal system raises societal costs, increases community problems and burdens the courts.
Our courts sit squarely in the cauldron of change. We are wedded to the customs and practices of the past but must balance those processes with the enigmas of the modern profession. Can we admit an iPhone video – on the phone? Does the Facebook comment come into evidence for any purpose? Can we help the unrepresented party? How do we manage production of documents in cyberspace? The public demand for simpler processes, and maybe a different kind of due process, can collide with our rules. The experts say we have to think creatively and ask the "hard questions." But that doesn't help when we have a responsibility to preserve over 200 years of law. The challenge for our courts, and our profession, is to figure out the questions. It is not clear that we can do that unless, or until, we reach a relatively stable plateau.
So as the future unfolds, we turn once again to the great thinker Yogi Berra: "You've got to be very careful if you don't know where you are going, because you might not get there."
Amen.•
• Judge David J. Dreyer has been a judge for the Marion Superior Court since 1997. He is a graduate of the University of Notre Dame and Notre Dame Law School. He is a former board member of the Indiana Judges Association. Opinions expressed are those of the author.
Please enable JavaScript to view this content.