Editor's note: This story has been updated.
Embattled Indiana Attorney General Curtis Hill announced on Thursday that he will seek re-election, setting up a potential Republican Party convention fight for the nomination in the spring.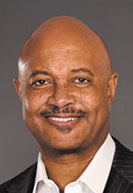 In a press release, Hill struck a combative tone, saying: "At a time when freedom and our way of life are under attack, I'll continue to work with President Trump, and others, on important issues facing our nation and state. I'll never back down from partisan attacks, the media, and even Republicans embarrassed to defend our values."
Hill's decision comes as he awaits the outcome of an October Indiana Supreme Court Disciplinary Commission hearing over his conduct at a legislative session wrap-up party in March 2018. A state lawmaker and three legislative staffers say he drunkenly groped them — allegations Hill denies.
After four days of testimony, former Supreme Court Justice Myra Selby took the evidence under advisement. The most serious punishment she could hand down is disbarment, which would disqualify him from serving as attorney general.
Hill, 58, was elected attorney general in 2016. He previously served as Elkhart County prosecutor. After the allegations against Hill became public, Gov. Eric Holcomb and legislative leaders called on him to resign. 
In June, John Westercamp, a Bose McKinney & Evans attorney, announced he would vie for the 2020 Republican attorney general nomination.
Attorney general candidates are selected at party conventions, not by voters. The Indiana GOP will pick its attorney general candidate at the party's convention in Indianapolis in June 2020.
Also trying to unseat Hill is Sen. Karen Tallian, 68, a Democrat from Ogden Dunes. She announced her run for attorney general in August.
Hill released two campaign commercials on his campaign website touting his experience as a prosecutor and vowing among other things to "stand for freedom" and fight violent crime, drugs and human trafficking. One of the 30-second spots touts his family ties and includes images of his wife and five children.
Holcomb, Lt. Gov. Suzanne Crouch and House Speaker Brian Bosma are among top state Republicans who've called for Hill's resignation. Holcomb hasn't yet endorsed anyone for the nomination.
"The governor and lieutenant governor have been clear and consistent from the beginning: Curtis Hill should not be Attorney General of the State of Indiana," state Republican Party spokesman Jake Oakman said in a statement Thursday. "This announcement doesn't change anything."
Hill will be counting on the support of social conservatives among state convention delegates in order to win the GOP nomination. He's fueled that support with news conferences about the discovery of more than 2,400 sets of fetal remains at Chicago-area properties linked to a deceased Indiana abortion doctor and appearances on Fox News to discuss topics such as San Francisco's troubles with homelessness.
Hill was elected last November as vice chairman of the national Republican Attorneys General Association, which provided about half of the $1.5 million he spent in easily winning election over a little-known Democrat in 2016.
Indiana Democratic Party Chairman John Zody called Hill "a disgrace."
"His conduct is below the standard of an elected official, let alone the state's top law enforcement officer," Zody said. "In his announcement, Hill lights the fuse on what could be a powder keg of a Republican convention by openly taunting Governor Holcomb and other Indiana Republicans."
While Hill stresses his Hoosier roots, his campaign is overwhelmingly fueled by money flowing in from out of state. According to an outgoing treasurer report filed with the Indiana Secretary of State's office in September, Hill raised $32,500 from July 1-Aug. 12, of which just $3,000 was contributed by Indiana donors. Hill also spent heavily during that period, burning through more than $51,000. Of that, more than half went to Wichita, Kansas-based Graham Advisors LLC for "fundraising consulting expense," the report says.
Hill has a commanding fundraising lead over Westercamp. The challenger has cash on hand of just under $41,000, according to campaign contribution reports, the bulk of which came from his colleagues at Bose. Hill, meanwhile, reports a most recent ending balance of more than $187,000.
Tallian has yet to file any campaign finance reports.
— The Associated Press contributed to this report.
Please enable JavaScript to view this content.