Two candidates — Republican Cynthia "Cyndi" V. Carrasco and incumbent Democrat Ryan Mears — will vie for the position of Marion County prosecutor this November.
Campaign filings reported by the Indiana Secretary of State's Office indicate Carrasco and Mears will each run unopposed in their parties' primary elections in May, setting them up to face off in the general election this fall.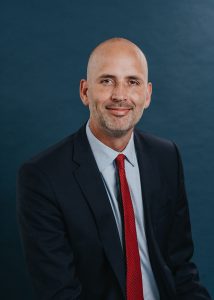 Mears has served as Marion County prosecutor since he was selected by the Marion County Democratic Party in October 2019 after serving as interim prosecutor when Terry Curry stepped down. He previously served as the office's chief trial deputy and spent 12 years as a deputy prosecutor in Marion County.
Mears has tried more than 100 jury and bench trials and said he believes that experience will benefit him if he's reelected.
"I have that foundational experience of having actually done it myself," Mears said. "I think that puts me in a pretty good position to provide guidance and also help our deputy prosecutors."
Carrasco worked for 15 years as an attorney in Indiana state government, serving as Indiana's second inspector general and later as deputy general counsel for Indiana Gov. Eric Holcomb.
Last month, Carrasco joined Indianapolis law firm Riley Bennett Egloff LLP as of counsel.
The Texas native and daughter of Mexican immigrants made Indianapolis her home two decades ago. Now, she said her beloved Midwestern city is hardly familiar and the status quo "isn't working."
"This is a decision that I didn't come to lightly, I have thought about it for a very long time," said Carrasco, who describes herself as a collaborative leader and staunch advocate who wants to be an agent of change.
"I really thrive in bringing people together and listening to different ideas," she continued. "I believe that having open dialogue with people who disagree and coming together to build a consensus is the way that we all collectively improve."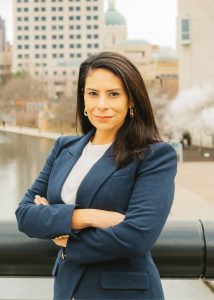 If elected, Carrasco said she would apply a commonsense approach to each individual case and wouldn't "categorically dismiss any laws."
Mears listed his main campaign priorities as reducing violent crime, empowering youth, addressing marijuana offenses, promoting conviction integrity, pursuing driver's license restoration and tackling hate crimes.
Carrasco said her top objectives are to tackle violent crime, improve public safety, hold repeat offenders accountable, advocate for victims, and partner with local and community stakeholders.
According to a Jan. 19 campaign finance report, the Mears campaign held more than $215,000 at the end of 2021. A statement of organization filed by Carrasco's campaign on Jan. 18 did not list a dollar amount.
Violent crime
Both Mears and Carrasco named addressing violent crime as their chief priority. In 2021, the Circle City recorded a record 271 homicides.
The spread of violent crime is what motivated Carrasco to run for office, she said.
"Over the course of the last six months, the increasing gun violence in our city was what really what put me over the edge," she said. "Folks say, 'I moved over here because I thought it was a safe neighborhood.' And then you hear about crime happening around the corner."
First, Carrasco said she would tackle gun violence by reestablishing relationships with key stakeholders in the public safety arena, including law enforcement and the courts. She also said she would work to foster open dialogue with community members about how to work together to restore public safety.
"Number one, I'd evaluate the programs in the (prosecutor's) office and reestablish a gun violence unit," she said. "I want our city to be safe. I want us to be able to come back downtown without necessarily having to ask the question."
Although eliminating violent crime is critical, there's no simple solution to addressing the problem, Mears said. He pointed to the lack of trust between the community and the criminal justice system as presenting challenges to solving and prosecuting such crime.
One roadblock is that people often know key information about homicides and nonfatal shootings but are too reluctant to speak up, he explained.
"We're not in a position to get those convictions unless we have buy-in from the community," said Mears, whose strategy is to get to the root of the problem by addressing nonviolent needs of the community.
Following that path, Mears' office has halted prosecutions of low-level marijuana offenses and has worked to reinstate driver's licenses through the Good Faith Initiative and the Second Chance Workshops. Mears also launched the state's first Conviction Integrity Unit and created a hate crimes hotline.
"I firmly believe that all of these issues are very closely related to one another. And we're certainly pleased with the trial results that we have," Mears said. "But we also understand that there's a number of cases that we would like to be in the courtroom trying that we just didn't have the opportunity to do because there are people in the community who are reluctant to cooperate."
Gaining, sustaining trust
Building relationships within local communities is another top priority for both candidates.
Carrasco said she would work to set a new tone for the office, establish its priorities and get prosecutors back into the community to build relationships with Hoosiers.
"Connections to the people that are living in these communities are critical," she said. "They need to be able to know that there is somebody in their community that they can reach out to if they have questions."
Mears' opponent said she's heard concerns from law enforcement about "the lack of relationship and cooperative approach" they've received from the prosecutor's office. She also opined that "a shift in the philosophical approach to prosecuting crimes" has "driv(en) a lot of people leaving the prosecutor's office."
To remedy that, Carrasco said she would immediately assess the team dynamic and welcome new law school graduates to be trained by experienced professionals already working in the office.
"I think it's incredibly important that the city's biggest law firm (the prosecutor's office) has top-notch experienced deputy prosecutors handling the cases," she said.
For his part, Mears said he hopes to foster stronger community relations by nurturing Indianapolis' younger populations. His office launched a Juvenile Second Chance Program with help from the Boys & Girls Club of Indianapolis, where low-level nonviolent youth offenders are given a platform to voice their concerns and suggestions about violent crime.
As violence has reached record highs in Indianapolis, Mears' office has faced criticism. Notably, he came into a national spotlight last year for not seeking a "red flag" hearing in 2020 for Brandon Scott Hole, a 19-year-old gunman who killed eight people at a FedEx facility by the Indianapolis airport before turning the rifle on himself in April 2021.
"The unfortunate reality is that if you want to have access to a firearm, you can have access to a firearm in the state of Indiana because there's not a lot of restrictions out there," Mears said when asked how he would approach red-flag cases if reelected.
But Carrasco called the FedEx shooting "the clearest example of the current prosecutor's failed leadership." She said that as prosecutor, she would use the state's red flag law to its "maximum potential."
As for marijuana offenses, Carrasco said those prosecutions are not on her priority list. However, she said she would address low-level possession offenses on a case-by-case basis.
Standing out
Carrasco maintains that her leadership experience and voice of reason would serve her well in the prosecutor's office. She said she hopes the public knows she's a mom who cares about her own family as well as Hoosier families.
"We truly deserve better for the safety of our residents and the reputation of our city," she said.
When he first began his public service career in 2006, Mears said he never thought he'd be prosecutor. He said he's not a political person and simply wants to work hard on behalf of Hoosier communities.
"This is why I'm running for reelection," he said. "It's that sincere desire to try to make a difference."•
-Leslie Bonilla Muniz of the Indianapolis Business Journal contributed to this report.
Please enable JavaScript to view this content.