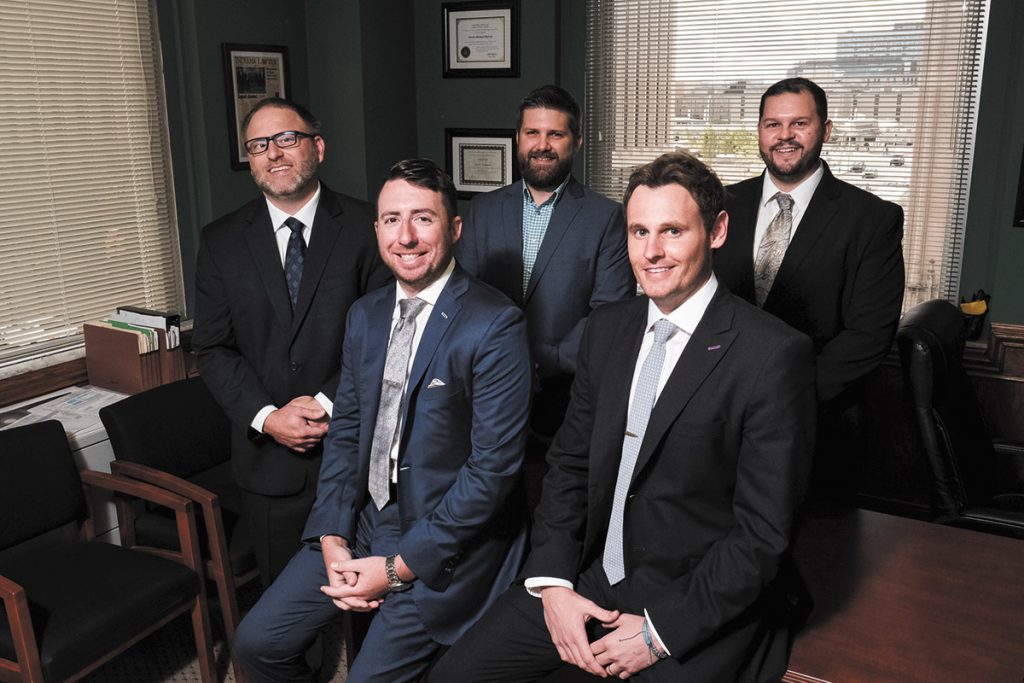 A few years ago, two Indianapolis law firms agreed to share office space. A few weeks ago, they joined forces in a merger that has them optimistic for what the future holds.
Funk & Spandau LLC started its firm on the heels of Tate & Bowen LLP, who agreed to let the newer attorneys share office space with them in the Inland Building on Market Street. J.T. Funk and Ben Spandau, who opened their firm immediately after graduating law school in 2016, found friendship and mentorship from officemates Brandon Tate and Kevin Bowen.
Both firms benefited from the space sharing agreement in more ways than one. The agreement meant both teams could negotiate a lease for a larger space while keeping costs down. For Funk and Spandau, it sometimes meant running down the hall to ask for advice from their more experienced colleagues. For Tate and Bowen, the agreement served as a free trial run and front row seat to observing Funk and Spandau in action.
"The biggest thing for us was seeing them work over the years," Tate said. "We saw them work and we knew they could do the work."
At the time, however, Tate said it didn't yet make sense for the four men to merge into one firm. In the years that followed, however, that idea changed.
"Obviously we liked each other and how we worked together," Tate said.
A new addition
The stars later aligned in merging the two firms into one with the addition of Charlie Daugherty to their ranks. The men met and built a friendship with Daugherty through the Indiana State Bar Association, and they realized he shared similar interests and goals. That's when they saw an opportunity for a fifth member.
"I was exploring things that I might want to do with my practice, and it sort of clicked," Daugherty said. "I thought maybe this was a good idea, and it was."
Daugherty jumped on the merging train and the men made it official, creating Tate Bowen Daugherty Funk Spandau LLC in September 2019.
To nail down an internal structure for the new firm, Tate said the attorneys looked at other firms as examples, then put a twist on it.
Tate and Bowen still offer personal injury services and have a contingency fee in the practice. Meanwhile, Funk, Spandau and Daugherty focus on construction, real estate, estate planning and more on an hourly rate.
"We kind of took two practices, shoved them together and were able to differentiate the risks," Tate said. "The contingency has more ebbs and flows, it has higher highs and lower lows compared to hourly, so we have meshed the two together to help offset risks and benefits."
Marketing will look different, Tate said, but the attorneys are still under one firm and will benefit from one another. Spandau agreed, noting a major benefit is the breadth of the new firm's network.
But the process of getting to where the firm is now wasn't quick, the men acknowledged.
"We really looked at this merger in every direction we possibly could," Spandau said. "This was not a two-week thing; it took a very long time."
For Daugherty, the biggest adjustment has been moving away from a more specialized practice to offering broader, fuller services. Although it's different, he said he has a fun group of guys to work through it with.
Spectrum of variety
When asked about the group's dynamic, the men joked that it depended on the time of day and who is in the office at that time. After lighthearted banter among themselves, Tate offered, "We're energetic."
Everyone brings something different to the table, Spandau said. The group consists of a wide spectrum of minds.
"From the cautious to the absolute at-heart litigator to the most business-conscious to risk-taker … we run the span," Spandau said. "That's why J.T. and I wanted to share space with Tate & Bowen. It wasn't just to glean information from them, but it was also because we saw a good mindset and good heads on their shoulders. I think we're all able to grow from each other, and it allows us to be a very strong firm."
It's also been a comfort and confidence booster, Funk said, to know he has four other attorneys on his team he can rely on if troubles arise.
"I think the one thing we all have in common is that we always try to push the limits," Spandau added. "Some people like to stay in their lanes, but we don't. We like to see how we can push the boundaries."
That "go-getter" mentality is what drew Daugherty in. He said he likes that this team of attorneys can collectively take their practice in a new direction and break free from patterns and routines.
Goals of growth
Without hesitation, Tate said the newly merged firm is headed in the direction of expansion.
"We're looking to grow, and we don't have any deadline of when we can start – we're looking now," he said. "Immediately into the future, we see a pretty quick growth pattern for our office."
"That was Tate & Bowen's goal all along, was to grow our firm into different practice areas," Bowen added. "Brandon and I wanted to narrow our specific focus, while at the same time growing the firm. The timing worked out perfectly."•
Please enable JavaScript to view this content.