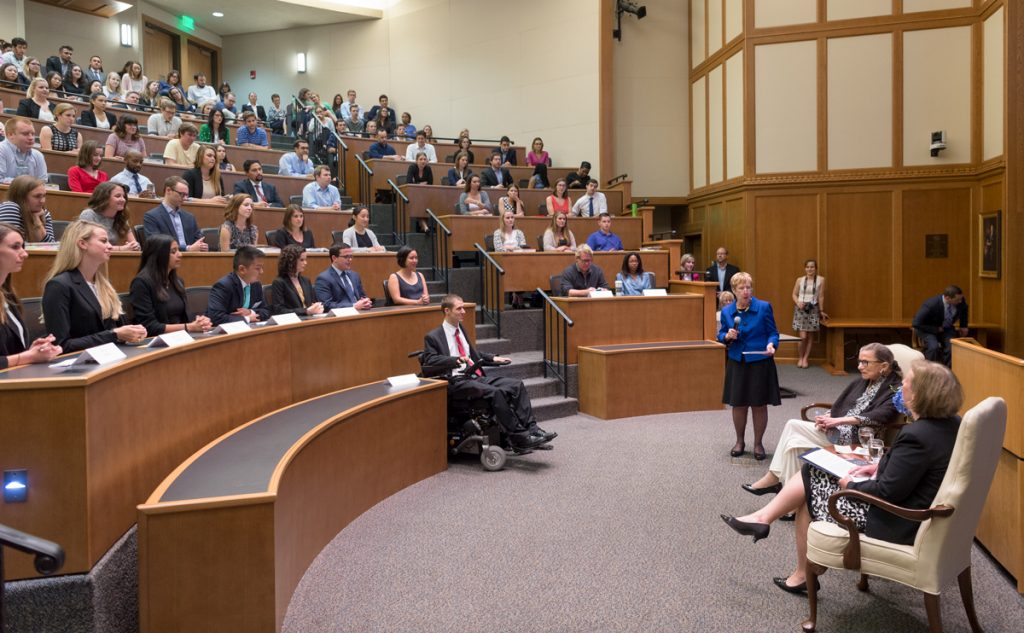 Fitting all the participants with military uniforms busted the budget for the mock trial. But the special guest jurist for the event, U.S. Supreme Court Justice Ruth Bader Ginsburg, loved the idea of costumes, so Indiana University Maurer School of Law found the extra money.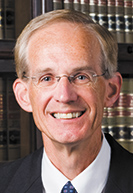 The fictional legal exercise, which took place in 1998, was based on the premise that Lt. Col. George Armstrong Custer had survived the battle of Little Big Horn and was facing a court martial. IU Maurer students paired with alumni of the law school and served as attorneys in what was essentially an oral argument. The three judges were "Gen. Ginsburg," then-Indiana Justice Frank Sullivan and IU Maurer Professor David Williams.
C-SPAN recorded the event, and IU Maurer posted a link to the video on Twitter after Ginsburg died at her Washington, D.C., home Sept. 18. The 87-year-old justice was a champion of gender equality, and her fight for equal rights eventually made her a pop culture icon. But during her visit to Bloomington in the years before she became the "Notorious RBG," she showed her intellectual depth, sharp mind and commitment to legal education.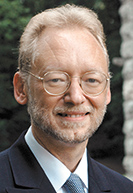 And she did all that while dressed in a navy blue wool jacket with red piping and brass buttons. Williams was not surprised. He had clerked for Ginsburg when she was a judge on the D.C. Circuit Court of Appeals and knew well her ability to think about and interpret the law.
Yet, as with all her other law clerks, Williams' clerkship became an enduring friendship. The justice would always take him and his family out to dinner whenever they visited Washington, and his children, now adults, still have the Sacagawea gold dollar coins she gave them when they were young.
"She was really wonderful," Williams said, emotion choking his words. "To me, knowing she was in the world and what she made possible for us … was huge."
Hoosier connections
Ginsburg's visit to IU Maurer was one of several she made to Indiana during her tenure on the Supreme Court. She had friendships with the professors and deans at the law schools in the Hoosier State, and she influenced law students, lawyers and judges across the state.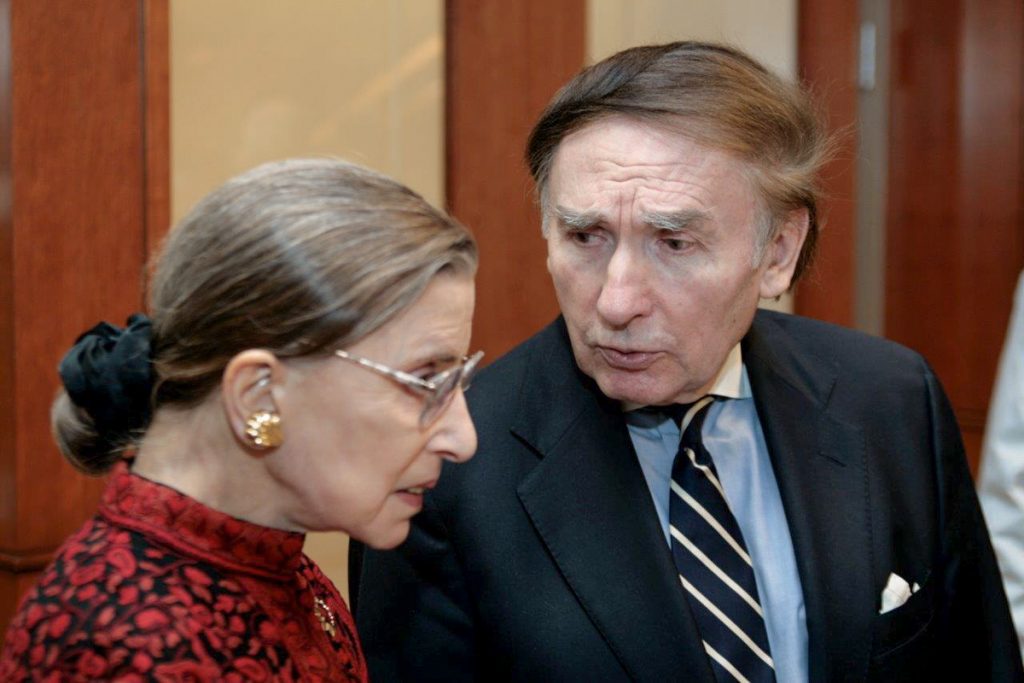 Indiana Chief Justice Loretta Rush issued a statement saying to those who emulated Ginsburg, "this is not just the loss of a powerful leader and statesperson, but the personal loss of a mentor." Southern Indiana District Court Chief Judge Jane Magnus-Stinson said Ginsburg's "groundbreaking work as a lawyer, judge and justice has and will continue to serve as an example and inspiration for generations to come."
James White, professor at Indiana University Robert H. McKinney School of Law, developed a friendship with Ginsburg based on their work as teachers and interest in legal education. He remembered whenever he wrote her a short note, passing along some news of the day, she would drop a reply in the mail within a week.
"She would immediately respond, with all she had on her plate," White said. "Very few people would do that."
In 2007, Ginsburg visited IU McKinney to give the James P. White Lecture on Legal Education. She and her husband, Marty, were scheduled to arrive in the Circle City at 2 p.m., but their flight was delayed until 6 p.m., just an hour before the lecture was scheduled to begin.
White said the justice was unfazed. She lectured then attended a dinner that followed the event. The next day, she taught two classes and had a special luncheon with members of the Indianapolis legal profession.
She never lost her interest in education, White said. She saw law schools as the way to bring more diversity into the bench and bar.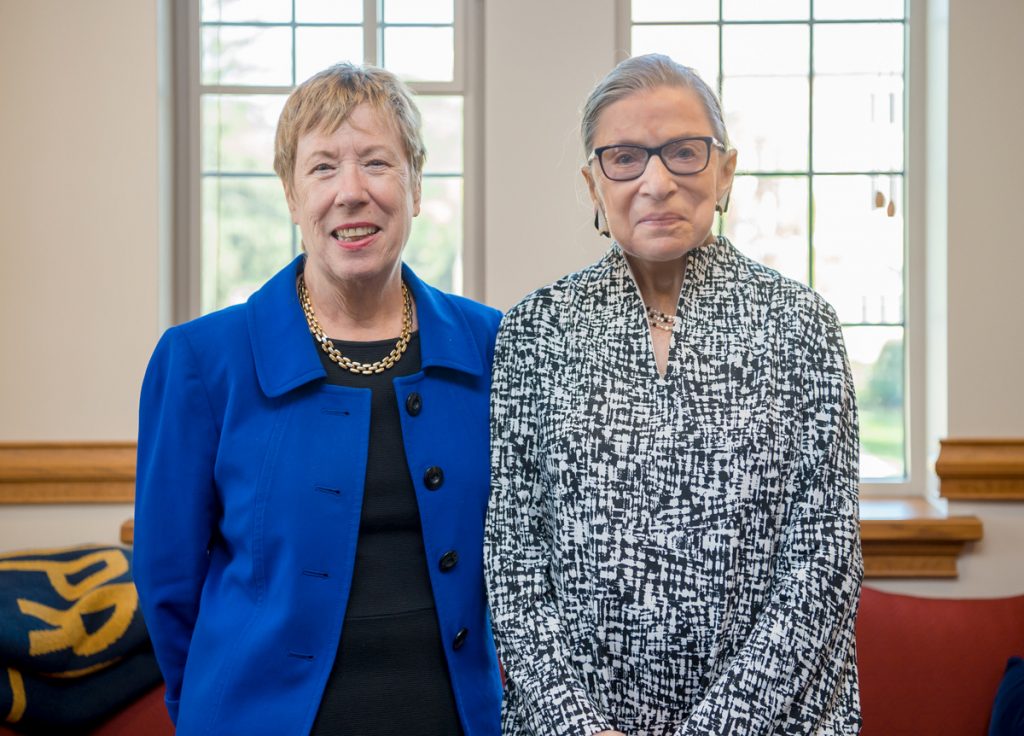 Former Notre Dame Law School Dean Nell Jessup Newton also saw Ginsburg's passion for the classroom. The pair met infrequently through the years, but always the justice would inquire about the students. She wanted to know how they were affected by the Catholic mission of the law school and how many women were enrolled.
By the time she visited the University of Notre Dame in 2016, Ginsburg's status had grown beyond the legal profession. The crowd of more than 7,000 that filled the Joyce Center was both charmed and enlightened as she answered questions about her life and the law.
At one point, the moderator of the evening, former 7th Circuit Court of Appeals Judge Ann Claire Williams, joked with Ginsburg by asking if she was Queen Ruth. The justice caused the audience to erupt with her reply: "I'd rather be notorious."
"She was one of the most amazing women I've ever met," Newton said of Ginsburg.
Veronica Root Martinez, the first Black woman to become a tenured full professor at Notre Dame Law School, remembered Ginsburg taking time to talk to the law students while she was on campus. "Her representation and contributions matter to our law students and to young women and girls all over this country and world," Martinez said.
IU Maurer's David Williams knew of Ginsburg's work for gender equality when he was a law student at Harvard. Even though he interviewed with other judges, he wanted to clerk for Ginsburg.
He remembered the day she stopped by his desk to praise his draft of an opinion. She dropped the papers on his desk, stood on her tiptoes and kissed him on the cheek.
"I blushed," Williams said.
On the bench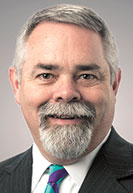 Jon Laramore, executive director of Indiana Legal Services, sparred with Ginsburg at oral arguments on Jan. 14, 2015, believing the justice was pushing him to broaden his interpretation of state and federal statute.
Then an attorney in private practice at the firm that is now Faegre Drinker Biddle & Reath LLP, Laramore was providing pro bono representation to Moones Mellouli. A lawful permanent resident, Mellouli had pleaded guilty to a misdemeanor offense under Kansas law of possession of drug paraphernalia. The paraphernalia was actually a sock that contained four unidentified orange tablets.
Laramore remembered Ginsburg queried him about the state and federal statutes in Mellouli v. Holder, 575 U.S. ___ (2015). He thought she was trying to get him to say the state law conviction had to be identical to a federal statute to justify his client's deportation. However, Laramore was reluctant to go that far.
Looking back at the transcript of the argument and Ginsburg's opinion for the majority in the 7-2 decision in Mellouli's favor, Laramore realized Ginsburg "turned out to know more than I did."
"Wise in the ways of her court, Justice Ginsburg may have asked me a difficult question to get me to clarify for others on the bench that we were not seeking the broader interpretation she posited, but rather just the interpretation immigration authorities had been applying for many years up until the current administration," Laramore explained in an email. "And she may have known that response was all a couple of her colleagues, whose votes we did not think we could get, needed to hear to vote our way."
Northern Indiana District Court Judge Damon Leichty also argued before Ginsburg when he was a student at IU Maurer and represented the U.S. government at the Custer mock trial.
Leichty spoke first, standing before the panel in his uniform, which he recalled became hot under the television lights. Even though he knew the moment would come, he was still terrified and exhilarated when Ginsburg interrupted his presentation to ask a question.
His time ran out as Williams was querying him, so Leichty asked for another moment to answer. Ginsburg told him to do it in one sentence.
"Imagine a young law student faced with the challenge by a Supreme Court Justice," Leichty wrote in an email. "Somehow I managed to rattle off one of the longest sentences known to man, and she kindly let me."•
Please enable JavaScript to view this content.