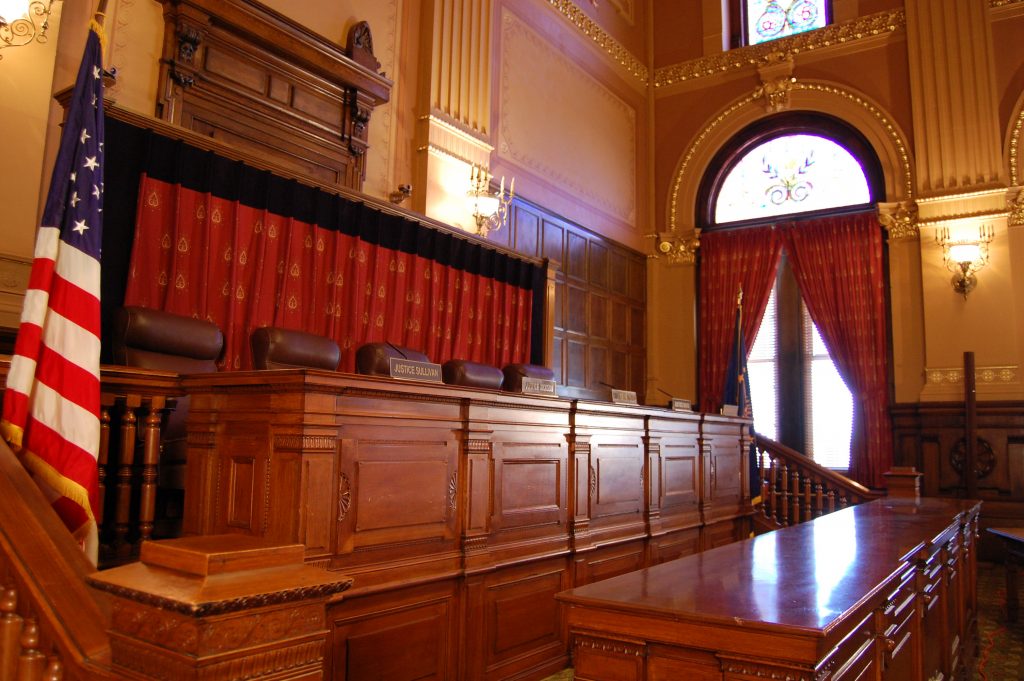 Indiana Supreme Court justices granted transfer to three cases last week, including one involving a patient who sued a hospital network for sharing her diagnosis with the wrong person.
In that case — Z.D. v. Community Health Network, Inc., 23S-CT-116 — Z.D. underwent medical testing at an Indianapolis Community Health Network facility in 2018.
Z.D. was unreachable by hospital staff in attempts to deliver test results, so a hospital employee put the diagnosis and suggested treatment in a letter, but it was addressed to the wrong person. The recipient of the letter posted it on Facebook.
In January 2020, Z.D. filed a three-count complaint against Community alleging generally that its employees "distributed [her] extremely sensitive and private health information to unauthorized person(s) and the general public."
The Marion Superior Court granted Community's motion for summary judgment, finding Count 2 of Z.D.'s complaint "fails as a matter of law."
As for the other two counts, the court concluded the modified impact rule and the bystander rule barred her from recovering emotional distress damages under a negligence theory; that Z.D. could not recover damages for loss of privacy because she did not specifically plead an invasion of privacy claim; and that Community was not the proximate cause of Z.D.'s alleged injuries as a matter of law.
The Court of Appeals of Indiana affirmed the lower court's ruling as to Count 2 but reversed and remanded on the issues of the other two counts.
In a footnote, the appellate panel urged the Indiana Supreme Court to "revisit the modified impact rule and the bystander rule and the rationale for their continued existence."
Oral arguments in Z.D. have been scheduled for 9 a.m. June 22 in the Indiana Supreme Court courtroom on the third floor of the Indiana Statehouse.
Justices also granted transfer to a case involving a dispute over a road sign's status under a local ordinance in Noblesville.
In Noblesville, Indiana Board of Zoning Appeals v. FMG Indianapolis, LLC d/b/a/ Reagan Outdoor Advertising, 23S-PL-114, a sign company, Reagan Outdoor Advertising, was doing repair work to a sign after a storm when it received a stop work order from the city of Noblesville's director of planning and development.
Because the company was replacing the wooden supports for the sign with steel posts put into the ground a few feet away from where the original poles were, the city maintained the relocation caused the sign to lose nonconforming status. The city's unified development ordinance prohibited "freestanding street graphics" supported by poles, but Reagan's sign was allowed under the grandfather provision.
The dispute went to the Hamilton Superior Court after Reagan unsuccessfully appealed to the Noblesville Board of Zoning Appeals. The court overturned the zoning board's decision.
But a split Court of Appeals reversed, faulting the trial court for focusing on the "temporary" nature of the movement of the sign components.
The Supreme Court also granted transfer to Tonia Land, individually and on behalf of all others similarly situated v. IU Credit Union, 23S-CP-115, a case involving a woman who sued IU Credit Union, claiming it had wrongfully assessed overdraft fees against her and other customers.
The Monroe Circuit Court granted IUCU's motion to compel arbitration, but the Court of Appeals reversed on an interlocutory appeal, concluding in part that the credit union didn't provide reasonable notice to Tonia Land of the arbitration contract.
Oral arguments have not yet been scheduled in the Noblesville or IUCU cases.
Justices denied transfer to 33 cases for the week ending May 5, including one involving Lake County Sheriff Oscar Martinez Jr., who was indicted in January 2022 for felony resisting law enforcement and misdemeanor reckless driving.
Martinez denied the allegations, saying they were "initiated by a rival politician."
Martinez argued the indictment should be dismissed because his due process right to a neutral and detached atmosphere in the grand jury proceedings was prejudiced by an Indiana State Police commander giving improper legal advice disguised as testimony.
But the Court of Appeals ruled in a memorandum decision that the indictment can proceed in Oscar Martinez, Jr. v. State of Indiana, 22A-CR-1196.
Justices split in also denying transfer to John S. Wagner and Sharon G. Wagner v. United Farm Family Mutual Insurance Company, 22A-PL-1419.
In that case, the Court of Appeals affirmed in a memorandum decision the entry of summary judgment in favor of United Farm Family Mutual Insurance Company on John and Sharon Wagner's complaint for wrongful denial of coverage.
Chief Justice Loretta Rush and Justice Christopher Goff voted to grant transfer.
The full list of transfer decisions is available online.
Please enable JavaScript to view this content.