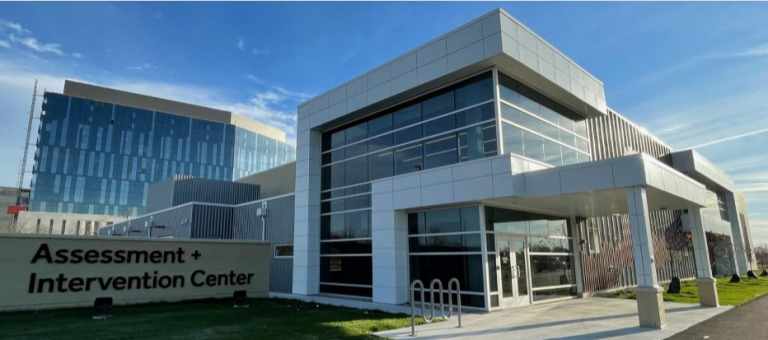 The Assessment Intervention Center, the first completed building at the new Community Justice Campus in Marion County, is set to open next week.
The AIC will take on the efforts of the Reuben Engagement Center, which was founded in 2017 to serve residents experiencing homelessness and substance abuse or mental health issues. It is part of the roughly $570 million Community Justice Campus being built in Twin Aire neighborhood southeast of downtown.
Plans for the 140-acre campus have been underway since Indianapolis Mayor Joe Hogsett took office in 2016. At the time, Marion County jails were experiencing overcrowding, and jail officials reported that about 80% of inmates had substance abuse problems and 30% to 40% of inmates were experiencing substantial mental health concerns.
So, in addition to planning a new adult detention center, a courthouse, a sheriff's office and eventually a juvenile detention center, the city also decided to construct a building that could serve residents experiencing those issues in an effort to keep them out of the criminal justice system.
The AIC, which opens Dec. 1, will be a mental health services and addiction-treatment center with 60 beds.
Hogsett's administration has described the new treatment center, which will be operated by the Health & Hospital Corp. of Marion County, as the first of its kind in the state.
The population served there will be individuals with apparent behavioral health and/or substance use issues in situations in which law enforcement is trying to avoid an arrest for a low-level crime or an involuntary detention to an emergency room for further behavioral health assessment.
Law enforcement, homeless shelters and outreach, emergency rooms, primary care offices and corrections can all refer clients to the AIC. But individuals can also refer themselves.
And while it will serve low-level, nonviolent offenders, it also will be open to residents not under arrest.
The mission of the AIC is to divert individuals into appropriate care delivery models that provide rapid and integrated patient care and to address mental health, addiction, homelessness and other socio-economic issues affecting life choices and criminal behavior.
The program will be voluntary, and all clients must consent to services. They also must not be a danger to themselves.
The AIC essentially serves as a permanent version of the Reuben Engagement Center, which opened as a pilot program in 2017. City leaders say the center has been successful, serving 600 individuals in its first year and ramping up to about 1,500 in the years that followed. Much of the Reuben Engagement Center's staff will move over to the AIC and work there.
The center, which will be open for intake and referrals 24/7, will be staffed by roughly 25 full-time employees, including licensed mental health clinicians, which the Reuben Engagement Center does not have. It's expected to cost the city roughly $2.7 million a year to run, Dr. Ashley Overley, CEO of Eskenazi Health Midtown Community Mental Health Center, told reporters Tuesday.
The average length of stay is expected to be about three to five days but could be longer depending on client needs.
Services provided include withdrawal management, skills training, daily goal development management, access and referral to treatment and other resources. The center also will conduct "warm hand-offs" to referred providers following a client's stay there.
While clients are there, they'll engage in motivational interviewing, which is a therapeutic engagement approach that helps people talk about and constructively develop their life goals and next steps. Often times, defining goals and next steps can be overwhelming for people in the middle of a mental health crisis or substance abuse, Overley said.
"The Assessment and Intervention Center is one component of a very holistic approach to a transformation in criminal justice," Overley said. "The AIC is not a standalone intervention, it's not a magic bullet in and of itself, but I do believe that it's representative of a really transformational change in thinking about how we best meet the needs of our community."
While the AIC has beds for 60 people, it will operate with 30 beds because of COVID-19 protocols when it opens next week. The goal will be to eventually open all 60 beds.
Meanwhile, construction on other buildings at the Community Justice Campus are ongoing. The sheriff's office, adult detention center and courthouse are expected to be complete sometime next year.
Please enable JavaScript to view this content.