After a career practicing in large Indianapolis law firms, intellectual property attorney Amie Peele has broken the "unspoken rule" that partners must retire from big law and instead decided to start her own firm.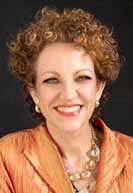 "So far I love it," she said of opening the Peele Law Group Feb. 1.
The firm will draw upon Peele's IP experience in helping clients with a broad range of legal matters including branding and advertising, intellectual property transactions and dispute resolution, and eCommerce. With a client base evenly divided between Indiana and the national as well as international arenas, she sees a particular opening to serve small and mid-size clients, in part, because her virtual firm has a lower overhead and can control pricing.
Peele practiced for what is now Faegre Drinker Biddle & Reath for 21 years and, she said, she remains grateful for the opportunities she had there. Even though partners in large law offices across the country tend to stay and wind down their careers there, Peele said the COVID-19 pandemic gave her time to reflect on what she wanted to do.
Describing herself as an entrepreneur and a creative person at heart, she said, "Owning my own firm allows me to leverage those abilities in entrepreneurship and creativity in my area of the law, which is generally a creative industry."
Peele is currently a solo practitioner with one paralegal. She said she will grow her firm in response to client needs and demands.
A graduate of Emory University School of Law, Peele became interested in intellectual property law while working at Howard W. Sams, a Bell Atlantic company, in the mid-1990s. She moved to the former McHale Cook & Welch, which is now part of Dentons Gingham Greenebaum, before being recruited to work at Faegre in 1999.
As a part of her practice in big law, she has represented clients from Fortune 100 firms, mid- and small-sized companies along with entrepreneurs, athletes, TV personalities and publishers. She has collaborated with colleagues to resolve multi-district litigation and negotiate multiple complex intellectual property rights agreements.
Also, Peele has served as attorney of record in writing amicus briefs for the U.S. Supreme Court in Star Athletica L.L.C. v. Varsity Brands, Inc., and JHana Financial, Inc. v. Hana Bank, et al.
She was named a Master of the Bench for the Indianapolis Intellectual Property American Inn of Court and served on the board of directors for the American Intellectual Property Law Association.
Please enable JavaScript to view this content.