A small Indianapolis law firm that's less than a decade old has grown again, this time building its staff by adding a veteran attorney to form a firm whose newest partner says is informally known around the office as "Mom and the boys."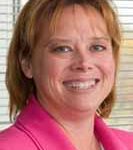 "Mom" is personal injury attorney Ann Marie Waldron, who along with associate attorney Quinn Thacker and two staff members formerly comprised Waldron Law. That firm joined the real estate-focused firm of Tate Bowen Funk & Spandau, resulting in the new firm of Waldron Tate Bowen Funk Spandau LLC, two of the firm's name partners said in a phone interview.
"We immediately knew and wanted to have Ann Marie's name up front for a hundred different reasons — her experience, her credibility, and the fact that she's earned that spot," said partner John Funk. "It gives us a ton of experience we can lean on and help grow our practices as well."
Waldron said the merger will help all of the lawyers because of their overlapping practice areas. Thanks to her experience, the combined firm will have more resources to handle personal injury cases. And because Waldron's prior practice area was largely real estate-related, she can easily refer her clients from her former practice to her new partners.
"They're all excited, and I think it's a good move for all of us," Waldron said.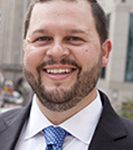 "It's hugely beneficial for both firms," Funk said.
The merger marks the second time the firm has grown through familiarity among neighbors who practice in the Inland Building on East Market Street. Funk and his partner Ben Spandau opened a firm there in 2016, sharing office space, with what was then Tate & Bown. Attorneys Kevin Bowen and Brandon Tate had opened their firm in the building in 2013, and the two firms eventually merged.
Waldron also was running her firm in the building, and she said her firm and Tate Bowen Funk Spandau had shared resources in the past. "It sort of started out as a mentoring relationship," Waldron said. "I joked that they didn't really want me; they wanted my staff."
Now, the combined firm occupies three floors in the building.
There's a chance the new office may not see much of Waldron in person after May, if the pandemic permits her and her attorney husband Mike Simmons to resume a boating adventure that combined working remotely while navigating the "Great Loop" of North America.
The couple last year sailed from Bradenton, Florida, around the Florida Keys and north up the Atlantic Coast, ultimately docking for the winter along Lake Ontario in New York.
Please enable JavaScript to view this content.