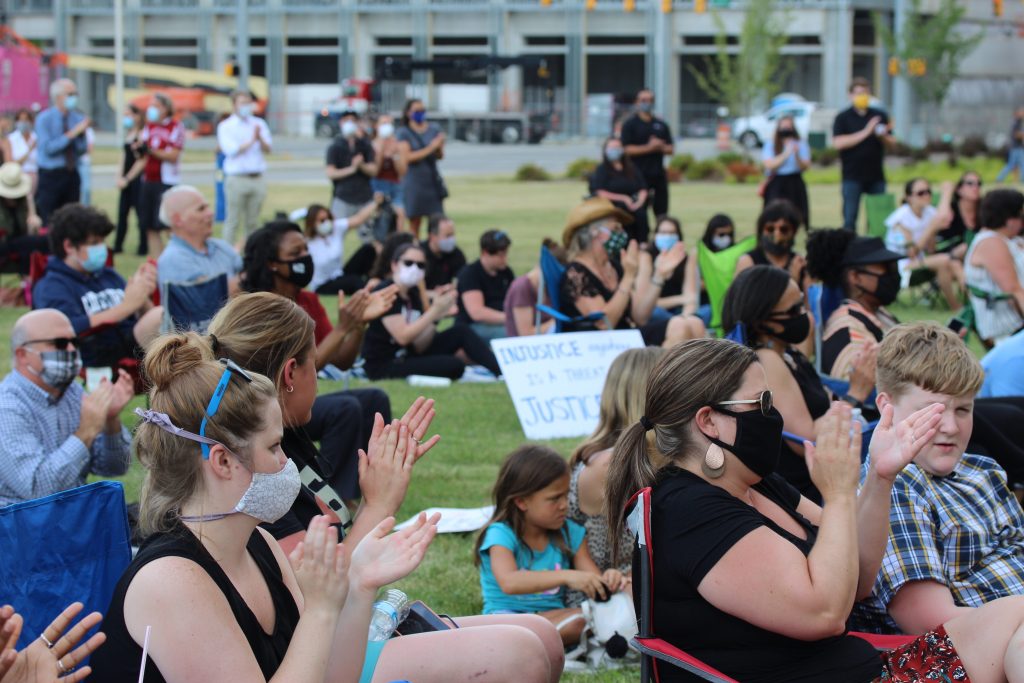 Eyes and ears of those gathered on the Indiana University Robert H. McKinney School of Law lawn Friday were trained on members of the Indianapolis legal community calling for action to push for racial equality.
Indianapolis lawyers Shelley Jackson of Krieg DeVault and Tonya Bond and Ryan Leagre of Plews Shadley Racher & Braun formed the Indy Lawyers for Black Lives organization after pondering the important role attorneys play in fighting systemic racism and racial injustice.
The question of "What can we do?" gave rise to the new organization, the lawyers said. In just two weeks with instantaneous help from the legal community, the three attorneys organized Friday's "Call to Action" to highlight the role lawyers can play in the push for racial equality.
Indy Lawyers for Black Lives hosted a Juneteenth event Friday afternoon on the north lawn of the law school, providing a space for members of the legal community to mobilize, unite and gather in solidarity for black lives.
Law students, law school professors, attorneys and families gathered on the lawn together, solidifying Jackson's statement that the Indianapolis legal community cares and is supportive of one another.
"We knew we had this strong community and we knew we had to get uncomfortable and do things that are scary," Jackson said to the crowd before her. "Planning this was scary, and I wouldn't have it any other way."
The event featured speakers from the law school, the Marion County Bar Association and private practitioners, as well as Indiana Supreme Court Justice Steven David. Each speaker made specific "asks" of attendees, noting that the real work begins after the event ends.
Indianapolis attorney Mark Nicholson challenged the legal community not only to speak up, but continue to put action to words and show up. He urged people to speak up and show up when they see a travesty of justice and to be a voice for the voiceless.
"After 155 years of being told we were free, all black lives still don't matter in America. But seeing all of you here today, I am confident that back lives will matter, they do matter, here and everywhere," Nicholson said.
Attorney Howard Stevenson said his hope is for a collective, comprehensive representation of lawyers to confront systemic racism and social injustice.
"We are here to say that Indy lawyers are for Black lives," Stevenson said. "My ask for you today is that we as lawyers utilize what we have been given in terms of our practice of law in order to mentor minority and black students coming after us."
"For many of us black people, we came to law school to make a difference because it is a duty we owe our communities that still are not free," said IU McKinney Student Bar Association president and 3L Bre Robinson. "The easy answer you can do here today is to help black students get into law schools, mentor us, share your connections and hire us to your firms. But that answer is too easy, because in order to dismantle systemic racism, we must do more.
"As lawyers we have the power to truly help people and make change in this country. We could begin to establish a city of equity with the power and knowledge and intelligence here today, but the reality is that it takes work," Robinson said. "This is movement, not a moment."
Members of the legal community can review the speakers' asks online at lawyersforblacklives.com as they work to assist the movement for racial equality.
Please enable JavaScript to view this content.