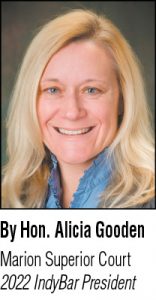 As 2020 IndyBar President Andy Campbell is off in "trial prep nightmare-land," he invited me to give an update on Marion Superior Court operations and the new Community Justice Center campus. I will start with the former. As many of you know, the courts in Marion County have not stopped operating since the inception of COVID-19. Between March 11 (the start of the end of normalcy) and March 16 (the start of our "new-normal"), our Court Administration and Technology team worked tirelessly (quite literally — I'm pretty sure our chief technology officer didn't sleep for 10 days straight) to ensure that the criminal courts could function entirely remotely beginning March 23. And so it went from that date until June 15, when Marion Superior Court reopened, albeit gradually. The criminal courts reopened first, on an alternating day basis, with the civil courts and juvenile division joiningin July.
Since July 6, all courts have been open for walk-in and phone traffic, as well as in-person hearings. The Executive Committee, of which I am a member, has limited the in-person hearings to those that are necessary and essential: for example, bench trials, suppressions, guilty plea hearings, violation hearings and so forth. All hearings that can be conducted remotely are continuing in that fashion. Each day, we hold dozens of initial hearings, bail reviews, pretrial conferences, set term guilty pleas, custody and support matters, final dissolution and paternity hearings, juvenile hearings and various civil matters — ALL remotely! By my amateur math, using data compiled by our chief technology officer, the Marion Circuit and Superior Courts have conducted nearly 20,000 hearings via Webex or Zoom since March 23. Who would have thought this possible prior to March? It definitely took an army to accomplish, and we are grateful to all of our stakeholders (the Marion County Sheriff's Department, Marion County Prosecutor's Office, Marion County Public Defender Agency, the City of Indianapolis, Marion County Clerk, Marion Circuit Court, Marion County Building Authority, Information Services Agency, and the private bar, just to name a few) for making our continued court operations possible.
The Marion Superior Court held its first jury trial since March on Thursday, Sept. 3. This major felony trial took place at traffic court on East Washington Street. Fifty-one jurors appeared, equipped with masks and individual hand sanitizers supplied by the court. This location allows for proper social distancing amongst parties, jurors, attorneys and court staff. Again, our IT department shined, along with Jury Pool Supervising Judge James Osborn, transforming the traffic court into a technologically advanced courtroom in a matter of days — complete with "touchless" viewing of exhibits and livestreaming of the trial to satisfy the requirements set forth by the Indiana Supreme Court. The juror feedback we have received has been positive, particularly with regards to the court's concern for their health and safety, and the court will continue to make improvements to make sure these trials are as seamless as possible for all involved. The civil courts and misdemeanor/Level 6 felony criminal courts began their jury trials in the City-County Building on Sept. 14. The same precautions will be taken for our in-house juries, as well as modified technology to reduce the amount of contact with exhibits.
During the madness of COVID-19 and the constant (and ever-changing) dialogue regarding court operations and resumption of juries, it was almost easy to forget that the court has a very important date looming — January 2022 — which is the date when we expect to be operating in the new Community Justice Center (CJC) campus! It is difficult to believe that in about 12 months, we will begin our move to the new location. The Executive Committee's meetings with the build and design team, which had taken a brief hiatus over the past eight months, are now back in full swing. We are meeting almost every Friday for the foreseeable future and planning our transition to the new building. It's exciting, terrifying and overwhelming, all at the same time. If you haven't been by the site, take a drive out southeast of town — you will be amazed at the progress. Much of the framing has been done, and there is even drywall on the first two lower floors! This campus definitely confirms that the construction industry hasn't been deterred by the pandemic. There is much work to be done (both literally and figuratively) before the move, but the vision is becoming a reality and it is pretty awesome to see.
One last point: while I have "seen" many of you via Zoom, Webex or Microsoft Teams, I have only truly seen a handful of you in the last six months. To me, that is been one of the worst consequences of the pandemic. I miss walking through the City-County building, the City Market, or just on the streets of downtown, stopping every few minutes to say hello to a lawyer I know. Now I either see no one, or I can't tell who I see because the mask hides the face (and put sunglasses on and it's even worse)! I really miss you all. I miss the comradery and the stories. Hearing about your families. Meetings at IndyBar. All of the things that make our lives as lawyers complete. I continue to keep my fingers crossed each day that very, very soon all of this will change for the better — our downtown will be vibrant and bustling again, the City-County building halls will be filled with (unmasked) lawyers and litigants, and we can gather at IndyBarHQ for educational and social gatherings. Until that time, stay safe, stay healthy and please reach out (even if only remotely!) with any questions about the court and its operations.•
Please enable JavaScript to view this content.