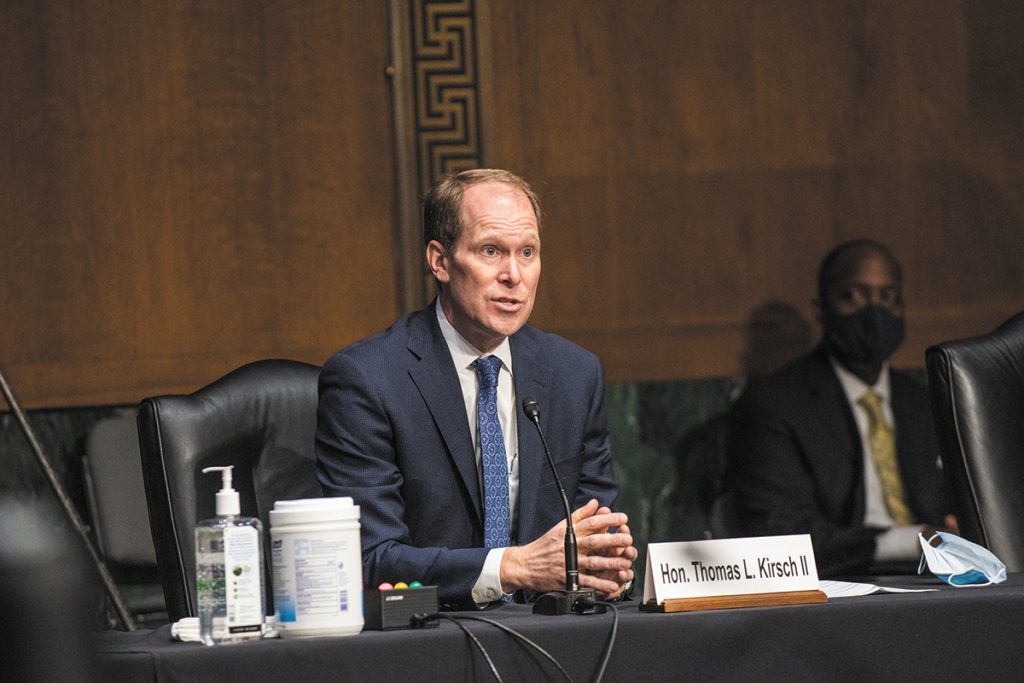 With two vacancies now on the 7th Circuit Court of Appeals, President Donald Trump's nominee for an Indiana seat faced tough questioning on Capitol Hill while bar and civil rights groups called for change on the Chicago-based court, the only all-white federal appeals bench in the nation.
The lack of diversity on the 7th Circuit — which would remain unchanged if nominee Thomas Kirsch II, the U.S. Attorney for the Northern District of Indiana, is confirmed to fill the vacancy created by Amy Coney Barret's elevation to the U.S. Supreme Court — is prompting calls to confirm judges from different racial and ethnic backgrounds.
If the Senate Judiciary Committee approves Kirsch's nomination at its Dec. 10 meeting, he would then proceed to the full Senate for a confirmation vote.
Meanwhile, Illinois 7th Circuit Judge Joel Flaum took senior status Nov. 30, creating another vacancy on the appellate court that has welcomed four new judges — Kirsch would be the fifth — since Donald Trump became president in 2017.
Flaum, 84, was nominated by President Ronald Reagan and confirmed to the 7th Circuit on May 4, 1983, serving as chief judge from 2000-2006. Previously, Flaum was nominated by President Gerald Ford and confirmed as a judge to the U.S. District Court for the Northern District of Illinois on Dec. 18, 1974. At 38, he was then the youngest federal jurist in the country.
Calling for diversity
In a letter to the Senate Judiciary Committee, the NAACP pointed out that Trump has filled the four vacancies on the Chicago-based appellate court with four white individuals: Barrett, Michael Brennan, Amy Joan St. Eve and Michael Scudder. With the nomination of Kirsch, another white Hoosier is in position to join the 7th Circuit.
"But we cannot allow our judiciary to backslide now to a situation in which there is no diversity on a court which presides over 7.5 million people of color and is charged with dispensing justice in appeals relating to their civil rights and liberties," Derrick Johnson, president and CEO of the NAACP, wrote to the judiciary committee leaders. "The Senate's move to confirm Thomas Kirsch in the face of four recent appointments to perpetuate the segregation of the Seventh Circuit must be rejected."
Sen. Mazie Hirono, D-Hawaii, cited the NAACP letter during Kirsch's confirmation hearing Nov. 18. She also noted former Indiana Justice Myra Selby was tapped by former President Barack Obama to fill the Indiana vacancy on the 7th Circuit for which Kirsch has now been nominated. Selby would have been the first African-American and the first woman from the Hoosier state to sit on that appellate court, but her nomination was blocked by Senate Republicans.
"I am particularly concerned that this committee is holding a hearing for the 7th Circuit nominee who is further entrenching the lack of diversity that is characteristic of President Trump's judicial nominees," Hirono said.
The Asian Pacific American Bar Association of Indiana pointed out that the lack of diversity also extends deep into Indiana state and federal courts. In a statement, the bar association noted all the justices on the Indiana Supreme Court are white, even though nearly 21% of Hoosiers are people of color. Moreover, 14 of the 15 judges on the Indiana Court of Appeals are white. None of the judges on the Northern Indiana District Court are from a minority population and only one minority judge sits on the Southern Indiana District Court.
"Americans have different backgrounds, upbringings, and life experiences, and while race is only part of the story of any individual, it would be foolish to pretend that race is not a part of the story at all," Haroon Anwar, president of APABA-IN, said in a statement. "A diverse judiciary can lead individual judges to see fact patterns through different points of view, which can lead to decisions that better reflect the realities of life."
During Kirsch's confirmation hearing, Sen. Dick Durbin, D-Illinois, broached race and racism when he asked Kirsch about the George Floyd video. Floyd, an African-American, was killed in May when Minneapolis police officer Derek Chauvin kneeled on his neck for nearly 9 minutes.
Kirsch replied that as U.S. attorney it would be inappropriate for him to comment on the facts or prosecution of the case.
Durbin said he was not looking for Kirsch to comment on the case. "I'm asking you as an American lawyer, prosecutor, defense attorney. When you saw that 8 minutes and 46 seconds, what did you think?"
Kirsch responded, "Senator, any killing in the United States is tragic. It's tragic."
Durbin dug deeper. "Do you think we have an issue when it comes to race and law enforcement in America?"
Kirsch answered, "Senator, I think racism exists in America and I think that's abhorrent."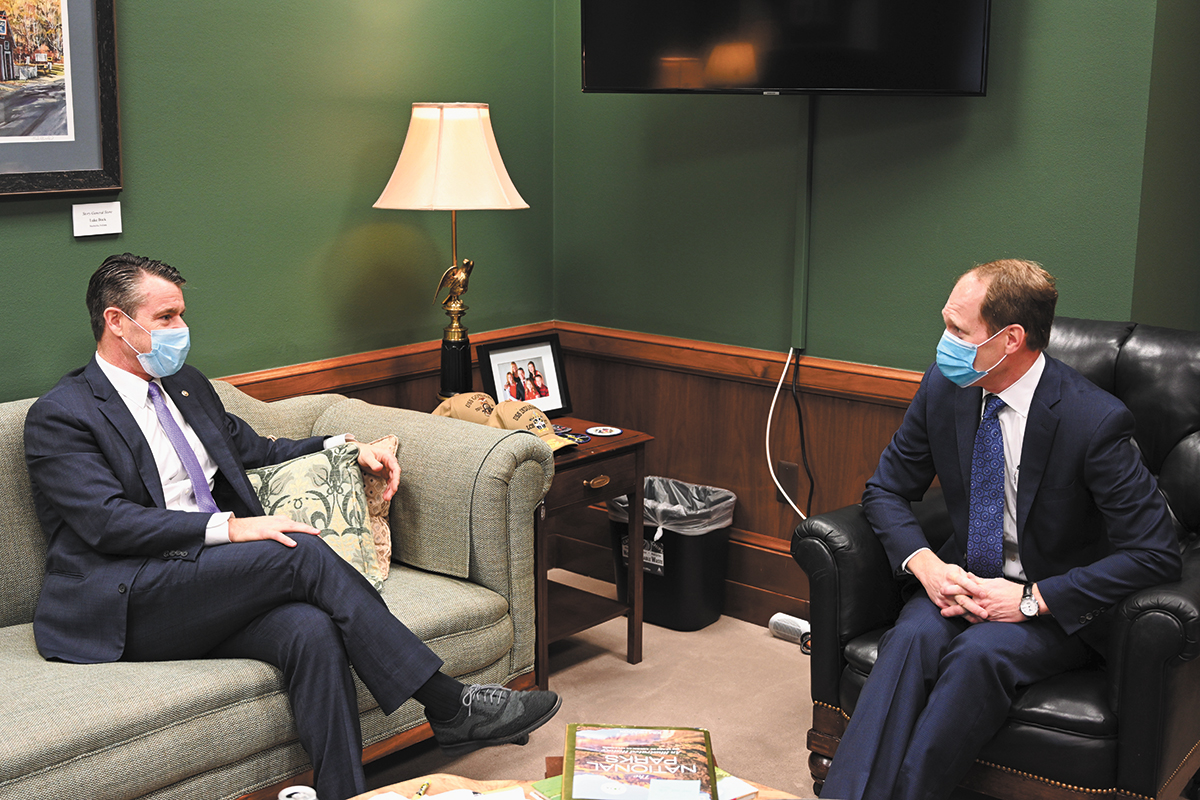 Facing tough questions
In introducing Kirsch to the Judiciary Committee during the confirmation hearing last month, Sen. Todd Young, R-Indiana, highlighted the nominee's career accomplishments including his time working in the public sector.
"He's a man of character, he's a man of integrity and he believes in the rule of law," Young said. "He understands that the role of judges is to apply the law and Constitution as written and, of course, is not to legislate from the bench."
During questioning, Kirsch said as a judge he would be bound by all U.S. Supreme Court precedent and he would apply the law faithfully and impartially in every case. He also noted in interpreting the law, he would consider the "ordinary meaning of the text at the time the text was written."
That statement caught the attention of Sen. Sheldon Whitehouse. The Rhode Island Democrat began his questioning by saying his impression was that Kirsch seemed "capable, qualified, calm and without ulterior motive in going onto the circuit court." However, Whitehouse indicated his support of the nominee had waivered after he probed Kirsch's approach to statutory interpretation.
"When you're making a decision, I'm concerned that if you go back, particularly in statutory interpretation but also in constitutional interpretation, to try to divine the intent of the people who wrote it, you would have ended up being a dissenting vote in Brown v. Board of Educatio,n and you've got to tell me that's not so," the senator said.
When Sen. John Kennedy, R-Louisiana, returned to Brown, Kennedy told Kirsch he was not trying to trick him but he wanted to get an idea of how the nominee thinks. The senator then asked if Kirsch thought the average American would have read the Constitution at the time it was written as requiring that public schools be integrated.
After a 25-second pause, Kirsch replied, "I'd have to look into that issue." He concluded that he does not think the public would have believed the 14th Amendment called for schools to be desegregated.
Separately, Durbin noted Chicago has had more than 3,600 people shot in 2020 alone. He cited data showing 21% of guns recovered from a Chicago crime came from the Hoosier state.
According to Durbin, the flow of firearms into Chicago is fueled by the gun show loophole in Indiana state law. Indiana law allows private vendors at guns shows to sell weapons without first conducting an FBI background check on the buyer.
He asked Kirsch, "During your four years as U.S. Attorney for the Northern District of Indiana, what did you actually do to prevent Indiana's gun shows from being the source of a pipeline of gun trafficking into the city of Chicago?"
Kirsch replied, "As a U.S. Attorney, I faithfully apply the law and I prosecute cases under (18 U.S. Code § 922) and other cases involving other statutes applicable to gun crime." He told the senator that he prosecuted about 200 guns cases each year and that he has worked closely with the U.S. Attorney for the Northern District of Illinois, John Lausch Jr.
Then he added, "Of course, senator, it would be inappropriate for me to comment on policy matters as a judicial nominee."
Durbin said he was not asking about policy. "I'm asking about your record," he said. "What have you done?"
Kirsch responded that his office has aggressively prosecuted gun cases. He said that he had prosecuted multiple straw purchase cases where guns were recovered in Chicago and RICO (Racketeer Influenced and Corrupt Organizations) cases linked to homicides on the south side of Chicago.
"Although I'm a believer in the Second Amendment, we aggressively prosecute violent crime that occurs in Northern Indiana and also that occurs in Northern Illinois," Kirsch said.
To underscore his point, Durbin highlighted recent cases involving Indiana residents trafficking guns. "The problem of gun trafficking between the area you represent as U.S. Attorney in Indiana and Chicago is pervasive," Durbin told Kirsch.•
Please enable JavaScript to view this content.