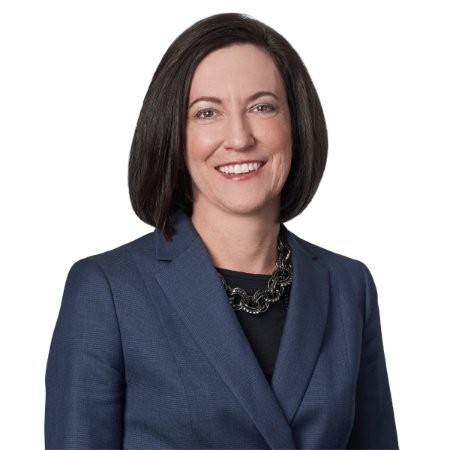 Gina Kastel officially began her tenure as Faegre Drinker Biddle & Reath's first female chair this month. The firm has also announced new board members.
Kastel, based in Minneapolis, started her new role as chair on April 1. She succeeded Indianapolis attorney Tom Froehle and Philadelphia attorney Andrew Kassner, who had both served as co-chairs of the firm since it combined with Drinker Biddle & Reath in 2020.
Froehle and Kassner each now serve as chair emeritus.
"Tom and Andy have been extraordinary leaders, and I look forward to continuing their work to make our firm a top destination for clients and talent," Kastel said in a news release. "I'm honored to serve as Faegre Drinker's chair in this new era for the firm, and I am ready to partner with our clients and colleagues to distinguish Faegre Drinker as an industry leader."
Kastel has appointed partners David Barrett (Indianapolis), Andre Joseph (Florham Park, New Jersey), Heather Perkins (Denver), Judy Reich (Princeton, New Jersey), Chief Operating Officer Jane Koehl (Washington, D.C.) and Chief Diversity Officer Maria Lewis (Philadelphia) to serve as part of the firm's executive leadership team. The team helps support Kastel in managing firmwide operations.
Additionally, Jacob Bylund (Des Moines, Iowa), Jennifer Dean (Washington, D.C.) and Sarah Bassler Millar (Chicago) have been elected to Faegre Drinker's board, which sets firm and strategy. Bylund and Dean are new appointees effective April 1, while Millar was reelected.
Libby Baney (Washington, D.C.) and William Connolly (Philadelphia) were also elected to terms beginning April 1.
"Our new board members' diverse viewpoints and experiences in various firm leadership roles will help sharpen our strategic focus and support our efforts to become one of the most trusted brands in the legal profession," Kastel said in the news release.
The full board now includes Kastel, Baney, Bylund, Connolly, Dean, Millar, Bonnie Allyn Barnett (Philadelphia), Morgan Burns (Minneapolis), Gretchen Miller Busch (Denver), Trevor Carter (Indianapolis), John D'Andrea (Philadelphia), Tracy Ferak (Chicago), Sandra Grannum (Florham Park), Marc Leaf (New York), Joseph Smith (Indianapolis) and Jonathan Zimmerman (Minneapolis).
Please enable JavaScript to view this content.