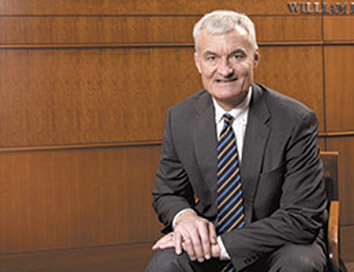 Tom Froehle, who has led one of Indianapolis' largest law firms through two mergers, will be stepping down next year as co-chair of Faegre Drinker Biddle & Reath.
The firm announced Thursday that Froehle and his co-chair, Andrew Kassner, would be leaving their leadership posts April 1, 2023. Gina Kastel, a member of Faegre Drinker's executive leadership team and board, has been selected by the board as the next chair.
"Gina's outstanding leadership skills and experience demonstrates that she has been an invaluable servant leader at the firm, and we couldn't be more pleased that she will be taking over as the next chair," Froehle said in a news release.
David Barrett, executive partner in Faegre Drinker's Indianapolis office, is among those who have been asked to continue to serve on the firm's executive leadership team. That group is responsible for implementing firmwide strategy and policy.
Froehle gave up a busy corporate and public finance practice to become the chief executive partner of Baker & Daniels in 2008.
Four years later, the firm merged with Minnesota-based Faegre & Benson to become Faegre Baker Daniels. Froehle was named chair and managing partner of the firm in 2016 and assumed those roles in 2017.
At the beginning of 2020, Faegre combined with Philadelphia-based Drinker Biddle & Reath, which created a firm of more than 1,300 attorneys, consultants and professionals in 22 locations across the United States, United Kingdom and China. It joined the ranks of the 50 largest law firms with a projected gross revenue of nearly $1 billion.
Froehle and Kassner, former CEO of Drinker, were named co-chairs of the merged firm.
Kastel credited Froehle and Kassner for their work in building Faegre Drinker.
"We are a stronger firm thanks to Andy and Tom's leadership through the combination, and their remarkable work has led to Faegre Drinker's early success," Kastel said in the news release.
Although working in the firm's Minnesota office, Kastel has Hoosier ties as a 1992 graduate with highest honors from the University of Notre Dame. She earned her J.D. degree in 1999 from Harvard Law School, graduating magna cum laude.
She served as Faegre Baker Daniels' chief operating officer until 2020, and she helped guide Faegre's combination with Drinker.
Kastel was selected to lead the firm following an extensive vetting process led by a board-appointed governance succession committee with the help of a nationally recognized outside consultant. As chair, she will focus on growing the firm's client roster, strengthening client relationships and continuing to attract the best talent in the industry.
During the next several months, Kastel plans to visit the firm's offices and listen to colleagues and clients.
"In collaboration with attorneys and business professionals across our offices," Kastel said, "I plan to build on our foundation of exceptional clients, talent and culture, while leading efforts to continue innovating our services organization and the client experience."
Please enable JavaScript to view this content.