The Baker & Daniels name which has been listed among Indiana law firms since 1889 was erased Feb. 1, 2020, as the historic legal entity transformed into Faegre Drinker Biddle & Reath and is now one of the 50 largest firms in the country.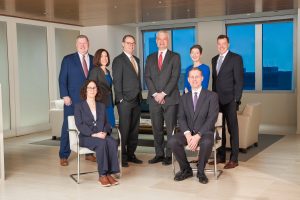 Announced in December, the combination of Faegre Baker Daniels and Philadelphia-based Drinker Biddle & Reath creates a firm of more than 1,300 attorneys, consultants and professionals in 22 locations across the United States, United Kingdom and China. Faegre Drinker joins the ranks of the 50 largest law firms in both size and projected gross revenue of nearly $1 billion.
Thomas Froehle and David Barrett, from Faegre's Indianapolis office, will be members of the executive leadership team for the new firm. Froehle, who had served as the managing partner for Faegre Baker Daniels, will be the co-chair of Faegre Drinker, along with Andrew Kassner, former CEO of Drinker Biddle & Reath.
Joseph Smith Jr., from the Indianapolis office, is a member of the new firm's board. Other Circle City attorneys tapped for leadership positions are Mark Voigtmann, who will head the construction and real estate litigation practice group, and Joseph Tanner, who will lead the product liability and mass torts practice group.
In a press release marking the Feb. 1 completion of the merger, Faegre Drinker is introducing itself as a "firm designed for clients." Froehle, in emphasizing the client-focus, said, "Our broadened capabilities and geographic reach, combined with a shared commitment to excellence without arrogance, position us to better serve our clients."
The new firm's four largest practices based on headcounts of attorneys, consultants, professionals and paraprofessionals are litigation with 275, business and transactions with 230, intellectual property with 195 and product liability and mass torts with 190.
"This is a transformational combination," Kassner said. "Bringing together two remarkable organizations with similar cultures and values enables us to handle a client's most complex business challenges."
The Faegre Drinker combination was one of three large mergers announced in 2019 that involved Indiana law firms.
Taft Stettinius & Hollister led the merger activity by announcing its combination with Minnesota-based Briggs and Morgan. Next, Dentons, the world's largest law firm, heralded the launch of its new national law firm through its combination with the former Bingham Greenebaum Doll in Indianapolis and Cohen & Grisby in Pittsburgh. The Dentons merger was completed Jan. 27, and the Indianapolis firm is now Dentons Bingham Greenebaum.
Please enable JavaScript to view this content.