Editor's note: This article contains descriptions of domestic violence and sexual abuse that may be disturbing to readers.
"Broken before she was born."
That's how lawyers describe Lisa Marie Montgomery, the only woman on federal death row and the next death row inmate scheduled for execution. The Department of Justice plans to execute Montgomery at the federal prison in Terre Haute on Tuesday, but her lawyers are calling on President Donald Trump to commute her sentence to life without parole or to grant her a reprieve from next week's execution date.
"You alone have the power to send a message to the thousands of women who have been the victim of childhood rape and trafficking that their pain matters — that they matter — that their lives have value," Montgomery's lawyers wrote in a clemency petition to Trump. "You alone write the ending to this story – does it end with more pain? Or does it end with hope, mercy, and understanding? We pray it is the latter."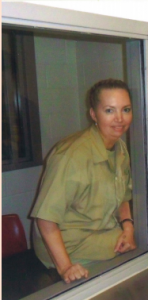 Montgomery, now 52, was convicted in the 2004 murder of 23-year-old Bobbie Jo Stinnett. Montgomery used a rope to strangle Stinnett, who was eight months' pregnant, then cut the baby girl from her womb. Montgomery took the child and attempted to pass her off as her own.
In court filings and in a Tuesday press conference, Montgomery's legal team stressed that their clemency petition is not an attempt to portray their client as innocent. She is guilty, they said, and she is remorseful.
But critical to her clemency petition, the lawyers said, is that Montgomery is also severely mentally ill. That makes her ineligible for the death penalty, they argue.
"Everything about this case is overwhelmingly sad," the lawyers wrote in the petition. "As human beings we want to turn way. It is easy to call Mrs. Montgomery evil and a monster, as the Government has. She is neither.
"The harder thing to do is to face all of the facts, all of the failures, all of the betrayals, and come to a new understanding," the petition continues. "With understanding comes hope. You can do Justice and exercise Mercy at the same time. Justice in this case is life imprisonment without parole."
Montgomery's mental health struggles began before she was born, according to lawyer Kelley J. Henry, a supervisory assistant in the federal public defender's office in Nashville. Montgomery's mother, Judy Shaughnessy, drank throughout her pregnancy, and Montgomery was born with brain damage.
Montgomery and her half-sister Diane Mattingly were abandoned into Shaughnessy's care by their father, John Patterson, though Montgomery has since rebuilt a relationship with him. The petition describes Shaughnessy as "cruel and sadistic," pointing to one incident where, as punishment, she beat the family's dog to death as the children watched.
Sexual abuse was also part of Montgomery's childhood, the petition says. It began with Mattingly, who was raped repeatedly by Shaughnessy's boyfriends in a small bedroom that she shared with Montgomery. When Mattingly was removed from the home at 8 years old, the abuse shifted to Montgomery, who was likewise raped by her mother's partners.
Henry, Montgomery's lawyer, described a "rape room" that was built onto the family trailer, where Shaughnessy's partners would sexually abuse Montgomery, beat her head into the concrete floor, then urinate on her.
Shaughnessy allowed the men to assault her daughter in exchange for money, telling Montgomery that she had to "earn her keep." Montgomery's stepfather began molesting her at 11 years old, and the assault turned to rape when she entered her teens, according to her lawyers.
The abuse continued into Montgomery's adult life, beginning with her forced marriage to her stepbrother. She had four children and eventually remarried, though her mother and her stepbrother/husband forced her into a sterilization procedure under the threat of taking her children. Today, Montgomery has a relationship with her children, her husband and her 12 grandchildren.
"Key symptoms of Mrs. Montgomery's illness are dissociation, depersonalization, and derealization. One of the leading experts on torture, Dr. Katherine Porterfield, explains in her testimony that children who are experiencing the type of trauma experienced by Mrs. Montgomery lose contact with reality," the petition says. "This is because what is happening to them is so terrifying that their mind goes to another place simply to survive. This all happens at a subconscious level.
"The part of the brain responsible for fight or flight takes over to protect the mind. The mind then disconnects from the body," the petition continues. "These people often describe themselves as having experiences where they are watching what is happening in the room. Sometimes they will describe feeling as if another person is next to them.
"For Mrs. Montgomery, these episodes of disconnecting for her physical being and reality began at a very young age."
Speaking to reporters and advocates at a Tuesday press conference, Mattingly described what she views as the difference between the trajectory of her life and that of her sister's.
"People have to understand that children that go through childhood abuse, it changes who they are. I went through that, and it took me years and years to overcome it, but I had a good foundation that helped me overcome it," Mattingly said, referencing her foster home.
"Lisa did not have that foundation," Mattingly continued, noting that Montgomery was never removed from her family home. "She was so broken. Please understand that."
While mental illness and childhood trauma do not remove Montgomery's guilt, her lawyers argue execution would be inappropriate.
Among those supporting her clemency petition is Sandra Babcock, faculty director of the Alice Project at the Cornell Center on the Death Penalty Worldwide. According to Babcock, Cornell research found 16 other women who were convicted of similar crimes, none of whom were sentenced to death.
The Cornell team has filed a petition regarding Montgomery's case with the Inter-American Commission on Human Rights, which found that Montgomery "is in a situation of serious and urgent risk of irreparable harm to her rights."
Henry attributed Montgomery's death sentence to gender discrimination, ineffective assistance of counsel and the stigmatization surrounding mental illness.
While Montgomery was once represented by Judy Clarke — a criminal defense attorney described as the "best lawyer she could ever have" — Henry said "male ego" resulted in Clarke being removed from the case without Clarke or Montgomery's advance knowledge. She was instead represented by David Rose, a lawyer who Henry said has had the distinction of having the most clients on federal death row.
What's more, Montgomery's current legal team says jurors were not presented with adequate evidence of her mental illness, which the government characterized as an "abuse excuse."
"Prosecutors did more than dismiss Lisa's trauma as an abuse excuse — they blamed her for it," the petition says. "They presented an expert who testified that Lisa was a 'willing participant' in her stepfather's abuse. The prosecutors capitalized on trial counsel's ineptitude, taking evidence which could have been attributed to Lisa's mental illness and trauma and twisting it into evidence that Lisa was an evil monster underserving of love or sympathy."
Montgomery's petition for clemency is supported by prosecutors, advocates for mental health awareness and trauma survivors and some 140,000 people who signed the petition. Her legal team has asked to present their case orally to Trump's team and the president himself.
Montgomery's execution could be delayed even absent executive action.
On Thursday, the U.S. District Court for the Southern District of Indiana entered an injunction postponing executions until additional steps are taken to mitigate the spread of COVID-19 during the execution. Two members of Montgomery's legal team, including Henry, have had the virus — a fact Henry said has prevented the team from doing all of the work it could have on Montgomery's behalf.
The Bureau of Prisons declined to comment on whether the Terre Haute facility will be able to accommodate the ordered safety precautions in time for Montgomery's execution, as well as two additional executions later next week, to proceed.
Montgomery's execution was previously delayed when her lawyers caught COVID.  A federal judge later ruled that her execution date had been improperly set, but a panel of the Washington, D.C., Circuit Court of Appeals vacated that order. The full D.C. Circuit denied an en banc rehearing.
The Associated Press contributed to this report.
Please enable JavaScript to view this content.