Orville Copsey, Jr., an Indianapolis attorney whose work helping many elderly and disabled clients stay in their homes earned him the nickname "St. Orville," died Aug. 4. He was 88.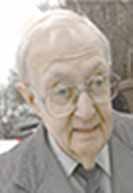 Born in Hartford City, Copsey earned a degree in social work followed by a law degree then settled into a 40-year career handling claims at CNA Financial Corp. in Indianapolis. He retired, and, looking for a way to put his social work training to use, knocked on the door of the Indianapolis Legal Aid Society in 1997 and volunteered his services.
For almost two decades, he went to the legal aid office four days a week, assisting clients with wills and powers of attorney. But the bulk of his work was focused on housing issues. When the Marion County Health Department filed a code violation or sought to remove a resident, Copsey would represent the individual in the Marion County Environmental Court and use his knowledge of the local services to get the homes repaired, refurbished and cleaned.
John Floreancig, general counsel and CEO of ILAS, said Copsey had a knack for getting others to help with his housing projects. The dry-humored, soft-spoken, very kind attorney could enlist plumbers and contactors to fix or replace just about everything from gutters to water heaters free of charge for his clients.
"I don't think anybody could say no to him," Floreancig said.
Copsey retired from ILAS at the end of 2016. The party at the legal aid organization brought together legal aid colleagues, local attorneys, judges and some of the staff from the Marion County Health Department to congratulate and thank Copsey. Although the health department was typically on the opposite side in many of Copsey's cases, he worked with the opposing counsel to find solutions.
"We have lost a true gem in our legal community" said John Trimble, partner at Lewis Wagner and president of the ILAS Board of Directors. "In my years as a volunteer for ILAS, Orville Copsey was a reason that kept me committed and involved. His example of devotion to his housing clients and the cause of under-represented senior citizens was a motivator for all of us. We will never forget him."
Tom Davis, member with Frost Brown Todd LLC in Indianapolis, also was inspired by Copsey.
Davis was a young attorney beginning his career as an associate at the former Locke Reynolds when he was assigned to do insurance work for CNA. He and other associates worked closely with Copsey who, Davis said, always treated the young attorneys as contemporaries.
"He was always a delightful guy," Davis said of Copsey, adding he also was a good attorney who did his job well. "He knew the file so you couldn't flimflam him."
Davis, an ILAS board member, most admired the work Copsey did for the legal aid organization, assisting as many as 130 clients each year. At his retirement when the elder attorney could have sat back and enjoyed spending time relaxing on his porch, he chose to start a new phase of his legal career.
He described Copsey's work at ILAS as "pure altruistic volunteerism."
Floreancig said Copsey was dubbed St. Orville by the courts in which he did his housing work. Not only did he know how to marshal the resources to help distressed homeowners, he also knew the nooks and crannies of the Marion County housing code. The goal was to help people retain their houses but for those who could not stay, Copsey would get them into a suitable retirement home.
"It's so hard to tell all the things he did," Floreancig said, noting Copsey would go to court, counsel people and even clean the houses.
Copsey, himself, would gather cleaning supplies and go into homes, regardless of the squalor, and scrub, mop and dust. And, in a quirk that endeared him to many in the legal community, he did all the housekeeping chores while wearing the traditional lawyer attire – a white shirt and business suit. He bought the suits at a thrift shop and at the end of a day spent cleaning, he would undress in his garage before entering his own home.
After Copsey retired, ILAS honored his legacy by renaming the housing program as the Orville H. Copsey Safe Housing Initiative.
"The mix of social work and law, that's what made him so effective," Floreancig said. "He always had a solution and it usually worked."
A memorial service for Copsey will be from 4 to 8 p.m. Saturday, Aug. 22 at the Indianapolis World War Memorial, 55 E. Michigan St. In lieu of flowers, the family asks that donations be made to the Orville H. Copsey Safe Housing Initiative at the Indianapolis Legal Aid Society.
Please enable JavaScript to view this content.