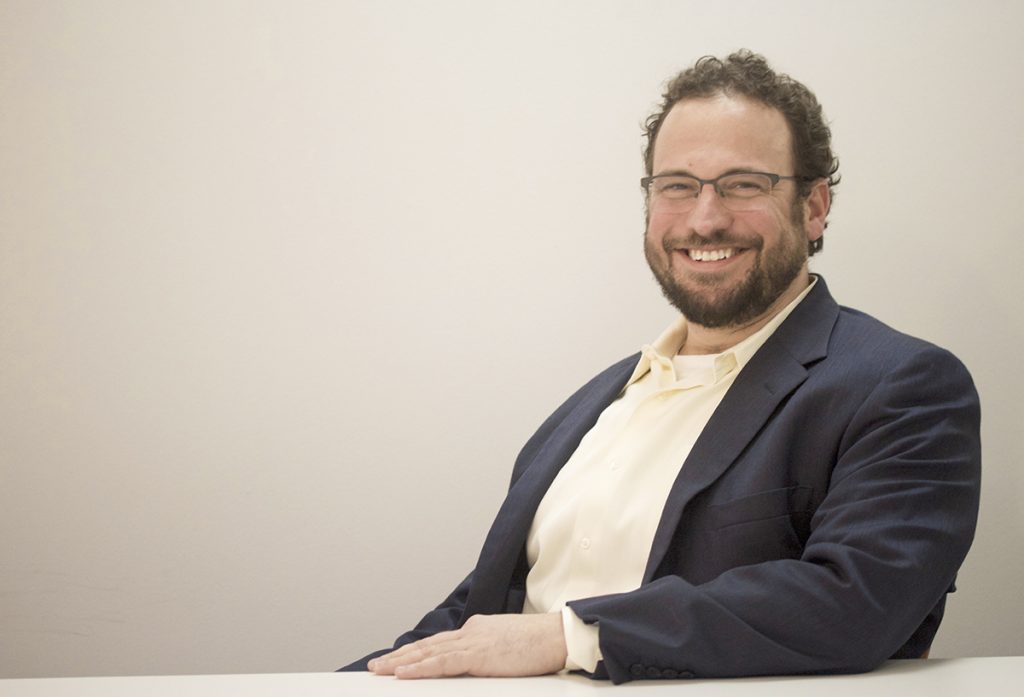 A new legal services company rooted in Nashville has recently settled in Indianapolis, with a Hoosier attorney at the helm.
Latitude, a Tennessee-based legal services provider founded in 2014, announced the establishment of its Indiana office last month. The company claims it will provide on-demand, sophisticated attorney expertise for Indiana corporations and law firms while increasing flexibility and reducing costs.
At its core, the legal services provider offers access to law-firm-level attorneys, paralegals and compliance officers in practice-specific areas on a short- or long-term engagement or engagement-to-hire basis. Its clients include public and privately held companies, as well as law firms and legal departments ranging from sole practitioners to global firms, Latitude CEO Ross Booher said.
Latitude itself is not a law firm, Booher noted. Rather, it provides attorneys who work for other attorneys.
Ready to serve
Booher, who previously served as a partner in a large law firm, saw a need for these engagement services in his own practice. Frequently using e-discovery and document review attorneys prompted him to consider what it would be like to also engage associate-, counsel- and junior partner-level attorneys with substantive experience to avoid burning out his team during busy times. Thus, Latitude's niche was born.
Latitude attorneys are often used when key law firm or legal department lawyers are on maternity or military leave for several months, or when a complex case requires an extra set of hands for a certain period.
"If a client knows it will have just a really big surge of work, but it is not expected that the surge will last forever, that might be a perfect opportunity to engage a Latitude attorney," said Tim Haley, president of the Latitude Indiana office. "Our attorney comes in and helps during the surge."
The idea is something that benefits everyone, Booher explained. In addition to enabling companies to add an experienced in-house counsel when needed, Latitude attorneys benefit by using their practice-specific knowledge and prior experience working with sophisticated clients. The work also provides them with high pay, full benefits and flexibility, Booher said.
Another facet of its business model allows Latitude attorneys and the clients they work for the opportunity to do a "test drive" during engagements-to-hire. This enables them to see if the match is a good fit for a more permanent placement.
"We've found, particularly with law firms, that they will engage one of our attorneys and have them on engagement for a while and then hire them," Booher said. "If our attorney is a great fit for the client and the attorney would like to join the law firm or company on a permanent basis, then that's great with us, too."
Choosing Indianapolis
Although it's not novel nationally, Haley said Latitude's legal services model is newer for the Hoosier market.
A former Indianapolis Barnes & Thornburg LLC partner, Haley spent 14 years advising and representing Fortune 500 companies, not-for-profits and privately held businesses. But he left the law firm at the end of 2019 and made the switch after talking with Latitude co-founders Booher and Ken Clarke.
"I believe in their model and I really believe that people will want to use it," he said. "I think it will be good for the attorneys, companies and law firms here in Indiana."
With offices already in Nashville and Atlanta, Booher said the growing company chose Indianapolis for two reasons.
First, he said, the city is a great market with the types of sophisticated law firms and companies that Latitude specializes in serving.
"We are really energized by Indiana and the Indianapolis market – it is thriving and has so many great law firms, companies and attorneys," Booher said.
The second reason was Haley and his deep connections in the community.
"[I]n Tim, we have a fantastic, trusted leader that has senior-level attorney experience, understands the demands that our clients face and who has deep relationships throughout the state," Booher said.
Getting creative
With Indianapolis' numerous sophisticated companies and regional and national law firms, Haley said he thinks there's a need for additional flexibility for those firms and for some Hoosier attorneys.
"I know anecdotally that there are a lot of really talented, experienced attorneys that are on the sidelines, for whatever reason," he said. "For example, attorneys who practiced at large law firms and companies and decided to take some time off after having a child, to care for a parent or to try something different for a while.
"Hopefully, Latitude can help a lot of skilled attorneys practice law in a rewarding way and help make sure the companies and the law firms benefit even more from the attorney talent that we have here," he added.
Haley said he believes this is a service that Indianapolis' legal community wants. He's already looking forward to charting a brand-new course in the Hoosier state and is willing to get creative in solving its legal service needs.
"I know it's new to this market and it's a new way of thinking about providing attorney talent in different situations. I think it's useful, and it will be helpful to a lot of companies, law firms and attorneys here," he said.
For now, Haley is focused on hiring a recruiter to bring in and place attorneys, while also getting to know the needs of Indiana's legal market. So far, he's been encouraged by the individuals applying to work for the new office.
"Being a lawyer is not easy. Whether you are a law firm or in-house attorney, it is a challenging profession," Haley said. "I think where everyone is happy with their working arrangement and have what they need, people perform better, and I think Latitude can help with that."•
Please enable JavaScript to view this content.