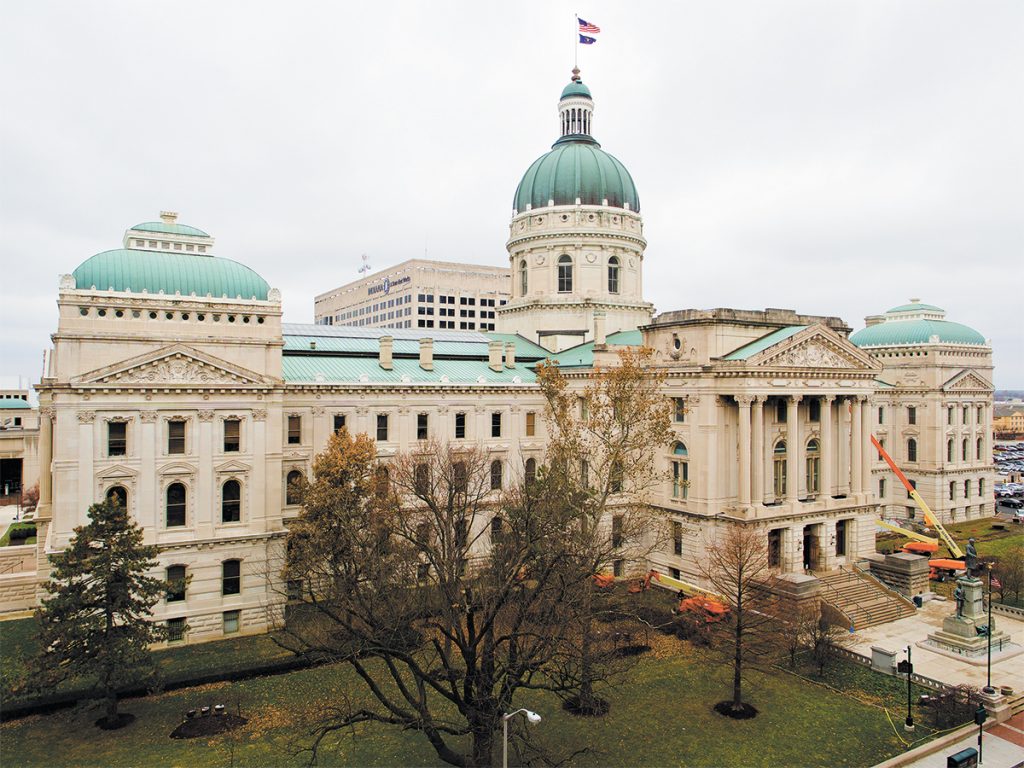 Following a victory on summary judgment last month, the Indiana House and Senate are requesting more than $11,000 in court costs from three of the women who accused former Indiana Attorney General Curtis Hill of sexual misconduct.
Susan Zoeller of Jackson Lewis P.C., representing the House and Senate, filed a Bill of Costs on Dec. 1 totaling $11,451.15. The filing comes after the Indiana Southern District Court ruled last month that the legislative bodies did not violate the Title VII rights of the three women, former legislative staffers Gabrielle McLemore Brock, Niki DaSilva and Samantha Lozano.
Brock, DaSilva and Lozano — along with former Democratic state representative Mara Candelaria Reardon — sued Hill and the state in 2019 after their accusations became public in 2018 that Hill had drunkenly groped them and/or made unwanted suggestive comments at a legislative party in March 2018.
Hill has consistently denied wrongdoing, but the incident cost him his law license for 30 days and ultimately his job. He has been dismissed as a defendant from the federal case but remains the defendant in a related state-court case brought by the four women.
Also, Reardon has been dismissed as a plaintiff in the federal case.
Among the women's arguments were claims for employment discrimination and retaliation against the state, which they argued was their employer for purposes of Title VII. But a district court ruled, and the 7th Circuit Court of Appeals affirmed, that the Legislature, not the state, was their employer, meaning the Title VII claims had to proceed against the legislative bodies.
Then on Nov. 17, Judge Jane Magnus-Stinson entered summary judgment for the House and Senate, ruling, "Because Attorney General Hill's misconduct does not rise to the level that the Seventh Circuit has determined is actionable under Title VII, and because no reasonable jury could conclude that the House and Senate failed to take reasonable action in response to that misconduct or that Plaintiffs faced actionable retaliation for reporting that misconduct, there is no basis on which to hold the House or Senate liable."
Now, the House and Senate are seeking to recover the costs of serving subpoenas, obtaining deposition transcripts and making copies of other case materials.
The biggest expense the Legislature is claiming is $10,201.68 for deposition transcripts. The defendants deposed Brock, DaSilva and Lozano, according to the Bill of Costs, while the plaintiffs deposed former Indiana House Speaker Brian Bosma; former Indiana House Minority Leader Terry Goodin; former Indiana Senate President Pro Tem David Long; former state senator Karen Tallian; and five current and former staffers in the Republican and Democratic caucuses of both legislative bodies.
Invoices attached to the Bill of Costs indicate Brock and DaSilva were deposed for eight hours each while Lozano was deposed for six hours. The transcript of DaSilva's deposition is the biggest line item, coming in at $2,382.30.
The Bill of Costs also lists $281.75 in court transcript costs, including $31 for transcripts from Hill's attorney discipline case, 19S-DI-156. There is also a $600.04 line item for exemplification of electronically stored information.
Finally, the Bill of Costs claims $223.10 for the costs of obtaining nonparty records — specifically, medical records from CIOX Health and another unidentified medical provider. It also claims $144.58 for the service of subpoenas for medical records.
The invoices related to the medical records are redacted, so the nature of the records is unclear.
The defendants are requesting the total costs — $11,451.15 — "be taxed against Plaintiffs as is authorized by 28 U.S.C. § 1920."
There has been no activity on the docket for the case — Niki DaSilva, et al. v. Indiana House of Representatives, et al., 1:19-cv-02453 — since the Bill of Costs was filed Dec. 1. Counsel for the defendants did not respond to a previous Indiana Lawyer request for comment on whether they plan to appeal the summary judgment ruling, and no Notice of Appeal had been filed at IL deadline.
As for the state case, Gabrielle McLemore, et al. v. Curtis Hill, 49D12-2007-CT-022288, the Marion Superior Court heard oral arguments Nov. 3 on Hill's motion for summary judgment.
Online court records did not reflect a ruling on that motion at IL deadline. A jury trial is scheduled for February 2024.
Editor's note: This article has been corrected.
Please enable JavaScript to view this content.