Republican candidate for Marion County prosecutor Cynthia "Cyndi" V. Carrasco is joining the Indianapolis law firm of Riley Bennett Egloff LLP as of counsel, the firm announced this week. Carrasco will work with the firm's government affairs practice group, according to a news release.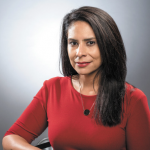 Carrasco has 15 years of experience as an attorney in Indiana state government, having served as Indiana's second inspector general before serving as Gov. Eric Holcomb's deputy general counsel and ethics adviser for the past five years.
The firm's news comes two weeks after Carrasco announced her plans to run for the office currently held by Democrat Ryan Mears.
On Jan. 19, Mears filed his candidacy to retain his office. He was selected by the Marion County Democratic Party in a vote to replace the late Terry Curry after Curry stepped down as prosecutor in 2019 due to health concerns.
Please enable JavaScript to view this content.