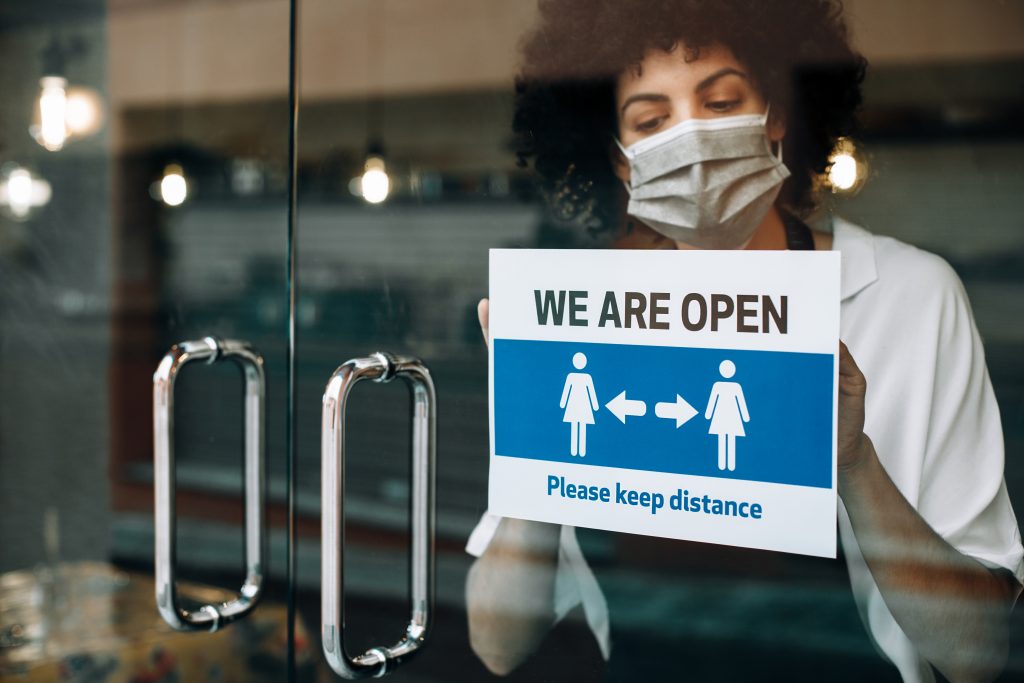 Most of the attorneys and staff at Barnes & Thornburg in Indianapolis arrived at the office June 14, something they had not done together since the COVID-19 public health emergency forced them to work apart beginning in March 2020.
The office had been seeing employees come to work on a voluntary basis for a number of months, but Monday's hard return date was the first time in 15 months that most of the team was working in the same office. Brian Burdick, managing partner, was excited to welcome his colleagues back.
"I think the cultural aspect of being together is great for a law firm's productivity and development of young lawyers and service to our clients," Burdick said.
With the coronavirus appearing to loosen its grip, more Indiana law firms like Barnes & Thornburg are either having attorneys and staff come back to office or making plans for a return in a few months. The firms contacted by The Indiana Lawyer are encouraging rather than requiring their employees to get vaccinated, and they have found most of their workforces have been inoculated.
Across the entire footprint of Barnes, a "significant majority of people are vaccinated," Burdick said.
At the Indianapolis office, employees have been allowed to return on a voluntary basis. Protocols were in place for lawyers and staff to wear masks and maintain social distance in common areas and when working together in the same space. Going forward, the firm is continuing to follow local public health orders and guidelines.
Similarly, Taft Stettinius & Hollister LLP in Indianapolis said a majority of its Indiana employees have been working from the office for several months, adhering to strict compliance with all local mask, social distancing and other public health orders and guidelines. The remainder of its Indiana employees — other than those with unique health care, child or elder care, or transportation issues — returned June 14.
Prior to the pandemic, Taft allowed some employees to work a combination of in the office and remotely. Currently, the firm is appointing an inclusive task force to study and recommend guidelines for implementing a modern workplace that utilizes both in-office and remote work. The final version of the guidelines is expected to be adopted in September.
At the Indianapolis Legal Aid Society, the attorneys and staff have been vaccinated and working in the office for several weeks, but the nonprofit is struggling with the decision of when to open the office to clients.
The legal aid office largely practices by meeting clients face-to-face, although the pandemic forced the lawyers to shift to working with clients through phone calls. Occasionally, clients who did not have internet would be brought into the office so they could get logged on and attend their virtual court hearings.
ILAS wants to return to serving clients in-person but is not sure when to open its doors. As John Floreancig, ILAS general counsel, observed, the private offices that kept attorneys separated and safe during the peak of the COVID-19 outbreak could now pose a risk if an attorney meets face-to-face in an office with an unvaccinated client.
"We're pretty scared about it," Floreancig said, noting his office is keeping an eye on the infection rates in Marion County. "There's a lot of dynamics to this."
The Fort Wayne office of Barnes & Thornburg is in a transition phase with the expectation that pretty much all employees will be working from the office by the end of July.
A "significant portion" of the staff has been on a schedule of three days in the office and two days remote, according to managing partner Randy Brown. The intention is to have all staff returning July 6.
Attorneys are allowed a little more flexibility, especially because many have gotten more comfortable with working remotely during the course of the pandemic. Brown estimated 30% to 40% have been going into the office, and while lawyers will continue to have to option of working elsewhere, he anticipates more will be returning and the office will be back to pre-pandemic attendance levels in another month and a half.
"We want folks in the office as we're mentoring summer associates and newer associates," Brown said. "It's important to get folks back and we're expecting that we'll be close to normal, but maybe there will be a few more remote workers than pre-pandemic."
While law firms were deemed essential businesses by Gov. Eric Holcomb and could open, Barnes' Fort Wayne office did not allow everyone to freely return. Brown said requests for returning were evaluated and about a third of the lawyers and staff were working in the office in May and June 2020.
Also, they had to follow public health protocols and get preapproval before bringing clients into the office. As more employees are returning now, the office is keeping the mask requirement in place for a couple more weeks.
"I want people to be comfortable," Brown said.
Attorneys and staff in the South Bend office of Barnes & Thornburg moved into a new office building in November and will finally be celebrating a ribbon cutting ceremony Friday. COVID-19 scuttled the grand opening event planned for last fall, but the firm did not abandon the opportunity to commemorate the opening of the first new building in the city's downtown core in 20 years.
"Barnes & Thornburg has a rich history in South Bend and we are excited about continuing our commitment to the city and the region," Philip Faccenda Jr., managing partner of the South Bend office, said in a press release.
The firm, in coordination with Downtown South Bend and the South Bend Regional Chamber, will host friends, clients and community members from 9 a.m. to noon at an event outside the firm's building at 201 S. Main St. As part of the celebration, Barnes will be taking donations of canned goods and other non-perishable items.
"We appreciate all the project partners who contributed to this effort and to construction of this beautiful new building, and it's great to be back in the office after working remotely last year," Faccenda said. "The food drive event is meant to show our appreciation to the community and to help those in need."
Please enable JavaScript to view this content.