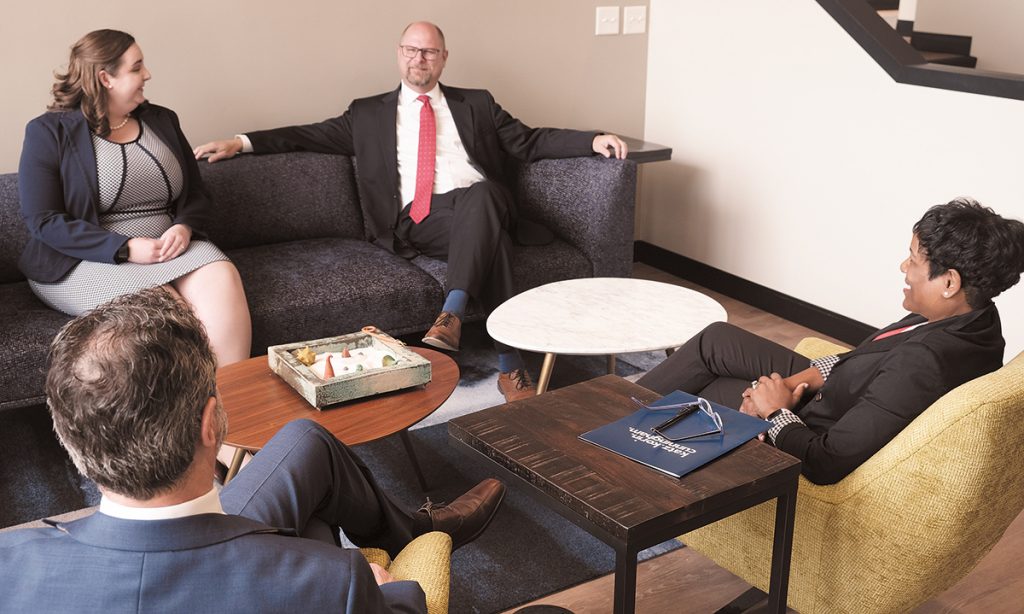 Looking back to March 2020, Michael Gabovitch acknowledged he and his law firm had no idea how much the COVID-19 crisis would upend the way attorneys work.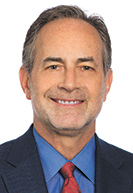 The managing partner at Katz Korin Cunningham in Indianapolis said he is certain more change is coming, but he is leading his team to embrace different ways of getting the job done — namely, everyone does not need to be in the office every day.
He was surprised at how productive attorneys and staff have been working remotely during the past 15 months, so the office is giving team members the option to stay home, go into the office or maintain a hybrid schedule.
Caveats will apply. Some support staff who can only do their jobs at work will still have to go in, and associates will be kept closer to the office where they can be mentored and supervised more easily. Also, those attorneys who work three or more days remotely will no longer have their own private office at the firm.
A drop in billable hours could require a lawyer to spend less time remote. Moreover, regardless of varying schedules, the firm is planning both professional activities like continuing legal education presentations and social events to give attorneys and staff opportunities to connect.
"We don't pretend to fully know what this will look like going forward, but we believe it's the right thing to do right now to kind of follow our lessons and believe in them and see where it leads us," Gabovitch said.
Katz Korin Cunningham is an example of how law firms are at a crossroads. According to Jared Correia, founder of Red Cave Consulting, which provides business management help especially for legal professionals, the pandemic has been "a referendum" on whether lawyers could work remotely. Going forward, the offices must continue innovating and transforming how their employees work in order to survive.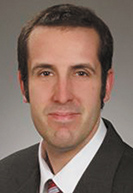 "I think the legal profession is long overdue for an overhaul," Correia said. "If you look at the way lawyers operate, it always takes a cataclysm for them to do anything different. I tell people, 'If you're not changing your practice now with a global pandemic happening, what are you waiting for?'"
Law firms, like all businesses, have been dealing with change since the coronavirus shuttered the U.S. economy. Remote work became the norm in an instant while masks, hand sanitizer and social distancing became part of the office routine. Now as the number of positive tests and deaths from COVID-19 decline, firms are making plans for the great return, with attorneys, paralegals and support staff being able to live and work as they did pre-pandemic.
In Indiana, legal services were deemed "essential," so law firms could remain open, but they were encouraged to do as much as they could remotely. Some Hoosier firms have had lawyers returning since last summer. Others have set specific dates for bringing everyone back, or are still working on plans for fully reopening.
Law firms that have multiple offices across the country have had to conform not only to guidelines from the Centers for Disease Control and Prevention but also to differing public health requirements and mandates that states and local municipalities put in place.
SmithAmundsen LLC, which has eight offices across the Midwest, had to adjust the health and safety policies in each office to match the public health restrictions as well as the characteristics of each geographic location.
In Chicago, the office closed and the employees have all been working remotely because many relied on public transportation to get to work, which increased their risk of being exposed to COVID-19. Conversely, the Indianapolis office remained open and Steve Stitle, managing partner of the Circle City team, estimated 80% to 90% of the workers went into the downtown location every day.
Likewise, the Indianapolis office of Faegre Drinker Biddle & Reath LLP is among the select offices that are part of the first phase of the firm's "Return to Onsite Work Plan." The plan mandates a number of health and safety measures including daily health attestations and capacity monitoring.
According to a statement from Faegre Drinker, the firm is recording attendance below the plan's capacity limit across all phase one locations.
Correia has talked to many law firms around the country and notes they are all having to feel their way through this uncertain time. He is advising his clients to respect employees' different levels of fear and tolerance for the health risks and to exercise some "empathetic leadership." Rather than set strict return dates and policies, firms should bend and adapt.
"That's a tough position for law firms to be in because they don't like gray areas," Correia said. "They like black and white generally, but I think that's the only way you can play it right now."
In-person vs. remote
Like many firms, SmithAmundsen allowed its attorneys to work remotely before the pandemic, and as the economy reopens, its attorneys will be permitted to split their schedules between working at home and in the office each week.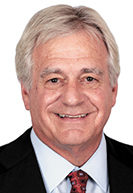 "Some people will choose to work from home, and if they can perform their tasks from home, that's fine," said Stitle, who also serves as the chief operating officer for the firm. "For the younger attorneys and so forth that need some coaching and need some direct human interaction, we'll encourage them to be at work as much as possible."
The COO has found that videoconferencing technology has worked well in helping lawyers continue to collaborate, but in-person interaction with the ability to see facial expressions and body language is better. When a practice group gets overloaded, having everyone in the same physical space enables attorneys to more easily shift a paralegal or an associate to help.
"We utilize our resources across practice groups, and it's tough to do that remotely," Stitle said.
Krieg DeVault adopted a flexible policy that allowed its employees to work remotely in the early days of the pandemic but is currently crafting a long-term policy for working away from the office.
The Indianapolis law firm saw many team members return in June 2020, and more have come back since as the public health risk has diminished and children have returned to the classroom, according to managing partner Michael Messaglia. In developing a new remote work policy, the firm is examining what is happening across the legal industry along with surveying its employees.
"Our hope is to adopt a policy that is in keeping with our high standards of client service, allows us to maintain our collegial and collaborative work environment, and affords associates the training and mentorship opportunities they desire while also recognizing the benefits of remote working from a recruiting and retention standpoint," Messaglia said.
Farmer Scott Ozete Robinson & Schmitt LLP in Evansville had most attorneys and staff working under the same roof by the end of last summer.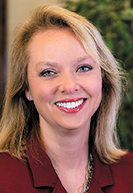 Partner Laura Scott, like many of her colleagues, had occasionally remoted into the office, but the pandemic forced the firm's employees to work in their homes March-May 2020. Even though returning to the office enabled her to concentrate better because she did not have to contend with the distractions of home, the strict protocols kept everyone masked and mostly isolated.
So a few weeks ago, with everyone vaccinated and the health restrictions relaxed, the firm revived its pre-pandemic tradition of eating lunch together in-person on a Friday. Scott remembered the event as a "wonderful, joyous reunion."
During the pandemic, Scott said she missed her co-workers. More than the value of having their expertise and help close by, she missed the informal interactions, the short conversations about the weekend or an interesting story.
"Those are the kinds of things that when you're working remotely, you don't feel they are important enough to pick up the phone and bother one of your coworkers," she said.
Career advancement
Maintaining culture is a top concern that Correia has heard from many law firm leaders. Yet he rejected the notion that company camaraderie cannot be cultivated in a virtual environment, just as he disputed the "butts in seats" idea that says lawyers, especially young associates, need to be seen and heard in the office to advance their careers.
The key for attorneys who want to be partners is communication, Correia said. These lawyers should be connecting online and in-person with the more established attorneys in their firm and going into the office at least some of the time.
Indeed, Correia said he believes working remotely would actually be an advantage in the race for partnership. The time lawyers would be spending driving or riding the train into the office can be directed to networking and courting new clients.
"If you're going to advance in a firm, you're going to advance in a fashion where you're going to become a rainmaker," Correia said. "I think you have infinitely more chance to do that using an online platform than offline."
Gabovitch said he does not see a direct connection between career advancement and physical presence in the office. He noted his firm has room to improve in how it collaborates virtually, and being in-person has benefits that cannot be matched by videoconferencing.
But the firm's success depends on client service. Clients do not care where the attorney is located or whether the messages are sent electronically — they just want to be kept up to date, Gabovitch said.
The managing partner noted the pandemic has demonstrated that being in the office is not a guarantee that attorneys will be responsive to their clients.
"Whether you work in the office or across the street or across the country," Gabovitch said, "if you're getting the job done then we don't need to micromanage you."•
Please enable JavaScript to view this content.