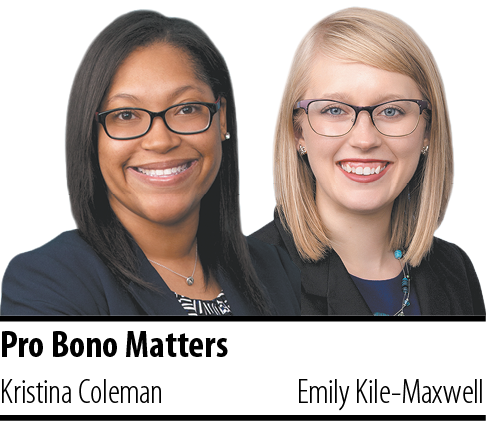 We are all familiar with Indiana's annual attorney registration process, requiring us to update our contact information, certify IOLTA status and pay annual registration fees due Oct. 1. Indiana also requires attorneys to report the number of hours they spent providing pro bono legal services in the prior year.
Indiana Rule of Professional Conduct 6.7, effective Jan.1, 2015, added a step to Indiana's annual attorney registration process. It requires attorneys to certify the number of hours they spent providing reportable pro bono legal services in the prior year or to certify that they are exempt. Attorneys who are currently serving as a member of the judiciary or judicial staff, are government lawyers prohibited from providing legal services outside of their employment, are retired from the practice of law or who maintain inactive standing are exempt from the reporting requirement.
"Reportable pro bono legal services" are limited to legal services rendered directly to individuals the attorney reasonably believes to be of limited means, provided either for no compensation or for substantially reduced compensation (less than 50% of the attorney's normal rate), with no expectation of any greater fee when the services were rendered. Because Rule 6.7 limits reportable pro bono legal services to those rendered directly to low-income individuals, pro bono legal services provided to organizations, such as legal aid organizations, are not reportable. Attorneys who are not exempt must also report financial contributions to certain pro bono and legal service organizations.
Rule 6.7 is only a reporting requirement; Indiana does not require attorneys to provide any amount of pro bono legal services. Therefore, there is no penalty for attorneys who have no reportable pro bono hours or financial contributions — they can just report "zero" during the annual registration process.
Indiana is one of nine states with a mandatory pro bono reporting system (joining Florida, Hawaii, Illinois, Maryland, Mississippi, Nevada, New Mexico and New York). Thirteen other states (Arizona, Connecticut, Georgia, Kentucky, Louisiana, Montana, North Carolina, Ohio, Oregon, Tennessee, Texas, Virginia and Washington) have implemented voluntary pro bono reporting systems.
The American Bar Association has recognized that pro bono reporting systems can help states better track the amount of pro bono legal services being provided and may encourage more voluntary pro bono service. In 2018 — the most recent year for which data is available — 8,465 non-exempt Indiana attorneys reported 274,695 pro bono hours contributed at no charge and 195,411 pro bono hours contributed at a reduced charge, for a total of 470,106 pro bono hours. Those same attorneys reported total financial contributions (monetary or in-kind) to pro bono and legal services organizations of $1,399,349.
While the 2018 total financial contributions were down from the 2017 amount of $1,888,548, the total pro bono hours increased by 27,521 hours. Moreover, historic data demonstrates that reported hours have increased nearly 25% since mandatory pro bono reporting began in 2015, with 2018 being the highest number of contributed hours thus far.
Whether you're interested in adding pro bono to your practice for next year's reporting requirements or are simply interested in increasing the number of hours you spend on reportable pro bono legal services, there are several ways you can get involved:
Indiana Legal Services: ILS assists low-income residents throughout the state of Indiana in civil areas such as housing, public benefits, consumer, health and family law. ILS has several statewide projects, such as its Consumer Law Center, Senior Law Project, Low Income Taxpayer Clinic, Immigrants' and Language Rights Center, LGBT Project, Workers' Rights and Protection Program, and Housing Law Center, to name a few. Moreover, ILS has nine regional offices throughout the state, so no matter where you practice, you should be able to connect with an office near you.
IndyBar: IndyBar offers a variety of programs its members can become involved in, ranging from its Hospice Program to its Free Wills Clinic. In response to the pandemic, IndyBar launched its "Virtual Ask A Lawyer" program, an online legal advice chat service in which attorneys can provide assistance with questions on topics such as divorce, child support, personal injury and more.
Neighborhood Christian Legal Clinic: NCLC serves clients in a variety of legal areas, including expungement (through its Project GRACE program), housing/foreclosure and wills/estate planning. NCLC has offices in Indianapolis and Fort Wayne but also provides services statewide. Attorneys can volunteer by serving on the intake team, taking a case referral, participating in event days or serving on the Counsel and Advice Team.
Pro Bono Indiana: Pro Bono Indiana is the state's newest pro bono organization, meant to consolidate the administration of Indiana's pro bono districts while still preserving the autonomy of the local nonprofit programs that have been serving the pro bono districts for years. Attorneys can volunteer to assist with Indiana Free Legal Answers, part of the national virtual legal clinic sponsored by the American Bar Association. Attorneys also can contact their local pro bono district about ways to get involved.
United States District Court for the Southern District of Indiana Pro Bono Program: The Southern District of Indiana is always looking for attorneys to represent indigent litigants in civil cases. Representation can range from limited appointments to assist with settlement to unlimited appointment to assist a pro se litigant all the way through trial. The court provides substantive resources to recruited counsel as well as reimbursement of certain expenses.•
• Kristina Coleman and Emily Kile-Maxwell are associates at Faegre Drinker Biddle & Reath LLP in Indianapolis. Opinions expressed are those of the authors.
Please enable JavaScript to view this content.