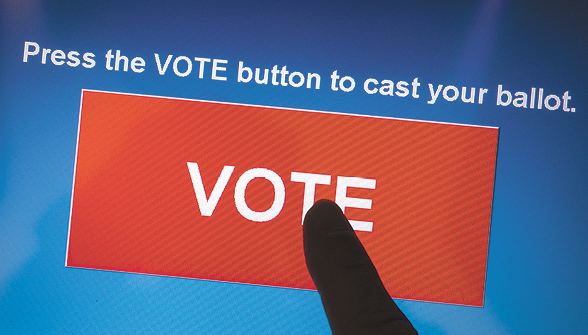 Continuing a statewide trend, Republican candidates dominated Indiana's contested judicial races in the Nov. 8 election. Democrats, however, did see victories in a handful of key contests.
Out of 21 contested races for county prosecutor, circuit court judge or superior court judge, 18 Republican candidates were leading their Democratic opponents as of noon Thursday, with 98.1% of precincts reporting, according to the Indiana Secretary of State's Office. Some data may not yet be final.
Among the races for county prosecutor — 13 in all — a handful of GOP candidates seem poised to unseat Democratic incumbents.
For example, in Perry County, Republican Samantha Hurst is currently carrying 57.3% of the vote in the prosecutor's race, compared to incumbent Democrat Jason Hoch's 42.7%. Also, in Switzerland County, incumbent Democratic Prosecutor Monica Detraz Hensley is carrying 32.0% of the vote to Republican Ryan Marshall's 68.0%. And in Wells County, incumbent Prosecutor Andrew J. Carnall, a Democrat, is carrying 20.8%, compared to 79.2% for Republican challenger Colin Z. Andrews.
In a much closer race in LaPorte County, Democrat incumbent Prosecutor John Lake currently has 48.5% of the vote to Republican Sean Fagan's 51.5%. Despite the tight margin, Lake has conceded to Fagan, writing on Facebook, "It's hard to overcome the effect of straight ticket voting, and we wish Mr. Fagan the best of luck as he takes on this awesome responsibility."
Only one Democrat was successful in a contested race for prosecutor: incumbent Ryan Mears, who defeated GOP challenger Cyndi Carrasco in the race for Marion County prosecutor. Mears currently has 59.4% of the vote to Carrasco's 40.6%.
Nov. 8 marked the first time Mears faced all Marion County voters, as he was initially elected via Democratic caucus after his predecessor, the late Terry Curry, stepped down in 2019 for health reasons.
Marion County Democrats also scored a win in the race for Marion Circuit Court judge. Democrat Amber Collins-Gebrehiwet beat GOP incumbent Tiffany U. Vivo 61.3% to 38.7%.
Vivo, formerly a magistrate judge in the Marion Superior Court, was appointed by Gov. Eric Holcomb to the Marion Circuit Court bench last December after the elected Marion Circuit Court judge, Sheryl Lynch, stepped down.
Lynch, like Collins-Gebrehiwet, was a Democrat.
In the final win for Democrats among contested judicial races, Democrat Emily A. Salzmann was elected to Monroe Circuit Court 7 with 64.0% of the vote, compared to Republican Carl Lamb's 36.0%. The current incumbent in that court, Judge Stephen Galvin, a Democrat, is retiring, according to the Bloomington Herald-Times.
Aside from Vivo in Marion County, the only other incumbent circuit court judge defeated on Nov. 8 was Judge Sherry Gregg Gilmore of Knox County, who brought in 41.2% of the vote as a Democrat. Her Republican challenger, Monica Carpenter Gilmore, brought in 58.8%.
Gregg Gilmore is a longtime judge, having recently received an award from the Indiana Supreme Court for 24 years of judicial service.
No superior court incumbents were facing a contested race this year. In the two counties where the superior court races were contested — Dubois and Vigo — the Republican candidates hold comfortable leads.
Dozens of other candidates for prosecutor and circuit or superior court judges ran uncontested. The contested races brought in tens of thousands of dollars in campaign contributions. 
Below are the results of each contested prosecutor, circuit court and superior court race, as of noon on Thursday. 
Prosecutor race by county
Crawford
T. Parker Hudson (D): 47.3%
Chase Smith (R): 52.7%
Hamilton
Jessica Paxson (D): 43.1%
Greg Garrison (R): 56.9%
Kosciusko
Travis J. McConnell (D): 24.7%
Brad Voelz (R): 75.3%
LaPorte
John Lake* (D): 48.5%
Sean Fagan (R): 51.5%
Marion
Ryan Mears* (D): 59.4%
Cyndi Carrasco (R): 40.6%
Martin
Michael Steiner (I): 47.3%
Aureola S. Vincz* (R): 52.7%
Perry
Jason R. Hoch* (D): 42.7%
Samantha Hurst (R): 57.3%
Spencer
Dan Wilkinson (D): 33.9%
Megan Bennet (R): 66.1%
Starke
Autumn C. Ferch (D): 45.5%
Leslie A. Baker* (R): 54.5%
Switzerland
Monica Detraz Hensley* (D): 32.0%
Ryan Marshall (R): 68.0%
Vanderburgh
Jon A. Schaefer (D): 41.0%
Diana L. Moers (R): 59.0%
Vigo
Johnny Edward Vaughn (D): 39.1%
Terry R. Modesitt* (R): 60.9%
Wells
Andrew J. Carnall* (D): 20.8%
Colin Z. Andrews (R): 79.2%
Circuit Court race by county
Crawford
Stanley V. Pennington (D): 40.5%
Justin B. Mills (R): 59.5%
Delaware (Circuit Court 1)
Amanda C. Dunnuck (D): 45.8%
Judi L. Calhoun (R): 54.2%
Floyd
Dana Eberle-Peay (D): 40.3%
Justin Brown (R): 59.7%
Knox
Sherry Gregg Gilmore* (D): 41.2%
Monica Carpenter Gilmore (R): 58.8%
Marion
Amber Collins-Gebrehiwet (D): 61.3%
Tiffany U. Vivo* (R): 38.7%
Monroe (Circuit Court 7)
Emily A. Salzmann (D): 64.0%
Carl Lamb (R): 36.0%
Superior Court race by county
Dubois
John E. Birk (D): 30.9%
Anthony D. Quinn (R): 69.1%
Vigo (Superior Court 1)
Noah Lincoln Gambill (D): 48.2%
Charles Johnson (R): 51.8%
*Incumbent
Please enable JavaScript to view this content.