Promising to put liberty into action, former Indiana Congressman and Secretary of State Todd Rokita returned to elected office Monday, taking the oath as Indiana's 44th attorney general.
Indiana Chief Justice Loretta Rush administered the oath to Rokita during the Monday morning ceremony. Rush also administered the oath to second-term Gov. Eric Holcomb and Lt. Gov. Suzanne Crouch.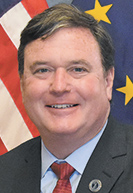 "It is an oath to protect the liberty and individual responsibility preserved in our constitutions, and I will proudly and sincerely heed it," Rokita said in remarks following the oath, which he took while his wife, Kathy, stood beside him and held the Bible he placed his hand on.
A Republican, Rokita is once again a statewide officeholder after defeating Democrat Jonathan Weinzapfel in the November General Election. He also bested three other candidates vying for the GOP nomination for attorney general at the party's summer convention, including ousted AG Curtis Hill. 
Rokita campaigned on a platform of providing certainty in uncertain times, vowing to support constitutional liberties that he said are often under attack. He repeated those promises in his Monday remarks.
"So today as your attorney general I reiterate my commitment to promoting liberty in all ways," he said. "But perhaps more important than that will be my duty, shared by each of you as Hoosiers and Americans, to defend our individual liberties from the forces that don't understand, don't appreciate and detest our God-given constitutional values, and even America itself."
Among the liberties Rokita promised to preserve was the "preciousness of life," referencing his opposition to abortion. He also spoke of the right to peaceably assemble, appearing to place emphasis on the word "peaceably," and the right to go to church.
Also, the new attorney general reiterated his support for law enforcement, who he said allow Hoosiers to walk the streets and run their businesses without fear of becoming the victim of a crime. Similarly, he spoke of his support of the right of individuals to defend themselves via the Second Amendment.
As the leader of a statewide office, Rokita vowed to eliminate government red tape, waste, fraud and abuse, saying that doing so would allow Hoosiers to keep more of their own money.
"The more discretionary funds you have," he added, "the more liberty you have."
Finally, Rokita promised to fight against "the disingenuous lure of socialism" that he said is "on the march across our nation right now."
"We need men and women of all types with the strength to stand up for the dignity of hard work, the value of personal responsibility, and the morality of being able to keep the fruits of your work that allows for the gratefulness of charity and volunteerism," he said.
"Today, as we take the oath of office, with God's blessing, the spirit of liberty in action will animate the work that we do in the Attorney General's Office on behalf of the people of Indiana."
Rokita's inauguration continues a two-decade streak of Republican control in the AG's Office. The GOP has held that office consistently since 2001, beginning with Steve Carter and continuing with Greg Zoeller, Hill and now Rokita.
Indiana Democrats had been watching the November race between Rokita and Weinzapfel, the former mayor of Evansville, believing Weinzapfel could flip the office to Democratic control. That belief was partially based on ethics issues surrounding Hill, who was suspended for 30 days with automatic reinstatement in May after accusations that he drunkenly groped four women in March 2018.
Rokita ultimately won a clear victory over Weinzapfel, securing 58.3% of the vote to Weinzapfel's 41.7%.
Prior to his own inauguration, Rokita on Monday morning remotely swore in nearly 200 deputy attorneys general, he said.
His leadership team will include former Indiana Inspector General Lori Torres, who will serve as chief deputy and chief of staff, and Larry Hopkins, who will serve as chief administrative officer. Hopkins previously served as chief executive/administrative officer under AGs Carter and Zoeller from 2001 to 2016.
Rokita's inaugural remarks drew on President Ronald Reagan, who once said that, "Freedom is never more than one generation away." Preserving that freedom, Rokita said, "requires more than speeches and promises."
"It demands real, on the ground work and attention from all of us. In my administration, you can expect our team to put liberty in action every single day starting with the defense of our God-given rights, which our Founders recorded in our Constitution and its original Amendments."
Monday's ceremony was held at the Indiana State Museum but was not open to the public due to the ongoing coronavirus pandemic. Rokita's invited guests included his wife, sons Teddy and Ryan, parents and siblings.
The ceremony — which was livestreamed to the public — featured video performances of "The Star-Spangled Banner" and "Back Home Again in Indiana" by vocalists at Hanover College, Holcomb's alma mater. Also, Holcomb's three nieces and two nephews led invited guests in the Pledge of Allegiance.
The master of ceremonies was Julia Hamblin, president of the Indiana FFA.
Please enable JavaScript to view this content.