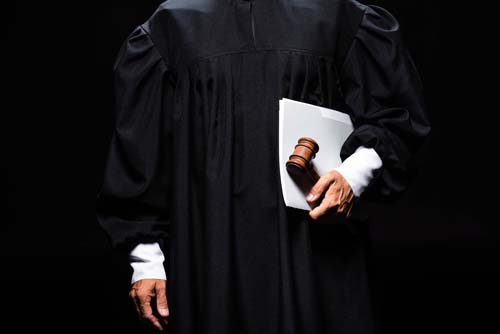 Wednesday's hearing before the U.S. Senate Committee on the Judiciary was a relatively quiet affair for Indiana Southern District Court Magistrate Judge Matthew Brookman, who has been nominated to become a district judge on the court where he currently serves. That quiet could be a sign that he's on the path to an all but assured confirmation.
Brookman was one of five judicial nominees who appeared before the Judiciary panel on Wednesday morning. President Joe Biden nominated Brookman last month to the seat held by Indiana Southern District Judge Richard Young, who has announced his plans to take senior status.
A magistrate judge since 2016, Brookman  has the backing of both of Indiana's Republican senators, Todd Young and Mike Braun. Sen. Dick Durbin, the Illinois Democrat who chairs the Judiciary Committee, opened Wednesday's hearing by praising Young and Braun for turning in their blue slips for a Democratic presidential nominee.
"They have shown once again the process can work on a bipartisan basis and can result in outstanding nominees," Durbin said.
Introducing Brookman, Young told the committee he had received favorable feedback on the magistrate's nomination from members of the Evansville Bar Association, the Evansville chief of police and local Evansville attorneys. Like Judge Young, Brookman has chambers in both Evansville and Indianapolis and will keep his primary chambers in Evansville if confirmed.
The members of the Evansville legal community described Brookman as, among other things, prepared, fair, knowledgeable and impartial, Young said.
"At a time when criminal justice, drug use and violent crime are a primary concern in my state," he said, "Hoosiers will be comforted knowing they have an experienced, fair judge on the bench."
Addressing the committee himself, Brookman said his parents instilled in him the belief that anything worth doing is worth doing well, and that anything is possible if you put your mind to it.
He was joined in the chamber by his wife and three children, and he thanked his "court family" in the Indiana Southern District for their support.
After his brief opening remarks, Brookman spoke relatively little. Many of the committee's questions were directed at two of the other nominees: state Judge Charnelle Bjelkengren, nominated for the Eastern District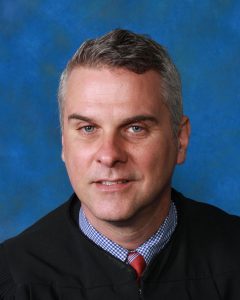 of Washington, and Michael Farbiarz, nominated for the District of New Jersey.
State Judge Robert Kirsch and Orelia Eleta Merchant, nominated for the District of New Jersey and the Eastern District of New York, respectively, also appeared before the committee.
The only question directed specifically at Brookman came from Sen. John Kennedy, a Republican from Louisiana who drilled the nominees on the meaning of "originalism."
Asked by Kennedy to define "originalism," Brookman said, "My understanding of originalism is the notion that the constitution has … an enduring quality and a fixed nature to it."
Asked to clarify the meaning of that definition, Brookman continued, "It means that the words matter, that the words that the framers used to draft the constitution matter and that it has a fixed quality to it and an enduring nature."
Kennedy then asked, "Who determines what the words mean?" Brookman responded that he had not dealt with issues of constitutional interpretation in his time as a magistrate judge, "but my understanding is that you would begin with the language of the constitution."
Kennedy responded, "Yeah, OK, I agree with that."
Kennedy's questioning about originalism and general constitutional interpretation continued as he addressed the other nominees, focusing specifically on the question of whether "originalism" means looking to the intent of the drafters or to some other interpretation of constitutional language.
He also asked Judge Bjelkengren to define the independent state legislature theory — an issue that is currently before the U.S. Supreme Court — and to walk through the provisions of Articles II and V of the U.S. Constitution, dealing with the executive power and the process of amending the Constitution, respectively. Bjelkengren told Kennedy she could not recall those articles and that she had not dealt with the independent state legislature theory  in her time as a judge.
Questioning then turned to Sen. Sheldon Whitehouse, D-Rhode Island, who gave a pointed counter to Kennedy's inquiries.
"If you bring honor and rigor to (judicial) inquiry, you'll be just fine without having to know one damn thing about originalism," Whitehouse said. "So I want to just make sure that it's clear in this room that we are not uniform in our view that originalism is something you need to adhere to, and in my view I think it's actually a tainted doctrine that was cooked up and designed with the specific intention of favoring certain classes of litigants."
Carl Tobias, a professor at the University of Richmond School of Law and an expert on federal judicial selection, said he thought Brookman handled the originalism questioning well. Tobias said Brookman gave a "straight up, patented" definition of originalism that is typical of Democratic nominees and that recognized the judicial philosophy as relevant.
But echoing Whitehouse, Tobias noted there are those who do not support an originalist interpretation. There are often times when the text of the Constitution or a statute are ambiguous, Tobias said, which makes interpreting the language through the eyes of the drafters difficult.
Tobias also praised Brookman for his response to a question about juries.
Turning away from constitutional interpretation, Whitehouse asked the nominees for their views on the importance of juries in the American judicial system at a time when the number of jury trials is shrinking.
In response, Brookman said, "Almost my entire professional career has been in service of the American jury trial." That includes his time as a trial attorney with the U.S. Attorneys' Offices for the Western District of Missouri and the Southern District of Indiana, as well as the seven jury trials he's presided over as a magistrate judge.
"I share your admiration and the importance for the American jury trial," he told Whitehouse.
Aside from the questions about originalism and juries, Brookman spoke very little.
He answered "no" to questions from Hawaii Democratic Sen. Mazie Hirono as to whether the nominees had ever been accused of or disciplined for sexual misconduct. Later, he said, "I have and I will" when Georgia Democrat Jon Ossoff asked the nominees if they would faithfully apply the law without bias.
Tobias opined that the senators' relatively few questions for Brookman were "a testament to his capability." He described Brookman as a "classic" appointment, adding that magistrate judge nominees generally know the most about what it takes to be a district judge.
Like Durbin, Tobias also pointed to the bipartisan support of Brookman's nominee.
"I think they're doing what they need to do by way of representing Indiana and coming forward with and supporting candidates," Tobias said of Sens. Young and Braun.
There had been some speculation that Braun might be reluctant to support a Biden nominee given that he's now running for Indiana governor. But looking at Braun's support of both Brookman and Judge Doris Pryor, who was recently confirmed to the 7th Circuit Court of Appeals, Tobias said he was pleased that Braun does not appear to be "playing politics" with judicial nominees.
Bipartisanship was a theme of the entire hearing, with Durbin noting that GOP senators have returned 12 blue slips so far but adding, "I think we can do better."
"This is a sharp contrast with the previous president," Durbin said. "Under the Trump administration, Democrats returned 130 blue slips for Trump district court nominees, which led to the confirmation of 84 nominees. Almost half of all of President Trump's district court nominees were on a bipartisan basis when they came to this committee.
"I encourage my Republican colleagues to follow the example not only by Senators Young and Braun, but a number of other Republican senators from Ohio and Pennsylvania, Ranking Member Senator (Lindsey) Graham and outgoing Ranking Member Senator (Chuck) Grassley."
Graham, a Republican from South Carolina, shared a similar sentiment, adding, "Elections have consequences. Let's work together and see if we can get some nominations moving."
Looking ahead, Tobias predicted that Brookman is on a path to confirmation by the spring, likely no later than April.
Members of the Judiciary Committee must submit their written follow-up questions to the nominees by next week, and once the nominees submit responses, Tobias said Brookman could receive a committee vote in February before moving to the full Senate floor.
"I'd be shocked if it weren't bipartisan," Tobias added.
Depending on how quickly the Senate can work through previously pending nominations, Tobias said a final vote on Brookman could come as soon as late February or early March.
Please enable JavaScript to view this content.