Editor's note: This story has been updated.
Democratic Indiana attorney general candidate Jonathan Weinzapfel is calling for the full legalization of marijuana in Indiana, saying the time has come for the state to take a "common sense" approach to the substance.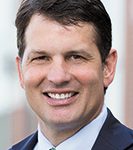 Weinzapfel held a press conference Friday morning following his announcement this week that he supports marijuana legalization and regulation, including the recreational use of the drug. He appeared alongside Marion County Prosecutor Ryan Mears, who last year announced a policy of no longer prosecuting possession of 1 ounce of marijuana or less.
Decriminalizing marijuana would save an estimated $171 million for the state annually, Weinzapfel said. Those funds could instead be put toward teacher raises or criminal justice reform efforts, such as the increased use of body cameras and additional police training.
Given the economic downturn that has resulted from the COVID-19 pandemic, Weinzapfel said "now is the perfect time" to move toward legalization.
"It's time to stop locking people up for marijuana," he said.
Mears announced just over a year ago that his office would stop prosecuting simple pot possession, and since then he said he has seen a dramatic decrease in marijuana-related arrests and referrals to his office. He argued that law enforcement and prosecutorial resources are better spent on addressing the issue of violent crime in Indianapolis, which he said is not linked to marijuana use.
What's more, Mears said marijuana prosecutions disproportionately affect people of color. Given the ongoing national discussions about racial inequities in policing, taking the step of decriminalizing marijuana would send the message that Hoosier leaders are taking those conversations seriously.
And, Mears added, focusing more resources on stopping violent crime across the county could help local law enforcement rebuild trust with the people in their communities.
"People should be treated like adults," Mears said. "If someone wants to smoke a joint on their back porch, I don't necessarily require the involvement of the criminal justice system."
Even so, the federal government still classifies marijuana as a Schedule I controlled substance. Weinzapfel's opponent in the race for attorney general, former Indiana Congressman Todd Rokita, opposes marijuana legalization, according to the Associated Press. Indiana Republican Gov. Eric Holcomb also opposes decriminalization because of the federal classification.
Asked how that classification might affect statewide legalization, Weinzapfel noted that multiple other states, including Illinois and Michigan, have successfully decriminalized recreational use. Also, he opined that the federal approach to the substance might change if a Biden administration were to take office.
Views on marijuana legalization have slowly been evolving, Weinzapfel said, adding that the public is ahead of politicians on the issue. He's already had conversations with members of the Indiana General Assembly – which would have to act to decriminalize the drug – about the move toward legalization, and he said Friday that it would take a leader to get such legislation through.
If marijuana decriminalization legislation were to pass, Weinzapfel said sentences for previous marijuana convictions could possibly be reviewed for commutation, though he said that process would have to occur on a case-by-case basis. Mears tied marijuana commutations to efforts to increase racial equity, saying that if the state makes the pledge to move away from prosecutions that disproportionately affect people of color, it must correct injustices from the past as well as preventing them in the future.
Though he has discussed pot legalization with Hoosier lawmakers, Weinzapfel hasn't yet discussed it with Holcomb. But if he wins next week's election, the candidate said he is hopeful that progress will be made toward legalization during the next legislative session.
"The time is now," he said.
Please enable JavaScript to view this content.