An Indianapolis law firm that represented former President Donald Trump in a failed attempt to overturn the results of the November 2020 Wisconsin election should pay at least $145,000 in attorney fees as a sanction for bringing a "meritless" case, filings by the state defendants say.
Kroger Gardis & Regas partner William Bock III led a team that represented Trump and unsuccessfully sued Wisconsin officials, including Gov. Tony Evers, weeks after President Joe Biden defeated Trump by more than 20,000 votes in the Badger State.
"Although Trump's claims were bereft of legal or factual basis, the stakes were immense," says the motion to recover attorney fees and costs. Evers, the filing says "had no choice but to defend zealously against the claims and to engage with Trump's scattershot litigation tactics. This litigation imposed significant costs on the taxpayers of Wisconsin. Those costs were needless, because Trump's suit never had any merit, this litigation was precluded by exclusive state-court proceedings, and the costs were exacerbated by strategic choices made by Trump and his lawyers."
The filing asks the Eastern Wisconsin District Court to apply sanctions as "appropriate consequences" for the plaintiffs' "egregious conduct of this litigation."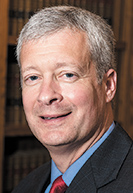 Bock replied to a request for comment Thursday with an emailed statement. "The claims made by Governor Evers in his most recent filing are baseless and totally without merit. We will respond further in due course," he wrote.
Trump's suit filed by Kroger Gardis & Regas won no relief. District Judge Brett Ludwig, a Trump appointee, dismissed the suit, calling it and the relief it sought "extraordinary". Bock appealed to the 7th Circuit Court of Appeals, which affirmed the lower court's dismissal. The US Supreme Court last month declined to hear the case.
The brief supporting fees and sanctions  notes a Wisconsin Supreme Court justice in a separate case held the relief that Trump and his attorneys sought in this and other suits — setting aside the results of the election — were unprecedented in American history.
"From this case's inception through the staggeringly expedited subsequent proceedings, there is no doubt that Trump and his attorneys brought and litigated this lawsuit in bad faith," the brief says. "Unconscionably, they did so for the purpose of sowing doubt about the legitimacy of the 2020 presidential election, with a goal of disenfranchising nearly 3.3 million Wisconsin voters in order to secure the presidency contrary to majority will. This Court has both statutory and inherent authority to make the State whole for attorneys' fees necessitated by this frivolous suit and to issue sanctions, for which Trump and his attorneys should be jointly and severally liable, to dissuade future candidates and attorneys from engaging in such reckless abuses of the judicial system."
The Wisconsin law firm of Stafford Rosenbaum LLP represents Evers and other Wisconsin officials and has filed motions seeking sanctions in this case and against other attorneys who filed separate suits seeking to overturn the election, including Sydney Powell and Lin Wood.
The National Law Journal reported Thursday that attorneys seeking fees to defend against a separate Trump election challenge wrote, "If there is not a penalty for bringing litigation like this, losing candidates, their allies, and attorneys will have nothing to lose by challenging results following elections, and they could even perceive that they have incentives to do so."
The case brought by Kroger Gardis & Regas in the Eastern District of Wisconsin is Donald Trump v. Wisconsin Election Commission, et al., 2:20-cv-1785.
Please enable JavaScript to view this content.