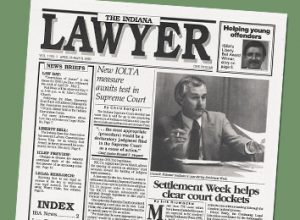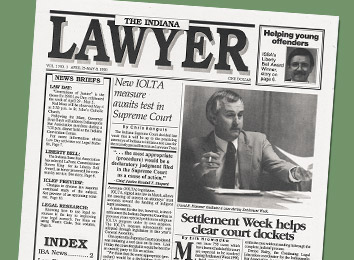 In 2015, Indiana Lawyer turns 25, and we'd like to take this opportunity to say thank you to our readers as well as those who have served as news sources, partners and supporters along the way. We plan to spend the year taking a look back at some of the stories and people we've covered and hope that you will enjoy the flashback.
Read More
Lawyers 25 years ago had a radical concept: Let's see how many civil lawsuits we can settle in a week.
Read More
Indiana Supreme Court posed an obstacle in 1990 to getting the program launched to fund pro bono efforts.
Read More
Larry G. Whitney, the Marion County Bar Association president when Indiana Lawyer launched in 1990, is currently suspended from the practice of law.
Read More
Here are some random legal statistics from twenty-five years ago when Indiana Lawyer published its first issue. Remember when law school cost under $3,500 a year?
Read More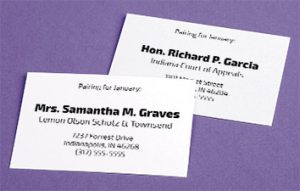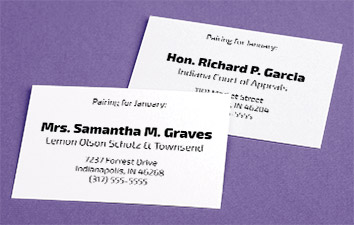 Some are good at networking, others not so good. With the development of the Indianapolis Bar Association's Indy Attorneys Network Section, lawyers old and new, those skilled at networking and those not as adept, have found there are always opportunities to meet and connect with colleagues and that doing so builds camaraderie and strengthens the local legal community.
Read More
Jon Laramore brings a strong background in legal aid and pro bono work.
Read More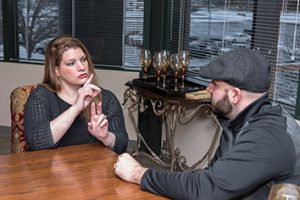 A deaf man's federal lawsuit against Indiana courts claiming the state failed to provide a sign language interpreter for mediation in his child custody hearing has survived the state's initial efforts to dismiss.
Read More
Indiana University Maurer School of Law Professor William Henderson is the nation's most influential person in legal education, according to rankings appearing in the January 2015 edition of National Jurist magazine.
Read More
Attorneys say the 25 percent increase reflects more understanding and less victim blaming.
Read More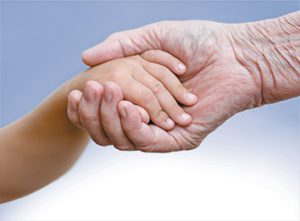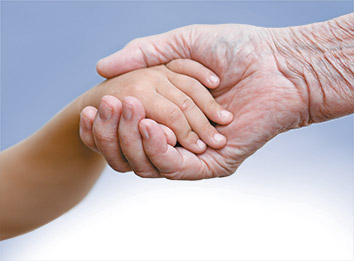 The sometimes-bitter litigation between a child's adoptive parent and her grandparents who raised her from a young age yielded a decision from the state's highest court that family law experts believe may represent a significant shift in adoption cases.
Read More
We've all received the responses to interrogatories so doctored by opposing counsel there is virtually no substance, or so littered with objections and qualifications that the answer is meaningless. So for many years my solution to this problem has been to take depositions. I will outline a few of the reasons more family law practitioners should do the same.
Read More
Members of Gregory Resnover's defense team respond to commentary written by a former employee in attorney general's office at the time of Resnover's execution in 1994.
Read More
January brings frigid temperatures, snow and icy roads. In other words, it is a perfect time for you to knock on doors and conduct a field investigation. But before you put your coat on and head out to find that needle-in-a-haystack witness who will save your case, remember that there are ethical rules regarding how you deal with witnesses.
Read More
The hard-core cardio junkies swear by aerobic exercise as the best way to lose weight, get fit and remain lean. Yet, those who are diehard weightlifters or yoga and Pilates fanatics claim that resistance exercise is the only way to lose weight and become strong and lean. What's the answer?
Read More
Bob Hammerle says that "The Imitation Game" is one of the best films of 2014.
Read More
The CNBC program "American Greed," which bills itself as a "shocking true crime series (that) examines the dark side of the American Dream," has taped an episode profiling former Indianapolis lawyer and convicted fraudster William Conour.
Read More
When it comes to annexing nearby land, the city of Greenfield has a proposition that officials say sells itself.
Read More
Krieg DeVault LLP has elected four new members to join recently elected managing partner Deborah J. Daniels on the firm's seven-member executive committee.
Read More
A 150-year-old bell that survived a fire that heavily damaged a historic southern Indiana courthouse has a new home on the courthouse's lawn.
Read More
Eighty-two law firm combinations were announced last year in the United States, a 7 percent decline from 2013's 88 mergers, according to Altman Weil Inc.
Read More
A federal judge has granted the state and plaintiff's joint motion to make final her December ruling that a 2013 law regarding nonsurgical abortion clinics violates the Equal Protection Clause.
Read More
Legislation that supporters contend is needed to protect Indiana residents with strong religious beliefs by allowing them to refuse services for same-sex weddings is drawing fire from gay rights groups and others who say it would legalize discrimination.
Read More
A northern Indiana Roman Catholic diocese wants to reduce a jury's nearly $2 million award to a former teacher fired by church officials for trying to get pregnant through in vitro fertilization.
Read More
There were 1,152,052 new cases filed in state courts in 2013, a decrease of 7.3 percent over the previous year, according to data released Tuesday by the Indiana Supreme Court and the Division of State Court Administration. The data continues to show the trend of a drop in filings over recent years.
Read More
A House committee chairman says he hasn't decided if he'll allow a hearing on a proposal to end Indiana's long-running ban on retail stores selling alcohol on Sunday — the last of its kind in the nation.
Read More
Read about recent Indiana appellate decisions.
Read More
Read who's been suspended by the Indiana Supreme Court.
Read More
At the November annual meeting of the Defense Trial Counsel of Indiana, the following officers and directors were elected. They assumed office Jan. 1, 2015.
Read More
While I am effectively a lame duck president writing this article and while my successor, John Trimble, effectively began his term at 12:01 AM on Jan. 1st, he is not sworn in until Jan. 29, 2015, and thus I have the role of continuing to write two more articles for your reading pleasure.
Read More
It's resolution time. Whether you've resolved to become more efficient, to save money or to become a more effective in your practice, the IndyBar has a member benefit or resource available to help you along the path to resolution success.
Read More
Twice a month, a ceremony at the U.S. Courthouse welcomes newly naturalized American citizens. It's an awe-inspiring ceremony – and you can be a part of it during 2015.
Read More