JAN. 24-FEB. 6, 2018
Indiana's system for processing child support payments relies on 1980s technology so antiquated that those rely on it fear it may collapse. Lake County lawmakers and East Chicago residents are fighting to keep cleanup a priority at a lead- and arsenic-contaminated EPA Superfund site. Chief Justice Loretta Rush acknowledged challenges posed by the opioid epidemic but said in her State of the Judiciary address that state courts are looking toward a hope-filled future.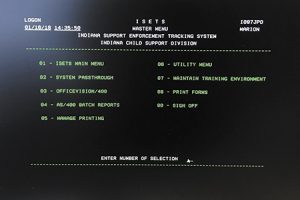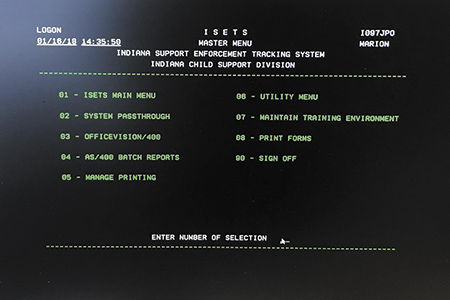 Several times while talking about the statewide computer system that keeps track of child support money, John Owens rapped his knuckles on the nearest piece of wood. Indiana's technology, dubbed ISETS, processes almost $1 billion in child support payments every year. However, the Department of Child Services says in a report that ISETS is "built on dying technology" from the 1980s. The concern is one day, it will crash for good.
Read More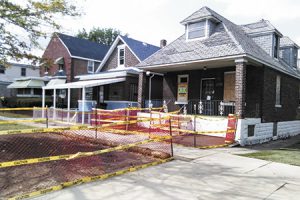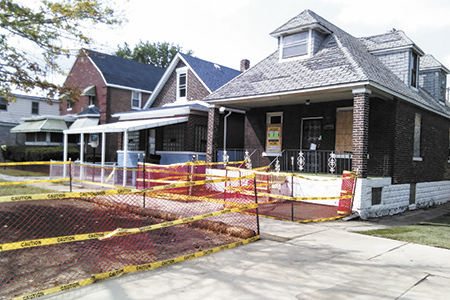 Two Statehouse Democrats from northwest Indiana know the cleanup of the contamination site in East Chicago will not only take years but also a steady state commitment. Their legislation — and affected residents' federal court cases — aim to keep the issue in the spotlight.
Read More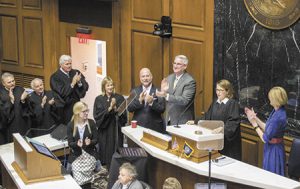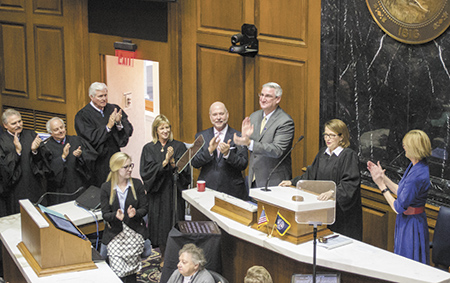 It's no secret the ongoing opioid epidemic has ravaged nearly every corner of the Hoosier state, sending thousands to court on drug charges, ballooning the number of children in need of services and more. But even as the drug crisis strains Indiana's judicial resources, Chief Justice Loretta Rush said new court programs and technology have positioned the judiciary to meet the crisis head-on and lead the state into a "hope-filled future."
Read More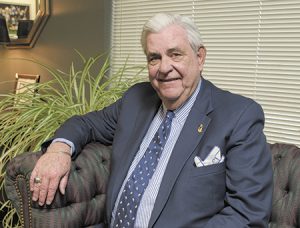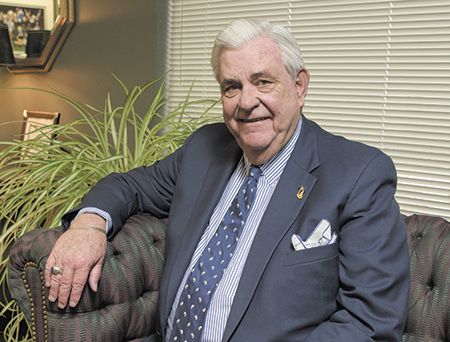 At 70, Judge Michael Barnes could continue to serve on the Indiana Court of Appeals for another five years before facing mandatory retirement. Instead, he's thinking young. "Age and grandchildren change one's perspective," he said.
Read More
When a court accepts a fixed-sentence plea agreement, prosecutors and defenders alike say the long-standing practice has been for courts to uphold the exact terms of that sentence, absent an agreement between the parties. A recent Indiana Court of Appeals ruling, however, has seemingly put an end to that practice, leading to both a legislative and judicial review of the sentencing issue.
Read More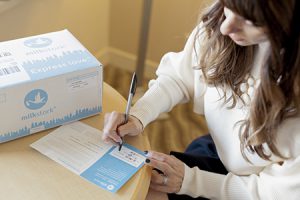 Nursing mothers facing the prospect of a days-long business trip are often presented with a dilemma. They can either switch their baby's diet to formula for the time being, or store milk ahead of schedule. Such attorneys at one Indianapolis firm no longer must make these choices while traveling for work.
Read More
Read Indiana appellate court decisions from the latest reporting period.
Read More
Attorneys, accountants and wealth management professionals say last year's skyrocketing valuation of bitcoin and other cryptocurrencies has fueled interest among investors. Experts warn those who put their money in bitcoin to be prepared for a bumpy ride.
Read More
The sweeping changes that came with the overhaul of the federal tax system included a deduction for pass-through businesses, but attorneys and other professional service providers were brushed aside and likely will not be able to reap that tax break.
Read More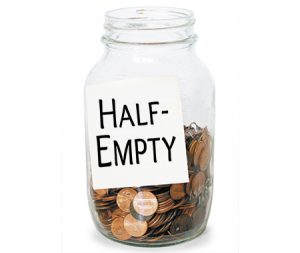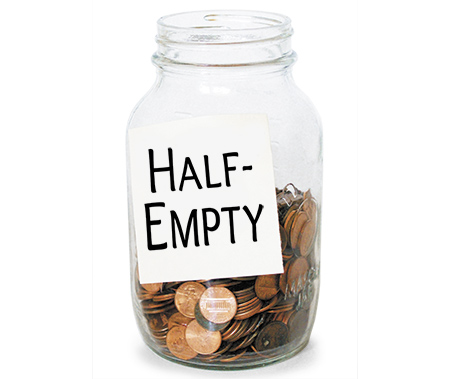 Traditionally generous Americans may have less incentive to give to charitable causes next year because of the newly minted tax law. The changes that will make it less advantageous for many people to donate to charity in 2018, charity executives and experts say.
Read More
Practicing law is stressful. Stress breeds anxiety, depression, problem drinking and other challenges to being a well-adjusted, successful lawyer. Help can come from many areas, such as friends, family and medical professionals. An American Bar Association-backed task force report recommends law firms should be squarely in this remedial mix.
Read More
Recently I received, as a gift, the Amazon Echo Show. I plugged it in, and, voila, Alexa could help me find almost anything. She gets a little confused on some things, but, for the most part, I have found her to be very helpful with basic questions and requests for information. I decided I'd find out what Alexa knows about finding new clients and business development.
Read More
Effective Dec. 1, several federal rule changes took effect. Fortunately, this batch of amendments was modest.
Read More
As the nation observed Martin Luther King Day Jan. 15, Indiana again took its unfortunate place as a bystander when it comes to honoring his legacy. Our state is known more for the legacy of laws tainted by the KKK when it ruled Indiana in the 1920s than for the progressive civil rights laws that took root in the 1960s. We have no real civil rights laws in Indiana. But, there is something you can do about it.
Read More
Bob Hammerle shares his views on three films that on Tuesday received Academy Award nominations.
Read More
Read about recent suspensions and a resignation from the practice of law in Indiana.
Read More
Who's the new Indianapolis Bar Foundation president? We sat down with Rebecca Geyer to give you an exclusive peek inside the mind of the IBF's newest leader! Check it out.
Read More
If you are even a little bit curious about a specific bill or the legislative process, please join us for the Lawyer-Legislator Luncheon. In my biased opinion, it is the best legislative CLE around!
Read More
Greetings and welcome to the 140th year of the Indianapolis Bar Association. For 140 years, the IndyBar has served its members, promoted justice and enhanced the legal profession. It has survived the Depression, two World Wars, Ron Artest's attempt to destroy the Pacers and that time some corporate hacks tried to change the taste of […]
Read More