JAN. 5-18, 2011
The Indiana Court of Appeals now has its first female chief judge. Read about the issue before the Indiana Supreme Court regarding the victim-advocate privilege. For the first time in more than five decades, a member of the Baker family won't be on the Indiana Judges Association's board of managers.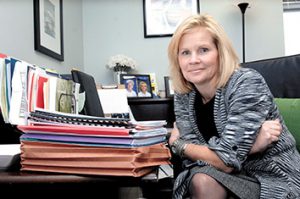 Domestic violence victims' advocates and criminal law attorneys are waiting on the Indiana Supreme Court's decision in a case involving a criminal defendant's subpoena for records from a victim's advocacy organization.
Read More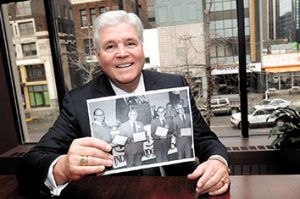 For the first time since the mid 1950s, the Indiana Judges Association won't have anyone in the Baker family sitting on the board of managers and being as intimately involved in the group's activities as they have been for two-thirds of the group's existence.
Read More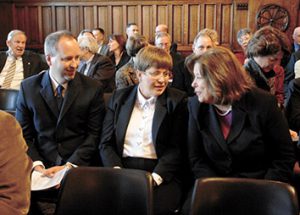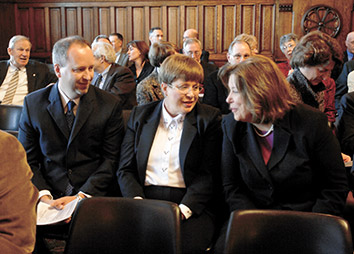 Long before law school and a legal career, Martha B. Wentworth owned a business and says her favorite part of that was paying her taxes.
Read More
In late September 2010, as part of the FBI Citizen's Academy in Indianapolis, agents passed around photos from a cross burning that took place four years earlier in Muncie.
Read More
Though she's been on the appellate bench for 12 years, Judge Margret Robb is now adding a new distinction to her judicial title.
Read More
As the family court project of the Indiana Supreme Court's Division of State Court Administration enters a new year, courts that participate in the program have learned they will continue to operate with about the same amount of funding they have had in recent years.
Read More
The Indiana Supreme Court is shaking its proverbial finger at a company it found had engaged in the unauthorized practice of law, making it clear that the court's orders must be followed or non-compliant litigants will be sanctioned.
Read More
Faults in the state's mental health system can't be used to justify an insanity defense being rejected in favor of a different sentence that will keep a person locked up, an Indiana Supreme Court majority ruled.
Read More
Complaints based on a misconduct rule regarding how an attorney could offend others through prejudicial words or actions resulted in disciplinary orders in May and December 2010.
Read More
Civil Litigation as a Tool for Regulating Climate Change will be the topic of the 25th Annual Monsanto Lecture on Tort Law & Jurisprudence at Valparaiso University School of Law on Feb. 18.
Read More
Former East Chicago Mayor Robert Pastrick has filed for bankruptcy, putting on hold the state's attempt to seize his property to help pay off the $108 million he owes from a civil racketeering default judgment against him.
Read More
New tax changes went into effect Jan. 1 that include a 35 percent estate tax rate as well as a $5 million per person and $10 million per couple exemption.
Read More
The Indiana Supreme Court is accepting applications through Jan. 21 for the state Board of Law Examiner's executive director position. The BLE's former executive director, Linda Loepker, resigned Dec. 6.
Read More
The Indiana Tax Court has denied the state's motion to dismiss a mother and daughter's challenge to the jeopardy tax assessments made against them after the state found they didn't pay taxes on their sales of puppies.
Read More
The Indianapolis lawyer who worked on several notable cases in Indianapolis history, including a lawsuit which led to the desegregation of Indianapolis Public Schools, died Dec. 26, 2010.
Read More
The Indiana Supreme Court couldn't agree on the appropriate sanction for an attorney who engaged in an improper ex parte communication with a judge, leaving one judge to argue for at least a 90-day suspension.
Read More
Gov. Mitch Daniels has chosen two new judges for the state's trial bench roster, one of those to succeed the jurist elevated earlier this year to the Indiana Supreme Court.
Read More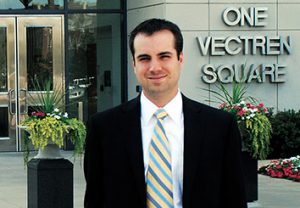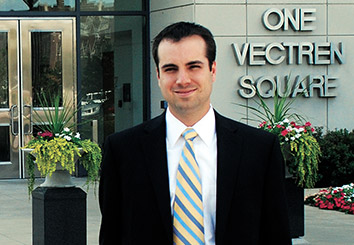 Going to the mall isn't an off-hours activity for Jason Schiesser.
Read More
See who's been suspended or publicly reprimanded.
Read More
The Talk to a Lawyer even on Jan. 17 still needs volunteers; the Evansville Bar Association recently moved and is promoting a tribute for an attorney who died in November 2010.
Read More
At the November annual meeting of the Defense Trial Counsel of Indiana, the following officers and directors were elected. They assumed office on Jan. 1, 2011.
Read More
A year ago, I began my IndyBar presidency with three simple messages: Be One. Have Fun. Thank You.
Read More
Governor Mitch Daniels has selected Indianapolis Bar Association member Martha B. Wentworth as the next Indiana Tax Court judge. Wentworth replaces Judge Thomas G. Fisher, who retired from the court on January 1.
Read More
Each year, the Indianapolis Bar Foundation presents scholarships to deserving law students, fulfilling its mission to advance justice and lead positive change in Indianapolis.
Read More
From the onset, let the witness know that you know the case, and you know the facts, better than he does.
Read More
Chief Justice Shepard presented the Distinguished Hoosier Award on behalf of Governor Mitch Daniels to Judy Glaze, a thirty-plus year court employee in Criminal Court 4 and Civil Court 13.
Read More