JUNE 28 – JULY 11, 2017
Crowdfunding websites such as gofundme.com and others are rife with fundraising campaigns for various legal matters, from neighbors fighting to stop approval of a "factory" hog farm in northern Indiana to a federal case in which the NAACP and others seek to expand early voting in Marion County. For lawyers, the key to making rain is relationships. A pilot project from Indiana Legal Services Inc. offers on-the-spot help to small claims defendants.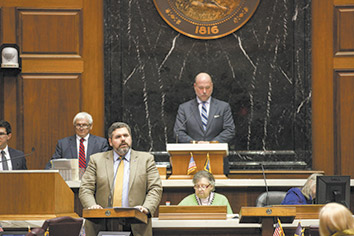 The Indiana Legislature approved several measures to expand recovery programs and prevent spread of opioid epidemic.
Read More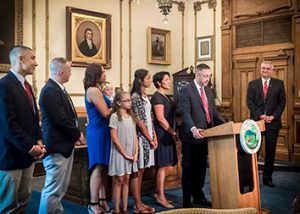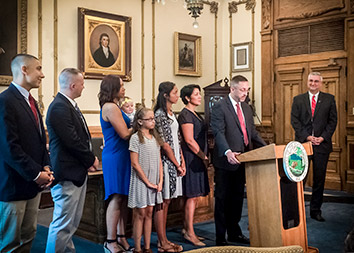 Soon-to-be Indiana Supreme Court Justice Christopher Michael Goff isn't a jurist who rules from the bench with little perspective on the lives of those who come before him, his colleagues say. Instead, he's a judge who is active in his community, working alongside his neighbors to make Wabash County a better place to live.
Read More
The dean of Notre Dame Law School, which participates in the program, says full-scale post-graduation training program would not be economically feasible or necessary.
Read More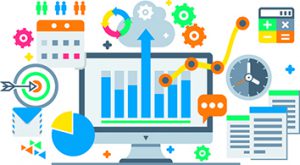 As Indiana continues its efforts to curb offender recidivism, a new bill set to take effect next month will put more requirements on offender treatment and rehabilitation programs to offer insights into the anti-recidivism methods that work.
Read More
When a group of Indiana lawyers was asked who had ever faced age-related discrimination at work, whether for being too young or too old, nearly half the hands in the room went up.
Read More
All it took to simplify Indiana's business organization laws was a 149-page bill.
Read More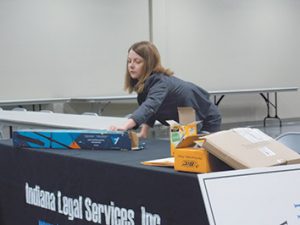 The Tenant Assistance Program clinic offers triage services for tenants who have eviction notices and are appearing in court that day.
Read More
A recent Altman Weil survey found firm leaders are concerned about lawyers' business development skills.
Read More
Fifteen employees, including seven attorneys, are leaving the city's fifth largest law firm—Hall Render Killian Heath & Lyman—to join a much smaller firm bent on growing its health care and litigation business.
Read More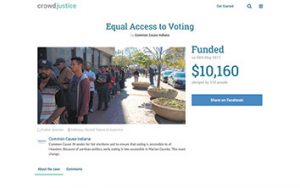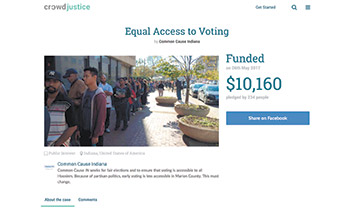 Social media and online fundraising campaigns are becoming new venues to finance litigation.
Read More
In 2016, the Indiana Legislature made significant changes to Indiana's Medical Malpractice Act to take effect on July 1, 2017, giving insurance companies and health care providers time to adapt and implement the changes.
Read More
Indiana's legislators passed more than250 new laws on topics including e-liquid reform, inheritance tax repeals, and overhaul of uniform business organization laws.
Read More
The trucking industry, a vital part of the state's economy, had a special interest in House Bill 1002, both because the state looked to the industry to bear a significant share of the funding and because the industry relies on well maintained, free-flowing roads.
Read More
The fact that publicly sharing a mental health diagnosis is still considered to be such a big deal is unfortunate. I hope people in our profession will realize that the idea that you must hide a mental health diagnosis to have a successful law career is absurd.
Read More
Bob Hammerle says "It Comes at Night" grabs you by the throat.
Read More
An increase in mergers and acquisitions, however, could mean an increase in a recent trend in Indiana and the rest of the country — the "disclosure-only lawsuit."
Read More
When you receive an inadvertent disclosure, you need to act.
Read More
Hopefully this article will help you wrap your head around the header and footer tools in Microsoft Word.
Read More
A major Indianapolis law firm must pay three departed partners who sued, a judge has ruled, but it will be up to a judge or jury to determine whether paying the former employees would create a "substantial and material adverse effect" for the law firm partnership, as it has claimed in the case.
Read More
Read about recent appellate decisions.
Read More
Read about recent disciplinary actions.
Read More
I went to Churchill Downs a couple weeks ago as part of the IndyBar Bench Bar Conference, and I bet on several horse races. But, despite my best efforts, I did not win any cash (this will not come as a shock to anyone who knows my betting skills).
Read More
Because each case is different, companies cannot blast boilerplate requests to an IT department and expect to catch all the data needed to effectively ready themselves for litigation or investigation. Identifying the proper custodians and conducting thorough and focused live interviews are key to both compliance and cost management.
Read More
This article will help explain the defense attorney's "moccasins" when it comes to defending workers' compensation cases.
Read More
The Defense Trial Counsel's Annual Meeting and 50th Anniversary Celebration will be held Nov. 16 and 17 in French Lick. One of the highlights of the meeting is the presentation of the "Defense Lawyer of the Year," the "Diplomat of the Indiana Defense Trial Counsel," and the "Outstanding Young Lawyer" awards.
Read More
Join your DTCI colleagues at the new Tinker House Events center. See the latest addition to downtown Indianapolis while earning 2.0 hours of CLE.
Read More
DTCI's Women in the Law Division is trying something new this year: A one-time Book Club event!
Read More