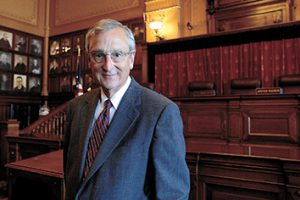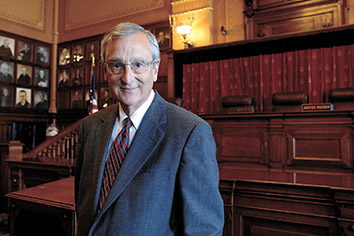 After more than a decade on the Indiana Supreme Court, Justice Theodore Boehm is ready to enter the next stage of his life
and career.
Read More
Anyone who wants to be the next Indiana Supreme Court justice has until the end of June to apply for upcoming vacancy on the state's highest court.
Read More
At least two attorneys are questioning how some legal publications have included articles, columns, or other types of coverage on pending cases, and they worry that these articles may influence the judges on the cases.
Read More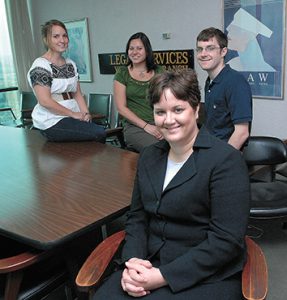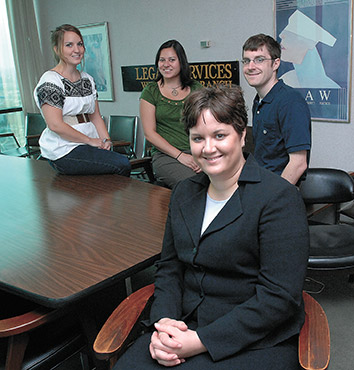 Indiana Legal Services Migrant Farm Workers Center, led by Melody Goldberg, helps migrant workers understand their legal rights.
Read More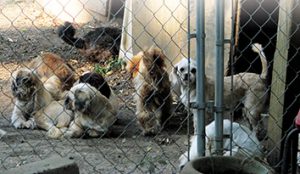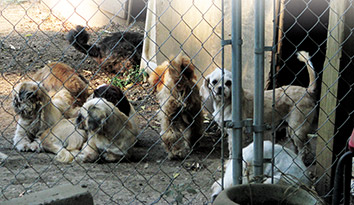 A July 2009 law put more strength behind local prosecutors and state regulators who can now more diligently pursue
illegal animal activity of puppy mills who don't pay taxes.
Read More
Linda Pence, one of Indianapolis' highest-profile litigators, is launching her own firm with a longtime law colleague. She and David Hensel left the Indianapolis office of Cincinnati-based Taft Stettinius Hollister to start PenceHensel. The new firm began operating June 1. The pair hung their shingle on the 18th floor of the downtown M&I Plaza and […]
Read More
In a rare move that may be used in only one other jurisdiction nationally, Judge David F. Hamilton on the 7th Circuit Court
of Appeals in Chicago plans to relocate his chambers from the Indianapolis courthouse where he's from to the Indiana
University Maurer School of Law – Bloomington.
Read More
The 7th Circuit Court of Appeals won't stay its ruling that allows an independent state agency access to records about
mentally ill inmates' treatment, even though the Indiana government agency being sued is appealing to the Supreme Court
of the United States.
Read More
A Dearborn County commissioner alleges the county's former attorney has wrongly accused two officials of violating federal law and has asked the Indiana Supreme Court Disciplinary Commission to launch an investigation of its soon-to-be leader who starts in that office June 21.
Read More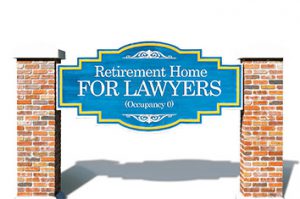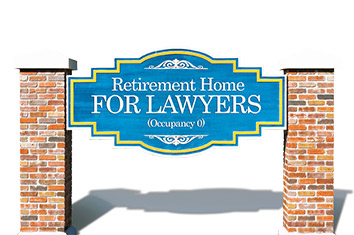 There's an old joke in the legal profession that attorneys never retire.So the Indiana State Bar Association and Indiana
Judges and Lawyers Assistance Program have partnered to present three conferences
in late August about retirement preparation.
Read More
Judge David J. Dreyer urges the governor to appoint a Notre Dame Law School alum.
Read More
In a series of decisions culminating in Riegel v. Medtronic, Inc.,  federal courts came to recognize that the
Medial Device Amendments preempted not only traditional products liability claims such as those based on an alleged defect
or implied warranty but also causes of action premised on theories such as consumer fraud.
Read More
We know you have opinions – thoughtful, reasonable ones that would make for great discourse in the newspaper. But getting
you to share them is more difficult than we would like.
Read More
The Indiana Supreme Court has set the stage for a judicial disciplinary action against a Marion County Traffic Court judge
for his courtroom conduct on a speeding and suspended license case last year.
Read More
A third of the Indiana Court of Appeals judges face voter retention this year, including two initially appointed within the past three years to fill vacancies on the state's second highest court. With a month and a half before the filing deadline, one of the applicants says that all five appellate judges submitted their retention […]
Read More
The Indiana Court Improvement Program has announced it will be giving away up to $290,000 in grants to programs that help
families and children involved in cases of neglect or abuse.
Read More
All four Indiana law schools had commencement ceremonies in May recognizing more than 800 graduates around the state.
Read More
Two former Marion County deputy prosecutors have received public reprimands from the state's highest court for drunken
driving incidents.
Read More
The Tippecanoe County Bar Association, which has about 100 active dues-paying members, has elected the several Lafayette attorneys
to be officers.
Read More
Indiana Supreme Court Disciplinary Commission actions from the June 9 Indiana Lawyer.
Read More
IBA President Christine H. Hickey discusses the world of texting.
Read More
Last week the Indianapolis Bar Association's Board of Directors approved a plan that provides for a reduction in Lawyer Referral Service member fees while increasing marketing efforts and adding online reporting of referrals made.
Read More
Robin Babbitt was recently selected by the Board of Directors of the Indianapolis Bar Foundation (IBF) as its 2011 President.
Read More
Indiana's Appellate Courts are once again providing voters with a simple avenue for learning about judges who are on the November retention ballot.
Read More
Although income generated from IOLTA accounts has declined precipitously in the recent recession, it is important to maintain support for the IOLTA concept.
Read More
For nearly ten years now a passing score on the Multistate Professional Responsibility Exam (MPRE) has been required for admission to the Indiana Bar.
Read More
Attorneys visit the Indianapolis Motor Speedway.
Read More
Lawyers are known for giving advice that helps clients plan, but when it comes to planning for a disaster and recovery, legal professionals need to take their own advice and create a plan.
Read More
Many say the first year of practice is the most stressful of any lawyer's career.
Read More
When the federally funded Legal Services Corporation was formed 36 years ago, its goal was to ensure that all Americans have access to a lawyer and the justice system for civil legal issues regardless of their ability to pay.
Read More
Last call for Bench Bar and get your IBA Legal Directory.
Read More