NOV. 19-DEC. 2, 2014
As courts around the state conducted special events to celebrate National Adoption Month, the Indiana Supreme Court grappled with a case that poses at least two issues of first impression, including whether an adoption agencies face negligence claims when a child mistakenly has been placed with an adopting family? Three Indiana legal scholars join a brief arguing that the case of a fisherman facing charges he violated Sarbanes-Oxley highlights the issue of overcriminalization. An in-house attorney in Indianapolis has turned his pastime into an album of children's music.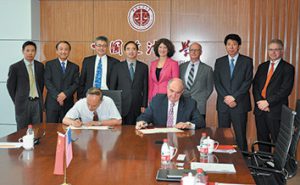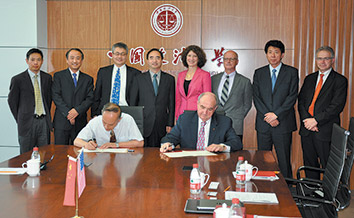 In addition to the scholarly research and visiting professorships, student exchanges between China and three Indiana law schools – IU McKinney, IU Maurer and Notre Dame Law School – give students in both countries the opportunity to learn about the law of another country as well as its culture and history.
Read More
Exchange programs with law schools in China are providing valuable experience to students who want to build careers in international or corporate law, attorneys say.
Read More
The Indiana Supreme Court Disciplinary Commission seeks an emergency suspension of a Corydon lawyer's license to practice.
Read More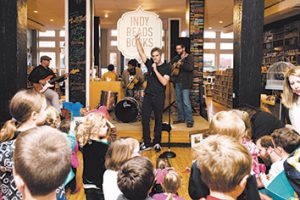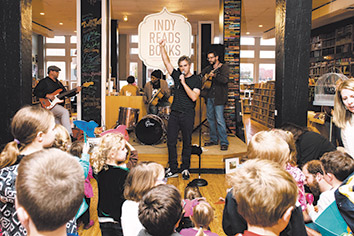 Dave Heger, an in-house counsel for AES Corp., is a musician in his off-hours, playing guitar and making up songs for his two children. He turned those snippets of melodies into songs and turned those songs into an album.
Read More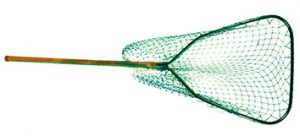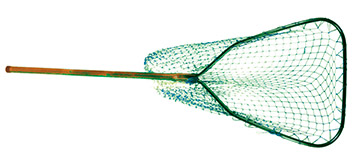 A dispute involving six-dozen undersized fish has a group of legal scholars arguing the federal government's tendency to broadly interpret the criminal code runs the risk of making everyone guilty of an illegal act.
Read More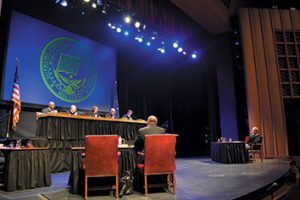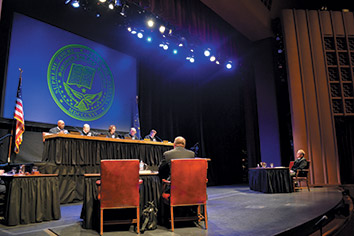 Adoption laws are evolving, as evidenced by a case before the Indiana Supreme Court and a separate push for a pre-birth abandonment bill aimed at biological fathers who don't support their baby's mother during pregnancy.
Read More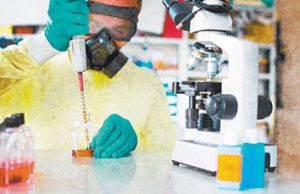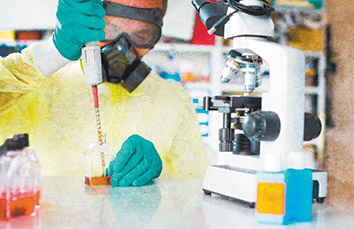 The first Ebola cases in the United States caused panic that Indiana legal and medical experts say has receded somewhat as public health systems contained the virus and educated people about the risks of the disease and the perils of overreacting.
Read More
The United States Department of Health and Human Services Office of Inspector General recently published a proposed rule seeking to add new safe harbors to the Anti-Kickback Statute, as well as amend certain existing safe harbors within the rule.
Read More
I will admit that when I first started practicing law, there were no BlackBerry phones, iPhones or tablets allowing one to access email at any time of the day, anywhere in the world. I also could not access the system in our office while at home or some other remote location. Now that all of these options are available to us, I can't help but wonder is technology killing the ability to balance work with life?
Read More
Legal education has lost its way. While many law schools seek to update and modernize their approach through the adoption of some required skills instruction and the addition of clinical experiences for more of their students, a significantly more aggressive approach is necessary to reform legal education fully and prepare law students to enter the practice of law today.
Read More
Bob Hammerle says he needs to see "Interstellar" again to try to grasp the moments that he didn't understand from the movie.
Read More
Not only do the recipients of the volunteers' time and effort benefit, but studies have shown that the volunteers themselves benefit as well.
Read More
According to the all-reliable Internet, the economy is improving. That may mean lawyers will soon be moving from their secure jobs to (possibly perceived) greener pastures. The act of leaving a law firm implicates several Rules of Professional Conduct that both law firm management and departing attorneys should be aware of. Here are three things to know about leaving a law firm.
Read More
This holiday season, potential donors receiving a letter from the Indianapolis Legal Aid Society will not find a dollar bill in the envelope.
Read More
The Indiana Supreme Court justices attended the dedication of a historical marker in Lafayette Nov. 10 honoring Helen M. Gougar, a 19th century attorney who fought for women's right to vote.
Read More
A former Marion County Small Claims Court judge has agreed to a lifetime ban from holding judicial office after allegations that she used her position to profit from a wedding business.
Read More
Indiana residents Linda Bruner and Lori Roberts made history Nov. 10 by becoming the first same-sex couple in the state to legally divorce.
Read More
A lawsuit filed by a longtime user of Indianapolis' Eagle Creek Park seeks to stop the "illegal hunting and senseless slaughter of white-tailed deer" planned later this month in the municipal park.
Read More
Read recent decisions from Indiana's appellate courts.
Read More
A St. Joseph County attorney has been suspended indefinitely by the Indiana Supreme Court.
Read More
Renew your membership in the only local organization singularly committed to the Indianapolis legal community and its practitioners. Bolstered by more than 5,000 members, the Indianapolis Bar Association and its leaders work tirelessly to provide resources, programming and initiatives to make your career more successful, more efficient, and more satisfying.
Read More
If you did not attend the IndyBar Recognition Luncheon on Thursday, Nov. 13, you really missed out. We were able to recognize a select group of stellar performers to our profession and the IndyBar during the course of the year.
Read More
Among community-focused organizations in Indianapolis, the mission is often the same—assisting neighbors in need. But what happens when a question or situation arises that is outside of the scope or expertise of an agency or organization?
Read More
John R. Maley writes about his role models in the legal profession.
Read More