It happened on May 2.
That evening, Politico published a draft of U.S. Supreme Court Justice Samuel Alito's opinion in Dobbs v. Jackson Women's Health Organization, the abortion case that, according to the draft, would overturn Roe v. Wade.
The leak created a flurry of questions about the identity and motive of the leaker and the consequences he or she might face. But the real firestorm came on June 24, when Dobbs was handed down and Roe was officially overturned.
Since then, the word "abortion" has dominated headlines nationally and even internationally.
Indiana Lawyer headlines were no exception, with our team chasing stories almost daily about abortion-related legislation and lawsuits. So it's no surprise that our staff unanimously voted abortion-related coverage as our top story of 2022.
Even so, the abortion decision wasn't the only news that happened this year. Big changes came to Indiana's own Supreme Court alongside new law school and law firm leadership, while Indiana state and federal courts grappled with major cases.
To wrap up 2022, here's a look back at the biggest stories of the year, as voted on by IL staff.

Abortion
The leak of the Dobbs opinion and its subsequent issuance were certainly newsworthy, but it's what happened here in Indiana in the aftermath that drew Hoosiers' attention.
The Indiana General Assembly had already been scheduled to return to the Statehouse this summer for a special legislative session, and Republican lawmakers had indicated their openness to adding abortion to the agenda if the Supreme Court overturned Roe. Thus, when Dobbs came down, the GOP-dominated Legislature pushed back the start date of the special session to study the abortion issue, then began its debate about how to draft a new abortion law in July.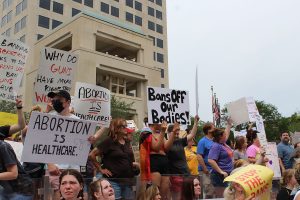 Given that Republicans have a supermajority in the Indiana Legislature — which means they can conduct business without a single Democrat being there — the question was never whether the General Assembly would restrict abortion access in the Hoosier State. Rather, the question was how many restrictions would be imposed; should there be any exceptions to an abortion ban?
In the end, lawmakers did carve out narrow exceptions to allow abortions in certain cases of rape, incest, fatal fetal anomaly and to protect the health of the mother. But even that went too far for certain lawmakers like Sen. Mike Young, an Indianapolis Republican who argued abortion should be banned in all cases without exception. Young felt so strongly that he left the Indiana Senate GOP caucus, although he still identifies as a Republican.
In August, Indiana became the first state to enact tighter abortion restrictions following Dobbs. That meant previous Indiana abortion laws that had been enjoined were permitted to take effect, in some cases for the first time in years.
Indiana's near-total abortion ban took effect Sept. 15. Just seven days later, the law was enjoined as a violation of the Indiana constitutional right to privacy. A second injunction was entered against the law earlier this month, that one based on violations of Indiana's Religious Freedom Restoration Act.
The Indiana Supreme Court is slated to hear arguments in the constitutional case against the abortion law, Senate Enrolled Act 1, next month.
The Indiana Attorney General's Office has asked the high court to also consider the RFRA case. The justices had not ruled on that petition to transfer at IL deadline.
More from Year in Review 2022: Top stories, honorable mentions

Changes to the Indiana Supreme Court bench
Back in November of 2021, Indiana Supreme Court Justice Steven David — then the longest-serving justice on the bench — announced he would retire in the fall of 2022, although he didn't provide a specific date then. But on Aug. 31, 2022, David hung up his robe, and one day later, now-Justice Derek Molter took the bench.
David, formerly a trial court judge in Boone County, joined the Indiana Supreme Court in 2010. He would go on to serve with eight justices and author more than 200 opinions over the next 12 years.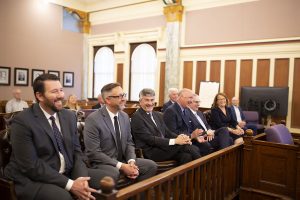 David decided to leave the high court because his wife, Catheryne Pully, an attorney and commander in the U.S. Navy Reserves, had been called to active duty. He plans to continue serving as a senior judge.
The search for David's successor began in late February, when the Indiana Judicial Nominating Commission began interviewing the 19 candidates for applied for the job. Among those applicants was then-Judge Derek Molter of the Court of Appeals of Indiana.
A second round of interviews was held in April, this time with 10 finalists. From there, the JNC narrowed it down to three finalists whose names were submitted to Gov. Eric Holcomb: Molter, Grant Superior Judge Dana Kenworthy and Justin Forkner, the Supreme Court's chief administrative officer.
Holcomb named Molter as the state's 111th justice in June — his second pick for the high court after Justice Christopher Goff in 2017. Molter was officially sworn in during a private ceremony on Sept. 1, then ceremonially sworn in at a robing ceremony on Nov. 1.
Molter's journey to the high court bench was historic. He had served on the Court of Appeals for less than one year — no COA judge has transitioned to justice faster. In fact, his transition was so fast that he's had to recuse himself from cases he previously worked on as both a practicing attorney and a Court of Appeals judge that he beat to the Supreme Court.
Now, Holcomb is in the process of considering candidates to succeed Molter on the Court of Appeals. A total of 12 candidates applied and were interviewed in September, and the JNC whittled that number down to six. Those six finalists were interviewed in October, and the JNC ultimately named Kenworthy, Hamilton Circuit Judge Paul Felix and attorney Carol Joven as finalists for the open seat.
Holcomb had not yet named Molter's COA successor at IL deadline.
More from Year in Review 2022: What you read

The governor vs. the Legislature
We have to go back to the spring of 2021 for this top story of 2022. That's when the Indiana General Assembly enacted a law, over Holcomb's veto, allowing lawmakers to call themselves into an emergency session whenever a public emergency is declared.
The law, House Enrolled Act 1123, was enacted in response to the slew of emergency orders Holcomb handed down during the state public health emergency created by the COVID-19 pandemic. GOP lawmakers pushed the bill forward after Holcomb enacted restrictions, including a statewide mask mandate that was implemented in 2020.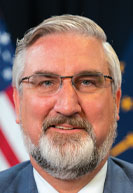 Holcomb filed a lawsuit against HEA 1123 in April 2021, suing the Legislature and arguing the law violated Indiana constitutional provisions including the separation of powers. Indiana Attorney General Todd Rokita soon got involved, arguing Holcomb could not hire outside counsel without the AG's consent and separately arguing lawmakers could not be sued while they were in session.
Those arguments were rejected, and the case went to the Indiana Supreme Court in April.
In the end, the justices unanimously ruled in Holcomb's favor. Indiana Chief Justice Loretta Rush authored the June opinion that determined the emergency session statute violated the "fixed by law" requirement of Article 4, Section 9 of the Indiana Constitution and the constitutional authority given to the governor in Article 3, Section 1.
"The question before us is not whether it is sensible for the General Assembly to be able to set an emergency session," Rush wrote in Holcomb v. Bray, et al., 21S-PL-518. "We decide only whether the Legislature's chosen mechanism is permissible under the relevant constitutional text which requires the length and frequency of legislative session to be 'fixed by law.'"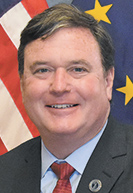 While Holcomb praised the ruling, Rokita took the opposite view.
"The Indiana Supreme Court provided answers to several areas of the law that the governor questioned. But in doing so, the court became a legislature today by overriding the intent of those who are directly elected by the people," Rokita said in a statement. "The good news is the General Assembly can correct this. Fortunately, the court rejected the governor's claim that the legislature could meet only once a year unless the governor — and only the governor — calls them into session. We will continue to fight for Hoosiers and to protect their liberties."

Doris Pryor joins the 7th Circuit Court of Appeals
Federal appellate Judge David Hamilton's announcement in December 2021 that he would take senior status presented President Joe Biden with an opportunity to fill an Indiana seat on the 7th Circuit Court of Appeals. In May, Biden announced that then-
Magistrate Judge Doris Pryor of the U.S. District Court for the Southern District of Indiana was his nominee for that seat.
A magistrate judge since 2018, Pryor had worked in Indiana since 2006, when she began a stint with the U.S. Attorney's Office for the Southern District of Indiana. Prior to that, she had worked as a federal clerk and a deputy public defender in her home state of Arkansas after graduating from Indiana University Maurer School of Law in 2003.
Though nominated by a Democratic president, Pryor had the advantage of having support from both of Indiana's Republican senators, Todd Young and Mike Braun. Young, Indiana's senior senator, carried the mantle of bringing others in the GOP on board with her nomination.
Relatively speaking, Pryor's confirmation process was less contentious than that of other judicial nominees who have come before the sharply divided Senate. She did face tough and pointed questions, though, particularly from Sen. Mike Lee, R-Utah.
Lee's questioning focused on a statement Pryor had made while giving a speech at her son's school for Constitution Day. Pryor told students that the U.S. Constitution is a "living document," which prompted Lee to ask for her views on constitutional interpretation.
Pryor responded, "I truly believe that the Constitution is a living document and what's so unique, or in its genius, is … that the forefathers saw its ability and its need, if necessary, to be changed. … What's important about it is that the framers saw the need to be able to have this constitution be able to apply to circumstances that they might not have thought of, searching a cellphone or a wiretap."
Ultimately, Pryor garnered 60 "Yea" votes to propel her to the 7th Circuit, making her the first person of color from Indiana to sit on the Chicago-based appellate bench. Lee was among the senators who voted "Nay."
The Indiana Southern District Court has already named a new magistrate judge to fill Pryor's vacancy: M. Kendra Klump of the U.S. Attorney's Office.
More from Year in Review 2022: Fascinating faces, lawyers we lost and discipline decisions

Health & Hospital Corporation of Marion County goes to SCOTUS (tied)
More than 8,000 petitions for writs of certiorari are filed each year at the U.S. Supreme Court, but roughly 1%, or around 80, will actually be granted. This year, one case selected to go before the federal justices came from Indiana.
The case originally began in the U.S. District Court for the Northern District of Indiana, where the family of Gorgi Talevski sued Valparaiso Care and Rehabilitation, American Senior Communities and, critically, the Health & Hospital Corporation of Marion County. Gorgi's widow, Ivanka, filed suit under the Federal Nursing Home Reform Act based on allegations that Gorgi had been chemically restrained and unwillingly relocated while in a nursing home.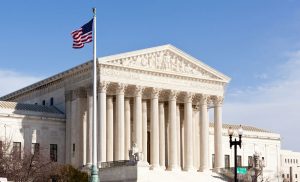 Multiple issues were raised in the case, but a core question emerged: Can patients enforce rights under the FNHRA. The district court said no but the 7th Circuit said yes, finding the federal law does, in fact, provide a private right of action under 42 U.S.C. § 1983.
The 7th Circuit denied rehearing of that decision, so the Health & Hospital Corporation turned to SCOTUS. In May, the justices agreed to answer two questions:
• Whether, under the original understanding of Section 1983, a third-party beneficiary may enforce federal spending clause legislation that imposes conditions on a state's receipt of federal funds.
• Whether claims by nursing facility residents and their families — "second-guessing garden-variety treatment and transfer decisions made by physicians and nursing facility administrators" — may be pursued under Section 1983 and the Federal Nursing Home Amendments Act of 1987.
But getting to the Supreme Court wasn't the only challenge HHC faced.
In September, the Indiana public accessor counselor determined the health care entity had violated the Indiana Open Door Law by filing a cert petition without first getting approval from its board of trustees. Also, HHC received repeated calls to drop its case entirely, with advocates arguing that a ruling in its favor — that is, that Section 1983 does not provide a private right of action — could harm recipients of public benefits such as Medicare and Medicaid, among other benefits.
But HHC pressed on, and the case went before the high court on Nov. 8. But even after the oral arguments, advocates continued their calls for the corporation to drop the case.
The Supreme Court had not ruled in HHC, et al. v. Talevski, 21-806, at IL deadline.

IU Maurer dean changes (tied)
In April, longtime IU Maurer School of Law Dean Austen Parrish announced that he would be leaving the Bloomington school to become dean of the University of California, Irvine School of Law. Parrish had led IU Maurer since 2014, and he marked his last day as dean on June 30, starting at UC-Irvine on Aug. 3.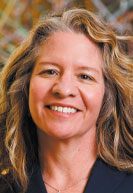 As the search for Parrish's successor began, longtime IU Maurer faculty member Christiana Ochoa was named interim dean. Ochoa had been serving as executive associate dean up to that point and had previously held roles as associate dean for research and academic affairs and associate vice provost for faculty and academic affairs for IU Bloomington. Additionally, she was the founding associate director of IU's Center for Documentary Research and Practice and the founding academic director for the IU Mexico Gateway.
A search committee chaired by Kurt Zorn, IU Bloomington acting vice provost for undergraduate education, was formed in June, and by October the committee had named three finalists for the deanship: Ochoa, Zachary Cramer of the Sandra Day O'Connor College of Law at Arizona State University and James Speta of the Northwestern University Pritzker School of Law.
On Oct. 13, Ochoa was officially named the law school's 17th dean.
Ochoa's appointment was historic, as she was the first person of color and second woman to be named dean in IU Maurer's history. She is also the eighth Latina ever to serve as the dean of a U.S. law school.
Asked about the challenges facing U.S. law schools, Ochoa pointed to representation issues, particularly the underrepresentation of people of color in the legal profession. On the flip side, she said she is excited about "working with our alums and our students and our staff to rethink the most vital roles for law schools in society today."
Ochoa has already faced tough decisions in her short time as dean. One such decision has been whether to withdraw IU Maurer from the annual U.S. News & World Report law school rankings, which are under a microscope right now after Yale Law School announced its decision to withdraw from the rankings, prompting several other high-profile law schools to follow suit.
IU Maurer, as well as the IU Robert H. McKinney School of Law and Notre Dame Law School, had not announced their plans for the U.S. News rankings at IL deadline.
More from Year in Review 2022: Reflecting on 2022 at Indiana Lawyer

Law firm leadership changes, combinations
The year 2022 has been a busy one for law firms with Indiana offices. A review of Indiana Lawyer print issues in 2022 shows stories shows leadership changes at five firms, plus five law firm combinations.
And before the year even started, we reported on a handful of other law firm leadership changes coming in 2022. Effective Jan. 1, Gregg Wallander became president and CEO of Hall Render Killian Heath & Lyman while Michael Millikan and Rebecca Seamands became chief managing partner and deputy managing partner, respectively, at Ice Miller. Also, it was announced in November 2021 that Robert Grand would step down as managing partner of Barnes & Thornburg in November 2022, with Andrew Detherage succeeding him effective Nov. 9, 2022.
Here's a rundown of the changes/combinations we reported on in 2022:
• Law firm leadership: Plews Shadley Racher & Braun: Gregory Gotwald took over as managing partner of Plews Shadley Racher & Braun, effective Jan. 1.
• Law firm leadership: Lewis Wagner: A. Richard Blaiklock became managing partner of Lewis Wagner, where he will serve in the leadership role for a three-year term.
• Law firm leadership: Dentons Bingham Greenebaum, Evansville: Trisha Dudlo was named office managing partner of Dentons Bingham Greenebaum's Evansville office in April.
• Law firm leadership: Faegre Drinker Biddle & Reath: John Stanley became chief administrative officer at Faegre Drinker Biddle & Reath in August. Then in November, longtime firm leader Tom Froehle announced he would be stepping down as Faegre Drinker co-chair, as would co-chair Andrew Kassner. Gina Kastel will become the firm's new chair in April.
• Law firm combinations: Katz Korin Cunningham/Stoll Keenon Ogden: Indianapolis-based firm Katz Korin Cunningham began operating under the Stoll Keenon Ogden name effective July 1.
• Law firm combinations: Taft Stettinius & Hollister: Taft Stettinius & Holiister moved into Michigan by combining with Detroit-based firm Jaffe Raitt Heuer & Weiss, effective Dec. 31.
• Law firm combinations: SmithAmundsen: SmithAmundsen became Amundsen Davis on Nov. 1 after combining with Wisconsin firm Davis|Kuelthau.
• Law firm combinations: Frost Brown Todd: Frost Brown Todd entered the California market by combining with AlvaradoSmith, effective Jan. 1, 2023.

Gun violence
This top story of 2022 takes two forms.
First are the mass shootings we've reported on this year, including the May shootings at a Buffalo, New York, supermarket and at a Uvalde, Texas, elementary school. The former, which was a targeted attack on Black customers, resulted in 10 deaths, while the latter, carried out by a former student, resulted in the deaths of 19 students and two teachers, plus the gunman.
About a month later, President Biden signed gun reform legislation that toughens background checks for the youngest buyers, keeps firearms from more domestic offenders, and helps states enact so-called "red flag" laws that make it easier for authorities to take weapons from people adjudged to be dangerous. Just days before that law was signed, the U.S. Supreme Court struck down a New York law requiring people to demonstrate a particular need for carrying a gun in order to get a license to carry one in public.
A mass shooting also occurred in Indiana. In July, a gunman opened fire at the Greenwood Park Mall in Indianapolis, killing three people in the food court before the gunman himself was shot by an armed bystander. The shooting sparked renewed criticism of Indiana's permitless carry law, which was enacted this year despite law enforcement pushback.
The second part of this story involves the 2019 shooting of current and former southern Indiana judges Andrew Adams, Sabrina Bell, William Dawkins and Bradley Jacobs. All four judges took the stand in September in Marion Superior Court to testify against Brandon Kaiser, the man who shot and severely injured Adams and Jacobs.
The trial testimony marked the first time any of the four judges had discussed the events of May 1, 2019, publicly at-length. Their testimony was often emotional and graphic, with Adams and Jacobs each raising their shirts in court to show their scars to jurors.
Kaiser was ultimately convicted of multiple counts of felony battery as well as a misdemeanor count of carrying a handgun without a license. He was sentenced to 16 years, with eight years executed.
Kaiser has filed a notice of appeal.

Statewide lawyer shortage (tied)
In a year when national and international supply shortages drove up prices at the gas pump and grocery store, the legal profession found itself in a similar boat. While the demand for legal services grew at a rate of 4% in 2021 compared to 2020, attorney productivity grew only 0.31 between 2021 and 2019, according to data from the Thomson Reuters Institute. Further, average billable hours in 2021 were actually 10 hours lower than 2007.
Those numbers were reflected in the market, with experts saying the search for legal talent has become a top priority for law firms. In 2021, Thomson Reuters data showed that talent issues were seen as posing the greatest risks to profitability. In 2020, talent was not among the top five risks reported by law firms.
Legal aid organizations in particular were feeling the pinch this year. The Indianapolis Legal Aid Society, for example, told IL it used to be able to fill open positions by word of mouth. But in 2022, the organization has had to turn to help-wanted ads on lawyer jobs boards, social media and job fairs.
The reasons for this lawyer shortage vary depending on who you ask. Legal aid organizations speculated that lower bar passage rates coupled with a general high demand for lawyers have created their hiring difficulties. Larger legal organizations in Indiana point to competitors who don't have Hoosier offices but who are trying to lure Hoosier attorneys out of the Hoosier State with the offer of remote work.
Competitive compensation is also a factor, experts say, as is firm culture, which is becoming increasingly important as attorneys from younger generations enter into the legal market. Compensation is a particular concern for legal aid organizations, which are often privately funded and cannot offer the same salary as a larger firm.
According to legal recruiter Jason Goldberg, "You need, as a law firm, to find the thing that's going to help attract them, whether that's compensation, whether that's flexibility around remote working, whether that's a 'culture,' which is harder to convey, especially over video interviews, as opposed to coming into an office and … actually seeing the culture for yourself. That's up to those law firms in order to articulate in any way that they can, why their place of business is the place of business that should be attractive."

Transgender girls' sports ban (tied)
The first time we mentioned House Bill 1041 on our website was Jan. 21, when the legislation banning transgender girls from girls' sports in K-12 athletics was filed. The bill was introduced by GOP Rep. Michelle Davis of Greenwood, who said the legislation was about "fairness."
But the bill created an immediate firestorm, with organizations like the American Civil Liberties Union of Indiana calling the measure discriminatory and potentially dangerous to the mental health of transgender students.
Although the bill was backed by the Republican caucus, Holcomb, also a Republican, vetoed the bill. He said the measure fell short of maintaining consistency for fairness in school sports and pointed to lawsuits filed against other states that had enacted similar bans.
But the General Assembly overrode the veto, prompting a lawsuit in the Indiana Southern District Court. The case was filed on behalf of a 10-year-old transgender girl from Indianapolis who would be prevented from playing on her school's softball team under the law.
Judge Jane Magnus-Stinson entered an injunction against the bill that became House Enrolled Act 1041, but only as to the plaintiff, A.L. That means the law remains in effect in all other instances as the litigation proceeds.
AG Todd Rokita has repeatedly defended the law, including sending a representative from his office to testify in support of it. He calls it a "common sense" measure while criticizing what he views as the "nonsensical wokeism" underlying the legislation.
Several amicus parties have submitted briefs in the case both for and against HEA 1041 as the case proceeds in the 7th Circuit. Among those supporting the bill is a coalition of 19 female athletes who argued that "women have competed against and lost to men in athletic competitions ranging from basketball to track. They have personally suffered the deflating experience of having opportunities stripped away in the name of 'progress.' Their experiences underscore the need for separating sports based on biology rather than self-professed identity."
On the flip side, a group of eight transgender athletes argued in a brief opposing the law that "when amici were excluded from sports or discriminated against in their respective sports, they often suffered social, emotional, and physical harm."•
-The Associated Press contributed to this report.
Please enable JavaScript to view this content.