In the aftermath of a convention defeat that will keep him from serving a second term in office, Indiana Attorney General Curtis Hill is vowing to "continue to support and fight for our conservative principles."
Hill released a statement to supporters on Monday following the announcement on Friday that former Indiana Rep. Todd Rokita had secured the GOP nomination for the Indiana attorney general race.  Rokita narrowly defeated Hill in a virtual party convention, securing 52.15% of delegate votes in the final round of voting.
Hill finished second in a four-candidate race, ahead of Decatur County Prosecutor Nate Harter and Indianapolis attorney John Westercamp.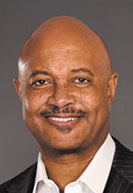 "From the bottom of my heart, I first want to thank the grassroots Republicans throughout Indiana who have shown steadfast support over these past four years," Hill wrote in his statement to supporters, which was posted on Facebook. "I especially want to thank you and all friends and staff that have stood strong with me these last two years, including through this Convention process. You have seen through the political manipulations and walked with me on a just path."
Since July 2018, Hill has been contending with allegations that he drunkenly groped four women, including a state lawmaker, at a party in March 2018.
Though he was not criminally charged in connection with the incident, the Indiana Supreme Court imposed a 30-day suspension on his law license after concluded he had committed misdemeanor battery against the four women.  He is also facing a civil lawsuit from his accusers.
But Hill has consistently denied wrongdoing. He told GOP delegates at their virtual convention in June that he had been "speared" by the media and liberals over the last two years.
The incumbent AG has also faced opposition from within the Republican party. Gov. Eric Holcomb, then-House Speaker Brian Bosma and then-Senate President Pro Tem David Long, all Republicans, each called for Hill's resignation in July 2018, when the groping allegations became public. Similarly, after Hill's law license was suspended, Indiana GOP Chair Kyle Hupfer said Hoosiers would be "best served" with a new attorney general.
"Truly we are all at a time in our lives for which none of us were prepared," Hill wrote on Facebook. "There is hate spreading that is touching all of us in all walks of life but it is most easily spread, unfortunately, through political deception. My challengers are nothing compared to what we are all facing as a society, as a country and throughout the world."
Westercamp entered the race for the Republican nomination a year ago, calling for "principled, conservative leadership" in the AG's office. The lawyer with Bose McKinney & Evans has largely stayed out of the fray surrounding Hill's ethical troubles.
Harter had been the person to put forward Hill's nomination for attorney general at the 2016 Indiana Republican Convention. In entering the race against the incumbent in April, he called on the party to unite around a candidate who could win in November against former the Evansville mayor, Democrat Jonathan Weinzapfel.
Rokita was the last to join the Republican race, throwing his hat into the ring only after the Supreme Court ordered Hill's license suspension. The former congressman said Hill was "very badly wounded" and echoed Harter's call for party unity.
Unlike Westercamp and Harter, Hill did not explicitly endorse Rokita in his statement to supporters. He pointed to his faith as being the reason he can continue to "hold (his) head high" and said a return to faith is the only way to "restore trust in each other, find the strength to protect our communities, teach our children to love not hate, and unite as a nation."
"Not serving another four years as Attorney General only means I will have more time to more directly address and help fix the current racial unrest, the lawlessness that is spreading, and the terribly disturbing direction we see of our politics and of our culture," Hill wrote on Facebook. "I have always been a conservative Republican and will continue to support and fight for our conservative principles."
Watch for more on the 2020 race for Indiana attorney general in the July 22 edition of Indiana Lawyer.
Please enable JavaScript to view this content.