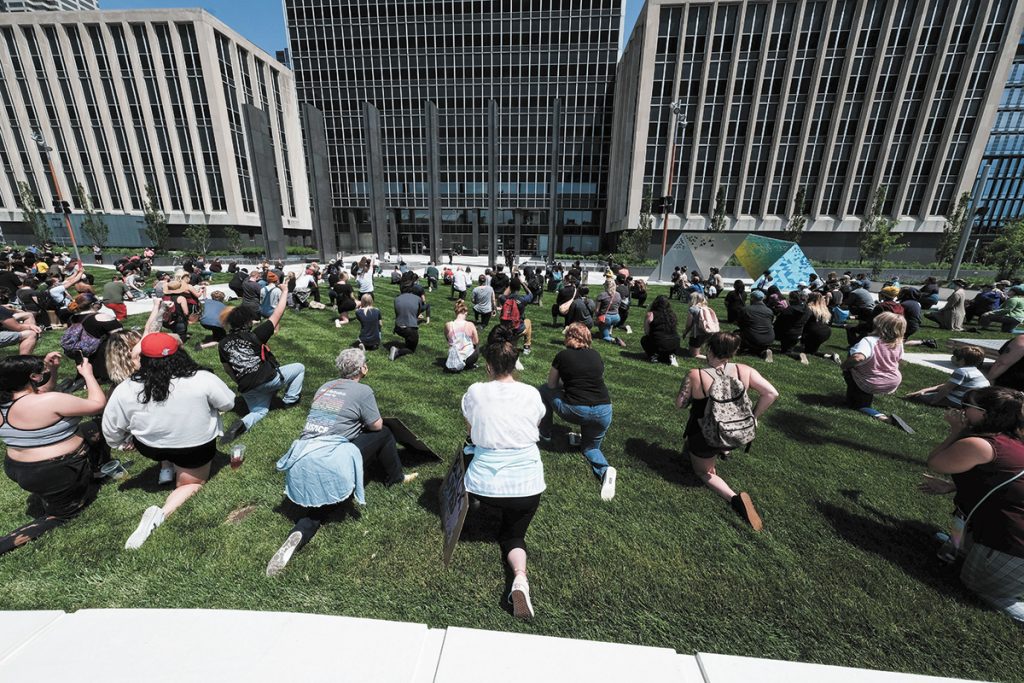 Following a weekend of violent protests in Indianapolis that damaged many downtown businesses, attorney Maurice Scott of Scott Legal & Consulting cautioned against getting distracted by bricks and mortar.
"The focus should not be on the property damage," Scott said. "The focus should be on the people who are not being heard, not being seen and not being part of the decision-making process."
Like the rest of the country, residents of Indianapolis and other Hoosier cities have been demonstrating over the death of George Floyd. A video shows the African American man dying May 25 after repeatedly saying he could not breathe while a Minnesota police officer knelt on his neck for nearly 9 minutes.
Scott and other attorneys said Floyd's death brought to a boil the anger that had long been simmering over other African Americans who have lost their lives in questionable encounters with law enforcement. Names added to that list just this year include Breonna Taylor, an EMT who died after being shot at least eight times March 13 by Louisville police officers, and Dreasjon Reed, who was shot and killed May 6 by Indianapolis police.
Adding to the outrage is the justice system. Attorneys say the problems include court orders for bail that are keeping people in jail simply because they are poor; defendants who opt to accept a guilty plea even though they are innocent because they do not want to take more time and money away from their families to fight to charges; and harsher sentences that are handed to minorities.
Indeed, Scott decided to become an attorney after he was pulled over by police. Moreover, the death of Ahmaud Arbery, the African American man who was shot and killed Feb. 23 while jogging through a Georgia neighborhood, especially resonates with Scott because he grew up in that same Peach State community.
"The property can be repaired," Scott said. Breaking windows, spraying graffiti and lighting fires are the way the "people who are being oppressed are getting the attention of the major stakeholders."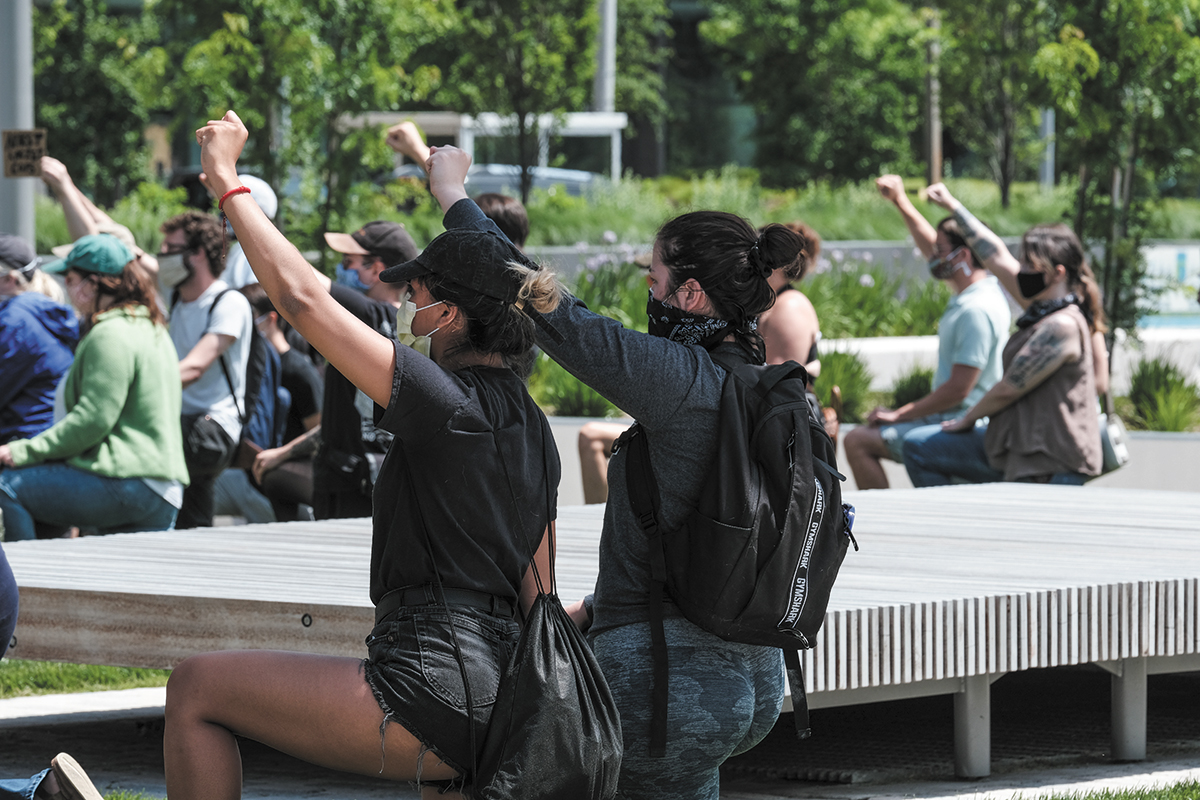 Understanding the rage
June 1, attorney John Haskin was on the phone with his insurance agent, starting the process to repair the five broken windows — starting at a cost of about $4,000 each — that were broken in his parking garage in downtown Indianapolis. He owns the garage and the adjacent historic building that was originally home to the Circle City's first fire station but has since become the location for his office, Haskin & Associates LLC.
Haskin is torn by the weekend's protests. As a college student, he was a volunteer for Robert Kennedy's presidential campaign and as an attorney, he has represented employees and fought for their constitutional rights. But in the aftermath of the weekend's riots, he was frustrated by what he saw as the city's inaction to quell the violence and angry about the destruction protesters left in their wake.
Haskin pointed to the peaceful demonstrations led by Martin Luther King Jr. and Mahatma Gandhi that "achieved great change." But Saturday in Indianapolis, he said, "caring people closed themselves off to the real issue" of police procedure and abuse when peaceful protest ended and "rocks were thrown like baseball pitches to break glass."
Still, he shares the outrage over the senseless death of Floyd. "It's so obvious and so egregious what happened, and the video has been played time and time again on national news … it's going to affect people all over," he said. "This is not just a Minneapolis issue."
Indianapolis solo practitioner Corey Scott sighed with relief when he found his downtown law office untouched by the rioting. Like Haskin, he believes the violence clouded the protesters' core message of reminding this "country to be as great as its promise," but he also understands the reason behind the destructive acts.
Corey Scott, too, listed the names of African Americans who died at the hands of the police and noted the anguish is being compounded by the level of outrage that is needed before action is taken against the officers involved. Even then, officers accused of wrongdoing are treated starkly differently, with law enforcement asking for virtue and patience from communities who aren't accorded the same level of patience from police and the justice system.
The damage to property is the squeaky wheel that is drawing attention to the larger issue of police brutality, Scott said. Money is a motivator, and when money has to be spent on repairs, that "tends to get more reaction than saying, 'We want equal treatment,'" he said.
Trouble rooted in immunity
Holding police accountable has become more difficult in the past decade as courts have increasingly granted qualified immunity to officers accused of misconduct.
An investigation by Reuters documented a shift in the federal appellate court rulings on lawsuits that claim police used excessive force. From 2005 to 2007, the circuit courts ruled for the plaintiffs in 56% of the cases compared to 44% for law enforcement. However in 2017 to 2019, the rulings had flipped with 43% in favor of the plaintiffs and 57% in favor of police.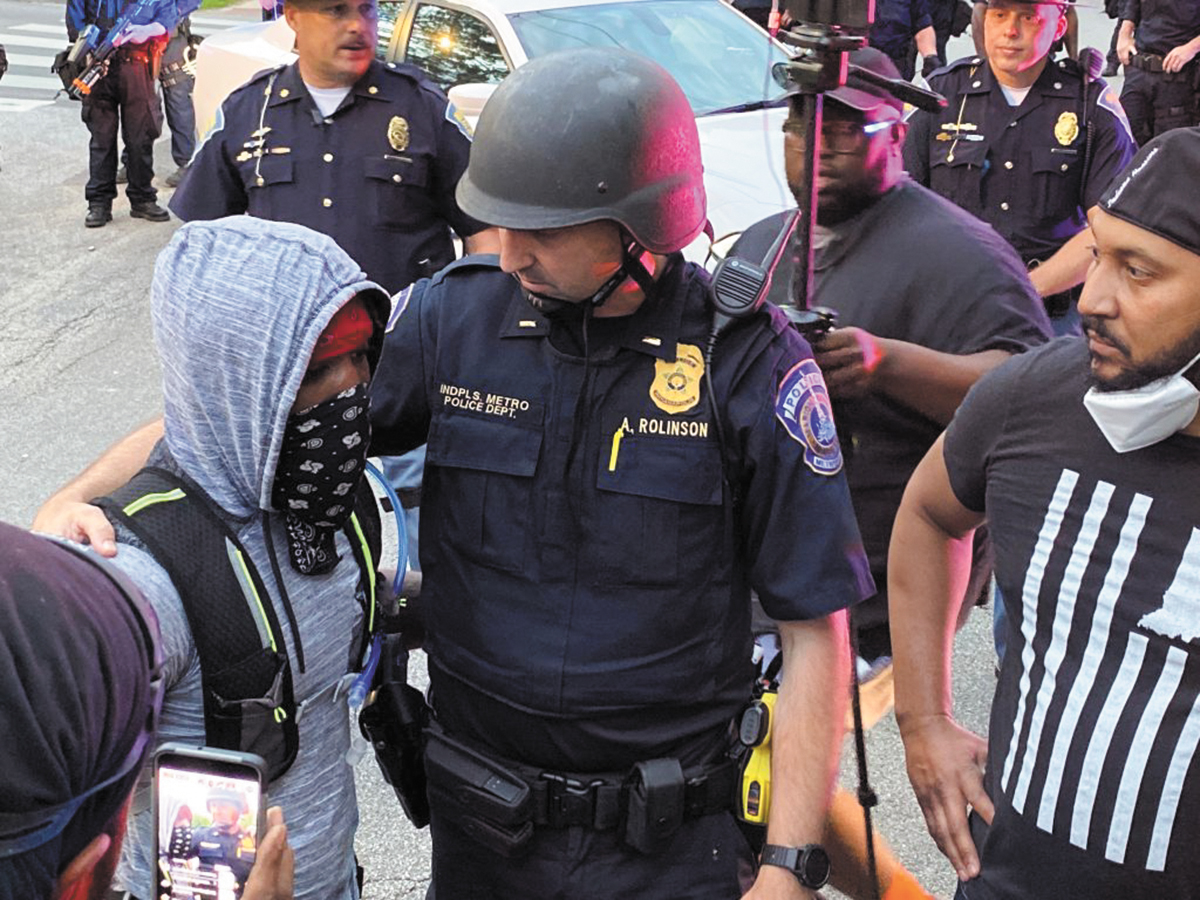 Jon Little, attorney at Saeed & Little in Indianapolis, has witnessed federal and state courts granting qualified immunity more and more to police. As examples, he pointed to the cases of Eleanor Northington, who died after she was restrained by police at an Indianapolis church while she was experiencing a mental health crisis, and Bradley King, who suffered from paranoid schizophrenia and was killed in his backyard by two Hendricks County law enforcement officers doing a welfare check.
Little said qualified immunity, which he described as a "judicial fiction," is shielding police from facing a jury and being held accountable for their actions. The role of the jury is being usurped by qualified immunity, he said.
Consequently, Little is not surprised the protesters defaced the Birch Bayh Federal Building and U.S. Courthouse in Indianapolis. The actions of the courts are fueling the outrage in the streets, he said.
After the protests
Although the protesters will eventually stay home, Corey Scott said when the demonstrations end the conversations must continue. Leaders in the community, including members of the judiciary, have to be a part of the dialogue and changes must span from better training for the police to reforms in the court system.
"I would certainly be pleased if the courtroom could see some positive changes in terms of fairness and equality," Scott said, adding he hopes the community can "really see justice for all regardless of color or creed."
Maurice Scott shared that view. Stakeholders, he said, should be talking to the community. They should be asking what policies the residents want and be looking for ways to overcome disparities.
"Now is the time," Scott said. "People are tired. People are fed up."•
Please enable JavaScript to view this content.